wo car-bomb attacks have killed at least 38 people in the Somali capital Mogadishu, officials say.
The first took place outside the presidential palace late on Friday. The second hit a nearby hotel. Dozens of people were wounded.
The Islamist militant group al-Shabab, which has been trying to oust Somalia's government, says it was behind both.
A gun battle followed the attack near the presidential palace in which five militants were killed, officials say.
Friday's bombings are the latest in a series of attacks attributed to al-Shabab, which once controlled Mogadishu before being forced out by African Union troops in 2011.
Last October, more than 500 people were killed by a truck bomb in the city. Officials blamed al-Shabab but the group never said it was behind that attack.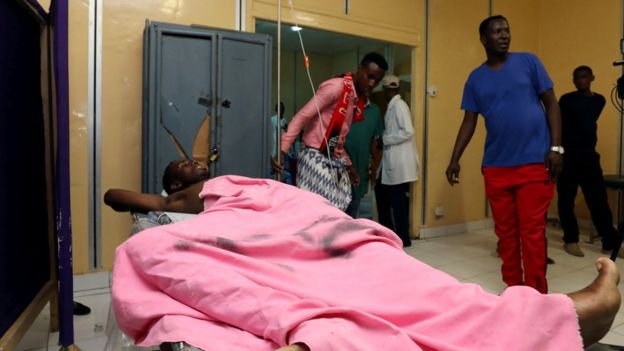 The latest incident began when a vehicle failed to stop at a checkpoint outside the presidential palace before being blown up, state media say. This was followed by an exchange of fire between militants and security forces.
Then a parked car exploded near the hotel. However, al-Shabab said it had targeted security forces.
The group said five of its fighters, including the two drivers, had been "martyred" and 35 soldiers were killed in the attacks.
A police spokesman told Reuters news agency: "There were many military soldiers who guarded the street adjacent to the palace."
Three suicide bombers have hit the town of Konduga in north-east Nigeria, killing at least 18 people.
Two attacked a fish market and a third struck nearby, security sources said.
Boko Haram jihadists are being blamed for the blasts, though the group has yet to say it was behind them.
Boko Haram has killed some 20,000 people and displaced more than two million since it began a campaign of violence to create an Islamic state in the north of the country in 2009.
The bombers struck on Friday evening in the town, which lies some 30km (18 miles) south-east of the Borno state capital, Maiduguri. Wider reports of the attack only emerged on Saturday.
Some reports speak of 19 dead – 18 civilians and a soldier. At least 50 more were injured.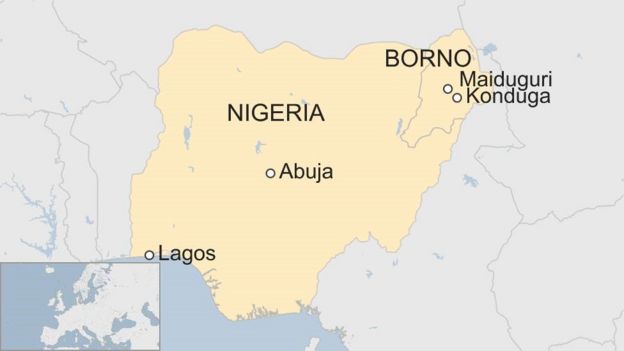 Boko Haram continues to launch attacks in the face of claims by the authorities to have defeated the group.
Boko Haram attacks in numbers – as lethal as ever
The children who fled Boko Haram
Who are Nigeria's Boko Haram Islamist group?
Two women suicide bombers hit a village near Konduga last month.
Dozens of Boko Haram members have been convicted in trials held in secret.
One of the group's most notorious operations was the kidnap of more than 270 girls from a school in the north-east town of Chibok in 2014.
South Africa's elite police unit have raided the home of the controversial Gupta family as the investigation into so-called state capture continues.
Three arrests have been made, including one Gupta brother, local media report. Police say two other people are expected to hand themselves in.
The Gupta family have been accused using their friendship with President Jacob Zuma to wield enormous political influence for their business interests.
The raid on the Gupta's walled compound in Johannesburg comes as Mr Zuma faces increased pressure to resign, in part because of links to the Guptas.
He is expected to respond later today to a formal request from the African National Congress (ANC) to step down.
Police also carried out raids on other properties.
According to the statement released to South African media, the raids were carried out in connection with the Vrede farm investigation.
South Africa's priority crime police the Hawks are at Gupta residence in Johannesburg. Road sealed off. pic.twitter.com/Ug4aQg9gsF

— andrew harding (@AndrewWJHarding) February 14, 2018
That particular investigation relates to the Estina dairy farm near Vrede, in the Free State, a project which was originally meant to help poor black farmers but from which the Gupta family are alleged to have pocketed millions of dollars.
A tranche of leaked emails revealed last year that some of the money ended up paying for the family's lavish wedding at Sun City, South Africa's upmarket holiday resort.
In January, the Hawks raided the offices of the Free State Premier, Ace Magashule, looking for documents linked to the project. Mr Magashule was elected secretary-general of the ruling African National Congress (ANC) in December.
---
At the scene: Cheers and insults
By Andrew Harding, BBC News, Saxonwold, Johannesburg
Early this morning, as the plush suburb of Saxonwold was waking up – gardeners walking dogs, children being taken to school in 4x4s – armed police arrived at the enormous, high-walled, Gupta compound opposite the lion enclosure of Johannesburg Zoo, sealing off a section of the road, and venturing inside.
Soon afterwards, two luxury vehicles were seen driving out of the gates escorted by police in separate cars.
The Hawks – the elite high-priority crimes unit – confirmed that this was an operation to arrest suspects, rather than to raid properties.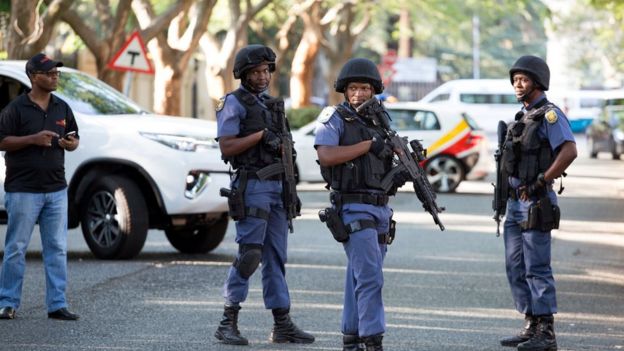 A blue police helicopter swung over the property, as local people voiced satisfaction about the police action.
"It's very emotional for all South Africans. This is about getting South Africa right again," said Tessa Turvey.
"This is real meaningful change. I certainly don't think it would have happened if Zuma was still president of the ANC," said a man, walking his dogs.
---
Who are the Gupta family?
The embattled Gupta family own a range of business interests in South Africa, including computing, mining, air travel, energy, technology and media.
The three brothers, Atul, Rajesh and Ajay, moved to the country in 1993 from India, just as white-minority rule was ending.
They are known friends of President Zuma – and his son, daughter and one of the president's wives worked for the family's firms.
The brothers have been accused of wielding enormous political influence in South Africa, with critics alleging that they have tried to "capture the state" to advance their own business interests.
What is the scandal between the family and the president?
Former Deputy Finance Minister Mcebisi Jonas made a public allegation in 2016 that he was offered 600m Rand ($50m; £36m) by the Gupta family to be the next finance minister – as long as he did their bidding.
It was followed by a damning report by a South African government ombudsman that accused the Guptas and President Zuma of colluding to win government contracts.
The public backlash worsened in 2017 when more than 100,000 emails were leaked which appeared to show the extent the family had exerted their influence.
It suggested a complex web of government contracts, as well as alleged kickbacks and money laundering.
It prompted marches and public protests against the family and President Zuma, dubbed the "Zuptas".
JOHANNESBURG: A suspected poacher was mauled to death and eaten by a pack of lions close to the Kruger National Park in South Africa, police said Monday, adding that little was left of the victim's body.
The remains were found at the weekend in the bush at a private game park near Hoedspruit in the northern province of Limpopo, where animals have been poached in increasing numbers over recent years.
"It seems the victim was poaching in the game park when he was attacked and killed by lions. They ate his body, nearly all of it, and just left his head and some remains," Limpopo police spokesman Moatshe Ngoepe told AFP.
A loaded hunting rifle was found near the body on Saturday morning. Police are trying to establish the victim's identity.
Top elephant conservationist shot dead in Tanzania: colleagues
Last year, several lions were found poisoned near a farm in the same province with their heads and paws sawn off.
Lion body parts are used in traditional medicine. Poachers also often target rhinoceroses in South Africa's game parks to feed a booming demand for rhino horn in China, Vietnam and other Asian countries, where it is believed to have medicinal qualities
South Africa's President Jacob Zuma has defied his party and refused to step down, according to media reports.
He and senior members of the African National Congress (ANC) held talks on Sunday but no details of their meeting have been released.
Facing corruption allegations, Mr Zuma was replaced as ANC leader in December.
Party leaders, who may be trying to oust Mr Zuma before his State of the Nation address later this week, will hold an emergency meeting on Monday.
Julius Malema, an opposition leader and former ANC member, said on Twitter that Mr Zuma had been asked to stand down but had refused.
He refused to resign and he told them to take a decision to remove him if they so wish to do so because he didn't do anything wrong to the country. He's arguing that he complied with all legal instructions including paying back the money, what more do they want from him

— Julius Sello Malema (@Julius_S_Malema) February 4, 2018
Mr Zuma, who spent time in prison for his part in the fight against apartheid, is most of the way through his second – and last – term as president.
Under his rule the civil service has expanded, HIV/Aids rates have decreased, and his plans for development have won support across the political spectrum. But the Zuma presidency has been overshadowed by allegations of corruption and his deputy, Cyril Ramaphosa, was elected the leader of the ANC party in South Africa in December on an anti-corruption platform.
What are the allegations against him?
Mr Zuma is accused of corruption, fraud, racketeering, money-laundering and tax evasion.
The 18 charges go back to the 1990s and relate to 783 payments made as part of an arms deal.
Mr Zuma and other government officials were accused of taking kickbacks from the purchase of fighter jets, patrol boats and other arms.
Charges were first brought against Mr Zuma in 2005 but dropped by prosecutors in 2009.
Mr Zuma has always denied any wrongdoing.
A businessman with links to him, Schabir Shaik, was sentenced to 15 years in prison for soliciting bribes from a French arms company.
Last year, the High Court ruled in a case brought by the opposition Democratic Alliance that Mr Zuma should face the charges.
Mr Zuma lodged a challenge with the Supreme Court of Appeal but it also ruled that he should face the charges.
There is also the prospect of an inquiry into so-called "state capture" – the allegation that a wealthy Indian-born family, the Guptas, has influenced government through a corrupt relationship with Mr Zuma. Both Mr Zuma and the Guptas deny the allegations.
What happens next?
If Mr Zuma refuses to step down, his party – which is divided on whether he should remain as leader – will face a political challenge in trying to remove him.
Party leaders appear to be trying to act before this week's planned State of the Nation address to parliament and before a motion of no confidence a few weeks from now.
Analysts say party chiefs want to avoid a power struggle that could split the ANC before elections next year.
Before the meeting with Mr Zuma on Sunday, ANC chairman Gwede Mantashe said he wanted to ensure "stability in the country and stability in the ANC".
On Monday, as senior figures hold a meeting to decide Mr Zuma's future, protesters both in favour of and opposed to the president will be gathering in Johannesburg.
The party could decide to fire him from the presidency. There would be a certain symmetry to this, as he himself became leader of the party before his predecessor as president, Thabo Mbeki, was fired.
They are expected to begin the process to remove Mr Zuma through a formal recall or by introducing a motion in parliament.
Party leaders would need the support of the 80-member National Executive Committee (NEC) to recall Mr Zuma, so any ouster would happen after they have met later in the week.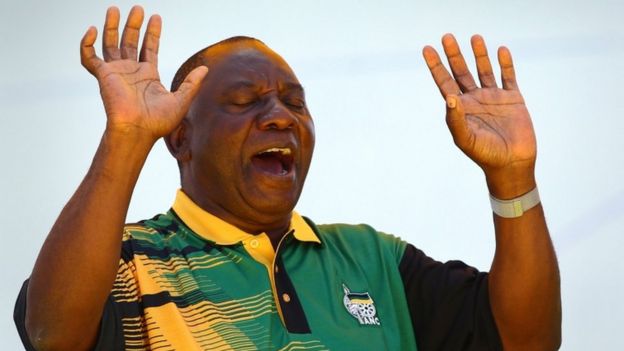 Mr Zuma is not due to leave office until the 2019 elections. However, the ANC has seen its popularity fall during his second term amid a weakening economy and claims of corruption.
Mr Ramaphosa, who as the ANC's new leader is in a strong position to win the 2019 elections, has called for party unity.
But correspondents say fears are growing that he and his allies in the ANC may move against Mr Zuma if he refuses to stand aside.
---
Zuma's legal woes:
2005: Charged with corruption over multi-billion dollar 1999 arms deal – charges dropped shortly before he becomes president in 2009
2016: Court orders he should be charged with 786 counts of corruption over the deal – he has appealed
2005: Charged with raping family friend – acquitted in 2006
2016: Court rules he breached his oath of office by using government money to upgrade private home in Nkandla – he has repaid the money
2017: South Africa's public protector said he should appoint judge-led inquiry into allegations he profiteered from relationship with wealthy Gupta family – he denies allegations, as have the Guptas
2018: Zuma approves in inquiry
Tributes have been pouring in for one of East Africa's most popular musicians, Mowzey Radio, who has died aged 33 after a reported bar brawl.
Radio, real name Moses Ssekibogo, died just hours after Uganda's President Yoweri Museveni donated $8,300 (£5,800) towards his medical bills.
He was being treated in hospital for head injuries he sustained in the alleged brawl 10 days ago.
Five people have been arrested in connection with the incident so far.
According to Uganda's Daily Monitor newspaper, the singer was allegedly beaten into a coma at a popular hang out spot in Entebbe town, south of the capital Kampala.
He had been in hospital ever since, although his management had stressed his condition was improving.
However, at 06:00 local time (03:00 GMT) on Thursday, the singer, who made up one half of duo Radio & Weasel, lost his fight for life.
The King ?Is Gone ???

— RADIO & WEASEL (@RadioandWeasel) February 1, 2018
Within hours of his death, the announcement had thousands of responses from people paying their respects to the musician.
President Museveni was among those to pay tribute to the singer, who was among the artists who contributed to a song in support of the politician during the 2016 elections.
Have been told about the untimely death of musician Moses Ssekibogo aka Mowzey Radio. I had only recently made a financial contribution towards his treatment and hoped he would get better. He was a talented young person with a great future ahead of him. May he rest in peace.

— Yoweri K Museveni (@KagutaMuseveni) February 1, 2018
Photos also show a large group of people gathering at the hospital in Kampala where he died.
His funeral is due to take place on Saturday.
Kenya's High Court has suspended the government shutdown of three of the largest private TV channels.
They had planned to broadcast opposition leader Raila Odinga's unofficial "inauguration" on Tuesday.
The court said the ban would be suspended for 14 days while the case was heard.
Mr Odinga lost last year's election and his swearing-in was widely seen as a publicity stunt, but the authorities said it was an act of treason.
Opposition groups have accused the Kenyan government of violating the public's right to information about important events.
Everyone who uses Facebook will have come across some pretty strange posts in their time.
Random friend requests, being added to groups you did not ask to join, and tags that allow "friends" to clog up your timeline with posts or photos you don't necessarily want.
But a Nigerian man took that to a whole new level when he posted an unusual advert.
Chidimma Amedu put up a post on 30 December, asking any woman interested in being his wife to reply, he told the BBC.
The proposal
"Am of age to and I am ready to say I do and am wasting no time.
"Send in your applications – the most qualified will be married on January 6, 2018. Application closes 12 midnight, 31/12/2017," he posted.
He then followed up with subsequent posts.
"Am serious about this oh and don't say you did not see it on time. Good luck."
He received a couple of responses, but one from a certain Sophy Ijeoma was the one which caught his attention.
"Am interested, just DM me…lols," her post read.
At first, she thought it was a joke and she simply replied to keep the thread flowing.
Man on a mission
A direct message from him to her inbox, followed by a Facebook call, would change her life's trajectory.

Chidimma placed the advert initially as a joke but became optimistic when Sophy said she was interested
Two days after their first conversation, he travelled some 500km (300 miles) from his home in the northern city of Abuja, to Enugu in the east where she lived.
She had been waiting for him outside a retail store and in true fairy-tale style, "it was love at first sight", she recalled.
"He is the most handsome man I've ever met and I liked him instantly."
After two hours of "awkward" conversation, he asked her to go to meet his uncle, who incidentally is also resident in Enugu.
Asked what was going through her mind at the time, she said she thought it was all a bit of a joke, but she was excited about it and thought Chidimma was quite an interesting character.
Tradition meets modernity
"We got to the uncle's house and he said: 'Uncle, meet the woman I want to marry.'"
Like Chidimma, his family don't seem to hang about when it comes to getting things done, because the uncle gave his approval.

The couple had been friends on Facebook for over a year but had never spoken to each other before the advert
Getting family backing for your choice of spouse is an essential part of Igbo culture.
Whereas picking your future wife from dozens of respondents to a Facebook marriage advert and marrying her in six days is decidedly not.
At this point in their day-old relationship, it was beginning to dawn on Sophy that this fellow was not playing, but how do you commit to marrying someone you only just met?
She would not comment on whether they had even shared as much as a kiss at that point, but maintained she was captivated by how focused and determined her new fiancé was.
"When I saw him for the first time, I definitely found him attractive, but what I didn't know was how serious he was about marrying me.
"It was after we met the uncle and his wife, that I realised that this could actually happen and I wanted it."
The engagement
It was now her turn to worry about how she was going to get the approval of her family to marry a guy she had just met on Facebook.
But they had momentum going for them. Having met and fallen in love at first sight, or first message, if you like, and getting Chidimma's uncle's approval, the couple decided to complete the cycle by visiting Sophy's family the same day.

Approval from the family is essential in Igbo tradition
Sophy recounted how she relayed the information to her mother. Her dad had passed away, and her mum said she did not have the final word in terms of giving approval for her to be married, so it was up to Sophy's elder brother to give his blessings.
It would appear the odds were firmly in their favour as Sophy's brother gave his blessings too.
So after a few questions from her brother, it was official – Chidimma and Sophy were engaged to be married in six days.
On the rebound?
Last year Chidimma was engaged to another woman and the wedding was scheduled for December, but the relationship fell apart in March leaving him dejected.
As December approached, the disappointment of not being able to fulfil his dream of getting married made him put up the post, he said.

The wedding was a blend of old and new
"I had the desire to get married, I had a date in mind, but no bride, so I decided to place an advert as a joke, but I was open and up for it."
Asked whether she knew about his earlier engagement and her thoughts on how this seemingly rushed marriage might be seen as a rebound, Sophy dismissed any suggestions that her relationship was not well thought through.
"I don't care about that – when you see what you want, you go for it."
They had been friends on Facebook for more than a year, but had never met or spoken to each other until the advert.
"Am interested, just DM me…lols" was all it took for the union to be formed.
Sophy admitted her friends were sceptical about the whole thing, while some are still in disbelief, but as she said: "When you see the one, you will know he is the one".
Happily ever after?
They got married on 6 January in a traditional Igbo ceremony, and posted photos of their wedding day on Facebook of course – to the amusement of the social media community.
Chidimma put up a post saying people may have thought he had been joking but he clearly wasn't.
As can be expected, there were mixed reactions, but mainly a lot of support for the couple.
They hope to have a church wedding in April and perhaps a honeymoon somewhere nice, he said.
Former international footballer George Weah has been sworn in as president of Liberia.
"I have spent many years of my life in stadiums, but today is a feeling like no other," President Weah told crowds in the capital Monrovia.
It is Liberia's first transition between democratically-elected leaders since 1944.
Mr Weah thanked his predecessor, Ellen Johnson Sirleaf, for bringing peace to the country after years of civil war.
Tens of thousands of people attended the inauguration at the Samuel Doe Stadium in Monrovia, with many queuing for hours to enter.

President Weah took the oath of office soon after 13:00GMT in front of an estimated 35,000 people.