Syrian government forces have killed more than 500 civilians during a week of intense bombardment of a rebel enclave near Damascus, activists say.
The victims in the Eastern Ghouta include 121 children, says the Syrian Observatory for Human Rights, a UK-based group monitoring the conflict.
Syrian government forces backed by Russia have been pounding the area since last Sunday.
The UN Security Council is struggling to agree on a ceasefire resolution.
A vote has been delayed several times since Thursday, and was due to meet on Saturday.
How bad is the situation in the Eastern Ghouta?
On Saturday, the Syrian Observatory said at least 29 civilians were killed, including 17 in the main town, Douma – bringing the total to over 500 for the week.
The group said the strikes were being carried out by both Syrian and Russian planes – although Russia denies direct involvement.
Barrel bombs and shell fire have been dropped on the area, where some 393,000 people remain trapped.
Aid groups report several hospitals being put out of action since Sunday.
The Syrian government has denied targeting civilians and said it is trying to liberate the Eastern Ghouta from "terrorists" – a term it has used to describe both the jihadist militants and the mainstream rebel groups that hold the enclave.
The plight of civilians in the area has alarmed world leaders. Conditions there have been described as "hell on earth" by UN Secretary General Antonio Guterres.
Why has a ceasefire proved elusive so far?
The Security Council has been debating a resolution calling for a 30-day calm to allow for aid deliveries.
But Russia wants changes. Under current draft, any ceasefire would not apply to the Islamic State group, or the Nusra Front – formerly al-Qaeda's official affiliate in Syria.
Moscow says it must go further and exclude other groups "co-operating with them" and which have shelled Damascus.
Western diplomats have accused Russia of stalling for time.
They suspect that Moscow wants to give Syria time to deal a final blow to forces defending the enclave on the edge of Damascus.
On Friday evening US President Donald Trump pointed the finger of blame firmly at Syria and its allies, Russia and Iran, for the humanitarian crisis.
Who are the rebels?
The rebels in Eastern Ghouta are not one cohesive group. They encompass multiple factions, including jihadists, and in-fighting between them has led to past loses of ground to the Syrian government.
The two biggest groups in the area are Jaish al-Islam and its rival Faylaq al-Rahman.
The latter has in the past fought alongside the jihadist group Hayat Tahrir al-Sham – an alliance of factions led by the Nusra Front, which sprung from al-Qaeda.
The Syrian government is desperate to regain the territory, because it says the rebels are directly endangering the capital.
Eastern Ghouta is so close that it is possible for rebels to fire mortars into the heart of Damascus, which has also led to civilian deaths.
Syrian state media said rebels have killed at least 16 civilians in eastern districts of the city since Sunday.
A newly married man and his grandmother were killed in India when a wedding gift they were opening exploded.
The man's wife was critically injured in the blast on Friday in the eastern state of Odisha, police said.
Soumya Sekhar and Reema Sahu got married on the 18 February and they received the "gift" at their wedding reception a few days later.
It was actually a parcel bomb and did not have the sender's address of it, police said.
The parcel exploded as soon as it was unwrapped, relatives told local media.
Mr Sehu and his 85-year-old grandmother, Jemamani Sahu, died from their injuries in a hospital.
The motive for the attack is not clear, police said, however they suspect it was carried out by someone in the area.
A wave of attacks across Afghanistan has left more than 25 people dead, most of them soldiers, officials say.
In the worst incident, Taliban militants stormed an army post in the western province of Farah, killing 22 soldiers.
A suicide attack in the capital Kabul left at least three security officers dead.
There has been a surge in militant attacks in recent months and the army is often targeted.
Some analysts see it as a response to a new, more aggressive strategy announced by US President Donald Trump last year, which committed the US army to an open-ended conflict, with the focus on "killing terrorists".
Early on Saturday, Taliban forces mounted an overnight attack on a base in Farah.
Weapons were seized and the Afghan military said the Taliban had incurred a "lot of casualties".
In Kabul, a suicide bomber detonated his explosives in an area dotted with key diplomatic buildings.
"I was driving nearby when I heard a big explosion, the windows of my car were smashed. I saw several wounded people on the street near me," a witness told Afghan channel Tolonews TV.
Jihadist group Islamic State said it carried out the attack, Reuters reported.
There were further suicide attacks in Helmand province in the south, leaving two army members dead, and others, including women and children, injured.
The Taliban control large swathes of Afghanistan – but IS militants hold sway in a much smaller number of districts.
However, both groups have demonstrated their ability to hit targets across the country.
They have often come into conflict with each other, too.
Canadian Prime Minister Justin Trudeau's first official visit to India has not been the headline-grabbing love fest he must be accustomed to on his overseas trips.
Despite plenty of photo opportunities, including at the Taj Mahal, Mr Trudeau and his family's tour has been largely ignored by senior members of the Indian government so far.
When he arrived in the capital, Delhi, he was met at the airport by a junior minister in what many interpreted to be a "snub".
Prime Minister Narendra Modi has, on many occasions, personally received visiting government leaders. He also famously hugs his foreign counterparts.
Most recently Mr Modi extended the courtesy – both the personal reception and the hug – to Israeli Prime Minister Benjamin Netanyahu who visited in January.
But Mr Modi has not yet met the Canadian prime minister, despite him being in India for two days.
He was also absent when Mr Trudeau visited his home state of Gujarat on Monday.
And it's not just the prime minister.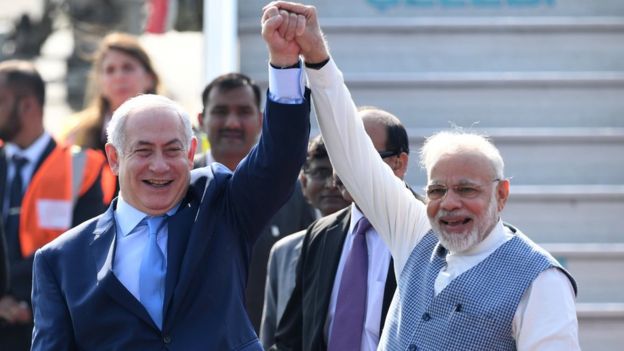 When Mr Trudeau visited the Taj Mahal on Sunday, some media reports pointed to the fact that the chief minister of Uttar Pradesh, where the monument is located, did not go to greet the visiting premier.
The pictures, headlines and social media frenzy that usually accompany Mr Trudeau's overseas travels have also been largely missing.
So is India really cold shouldering Justin Trudeau? And if so, why?
"Yes, this is a major snub. The fact that a junior minister was sent to receive Mr Trudeau and his family is most definitely a snub," columnist and economist Vivek Dehejia told the BBC.
Mr Dehejia said the reason for Mr Trudeau's lukewarm reception could well be that several members of his government were closely allied with a Sikh independence movement – the Khalistan movement – which seeks to create a separate independent Sikh homeland in the Sikh-dominated northern state of Punjab.
Canadian authorities have also linked Sikh separatist militants to Canada's 1985 Air India bombing, which killed 329 people.
"His Liberal party relies heavily on the Sikh-Canadian vote bank and some of the Sikh members of his government are fellow travellers with the Khalistanis," said Mr Dehejia.
Mr Trudeau counts four Sikh-Canadians in his cabinet.
If this were the case, it would not be the first time that Khalistan has soured relations between officials from the two countries.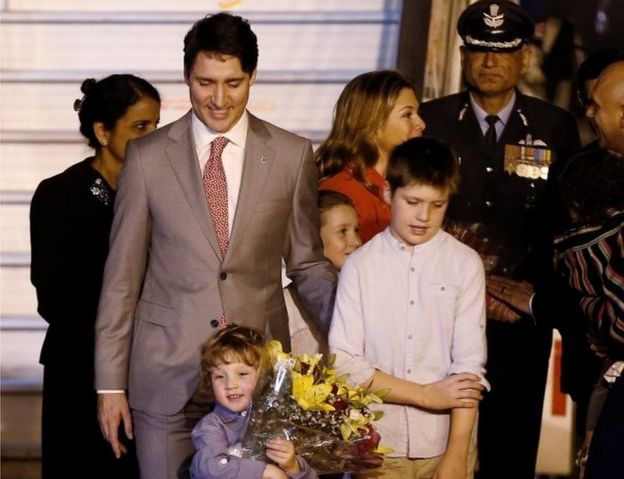 Punjab's top elected official refused to meet Canadian defence minister Harjit Sajjan in April last year, alleging that he was "a Khalistani sympathiser".
But India's former high commissioner to Canada, Vishnu Prakash, denied that Mr Trudeau was being "snubbed", saying that India had closely followed diplomatic protocol when receiving him.
"According to protocol, it is a cabinet minister who receives a visiting foreign leader, and this courtesy was extended to Mr Trudeau," Mr Prakash told the BBC.
He said that although Mr Modi had "breached protocol" to personally greet foreign leaders in the past, he could not be expected to greet every visitor that came to India.
"It's not like the prime minister is not going to meet him at all. There is a ceremonial welcome that will be held for him on 23 February and he will meet him there," he added.
Former diplomat Kanwal Sibal told the BBC that it would be both politically and professionally "wrong" for India to begin a state visit by Mr Trudeau with the "prejudice" of Khalistan when it could be used instead as a platform to raise India's concerns with Khalistan at the highest level.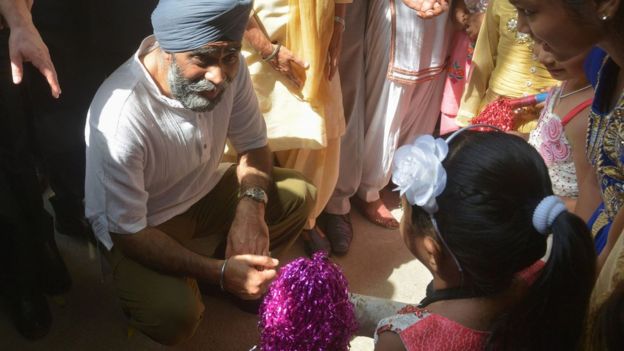 "It is true that domestic political reasons have meant that India has not got the kind of support on the issue, but we can use the visit to get a commitment of action from the Canadian government," he said.
Mr Sibal also said he believed it was "not true" that India was snubbing Mr Trudeau, saying that relations between the two countries improved "dramatically" in the recent past, with the signing of a nuclear deal showing that they had "common interests" now.
Canada announced it would supply uranium to India in 2015, in what was believed to be a significant step forward in relations between the nations.
Mr Sibal said he felt too much was being read into the fact that a junior minister was sent to greet Mr Trudeau at the airport when he arrived in India.
"This is normal protocol. Neither India nor Canada would want to jeopardise a state visit they knew was happening. It is in the interests of both countries to make sure it is a success," he said.
Chinese authorities have demanded "severe punishment" for a man who allegedly stole the thumb of a terracotta warrior statue on display in the US, Chinese state media report.
The 2,000-year-old statue, worth $4.5m (£3.2m), is one of 10 on loan to the Franklin Institute in Philadelphia.
Last week, Michael Rohana was charged with theft and concealment of a major artwork, and later released on bail.
The Terracotta Army is one of China's most important archaeological finds.
A selfie and a theft
According to court documents, Mr Rohana, 24, was attending an Ugly Sweater Party at the Franklin Institute on 21 December when he made his way into the Terracotta Warriors exhibit, which was then closed.
Mr Rohana used a mobile phone as a flashlight and took a selfie with one of the warriors, according to Chinese state media Xinhua quoting the FBI.
He then put his hand on the left hand of the statue and appeared to break something off from it. He pocketed the item and left.
Museum staff noticed the missing thumb on 8 January and the FBI later traced it to Mr Rohana. He later admitted that he had kept the thumb in a desk drawer.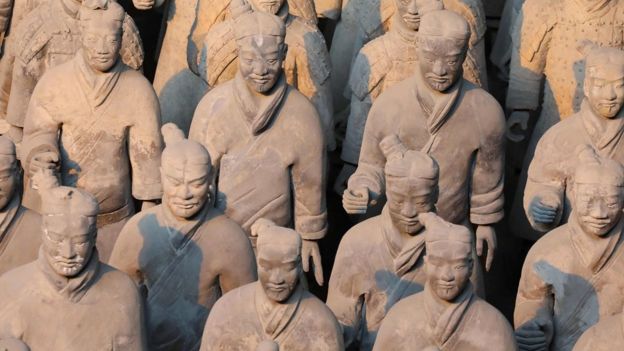 On Monday, the director of the Shaanxi Cultural Heritage Promotion Centre, the government-run organisation which loaned the statues out, "strongly condemned" the Franklin Institute for being "careless" with the statues, CCTV reported.
"We ask that the US severely punish the perpetrator. We have lodged a serious protest with them," said Wu Haiyun.
Mr Wu said the centre would be sending two experts to the US to assess the damage and repair the statue with the recovered thumb. There would be a claim for compensation, he added.
The 10 statues currently on display at the Franklin Institute are part of an army of 8,000 life-size clay warriors which make up the Terracotta Army.
The statues were built by the Chinese emperor Qin Shi Huang, who died in 210 BCE, and who believed they would protect him in the afterlife.
They were discovered in China's Xi'an city in 1974 by a group of Chinese farmers.
The Pakistani army said on Thursday that it was sending forces to Saudi Arabia, stressing, however, that the new deployment and nearly 1,000 Pakistani "troops already there will not be employed outside KSA (the Kingdom of Saudi Arabia)."
(i14 News) – Pakistani lawmakers have blasted a recent government decision to deploy troops to Saudi Arabia, saying the move may violate a parliamentary resolution that urges neutrality in the war on Yemen.
The Pakistani army said on Thursday that it was sending forces to Saudi Arabia, stressing, however, that the new deployment and nearly 1,000 Pakistani "troops already there will not be employed outside KSA (the Kingdom of Saudi Arabia)."
"In continuation of ongoing Pak-KSA bilateral security cooperation, a Pakistan Army contingent is being sent to KSA on [a] training and advice mission," the army's Inter-Services Public Relations said in a statement.
A resolution was unanimously passed at the Pakistani parliament in April 2015, stipulating that the Asian country had to stay neutral in the conflict in Yemen "so as to be able to play a proactive diplomatic role to end the crisis."
The resolution came in response to Saudi Arabia's request from Pakistan to provide ships, aircraft, and troops for the Riyadh-led war on Yemen.
On Friday, Pakistani lawmakers criticized the government for potentially bypassing the parliamentary resolution and "making unilateral decisions to the detriment" of the country.
Senator Farhatullah Babar warned of "grave consequences" for Pakistan regarding the troop deployment to Saudi Arabia.
Meanwhile, Pakistani Senate Chairman Raza Rabbani summoned the country's foreign minister to explain the reasons for the deployment of the troops to Saudi Arabia.
Shireen Mazari, a member of the National Assembly of Pakistan, also slammed the government decision and sought clarifications to make sure that the initiative would not "contravene" the country's neutrality outlined in the parliamentary resolution.
"Mr. Speaker, as you know, Saudis themselves are embroiled in the war and it is not reaching any conclusion," she said, demanding the government explain the terms of the security pact with the Saudis and the type of missions Pakistani troops will undertake in the kingdom.
"How and on what grounds the government took the decision, or was this decision not taken by the government as such but it was just part of a routine that the military decided to send more troops?" she asked.
The Saudi war was launched in March 2015 in support of Yemen's former Riyadh-friendly government and against the Houthi Ansarullah movement, which has been running state affairs since the former regime resigned.
The offensive has, however, achieved neither of its goals despite the spending of billions of petrodollars and the enlisting of the cooperation of Saudi Arabia's regional and Western allies.
The Saudi-led campaign, which is accompanied by a land, aerial, and naval blockade of Yemen, has so far killed more than 13,600 people and led to a humanitarian crisis.
Hassoun, during the opening ceremony of the Founding Conference of the Iraqi Assembly of Islamic Unity in Baghdad on Saturday, said that there is no excuse for not achieving the unity of nations, particularly after the victory of Syria and Iraq against terrorism and the scheme of division.
(i14 News) – Grand Mufti of the Republic Ahmad Badre Eddin Hassoun said the fires which have erupted in the region aimed at making Arabs forget Palestine and the Palestinian issue.
Hassoun, during the opening ceremony of the Founding Conference of the Iraqi Assembly of Islamic Unity in Baghdad on Saturday, said that there is no excuse for not achieving the unity of nations, particularly after the victory of Syria and Iraq against terrorism and the scheme of division.
For his part, Adviser to the Leader of the Islamic Revolution in Iran Ali Akbar Velayati warned of the endeavors led by the US to create a new Middle East that starts from dividing Syria, stressing that the Resistance Front in Iraq, Syria and Lebanon will expel the US forces from Eastern Euphrates.
He stressed that the US conspiracy that targeted Iraq has failed after expelling ISIS terrorist organization, clarifying that everybody knows that the next step for the US after Syria will be Turkey and Iran.
He added that the US and Israeli illusions will not be accomplished, reminding of their defeats in Lebanon, Syria and Iraq.
For his part, representative of the Iraqi President and Head of the of the Iraqi Assembly for Islamic Unity, Mahmoud Iysawi said that the Iraqis provided sacrifices for victory against ISIS, adding that convergence between nations is essential.
Dr Hassan Rouhani met with the Vice-President and the Chairman of the Indian Senate, Venkaiah Naidu, on Saturday and stressed that the high-ranking officials of the two countries were determined to further deepen relations between the two countries, adding: "Not only our relations are not against any country, but also are in the interests of the two nations and the region".
(i14 News) – The president referred to the history of Iran-India relations as a source of closeness and cooperation, stressing: "History and cultural commonalities are a great asset for the relations between governments and parliaments that must be taken advantage of".
Dr Hassan Rouhani met with the Vice-President and the Chairman of the Indian Senate, Venkaiah Naidu, on Saturday and stressed that the high-ranking officials of the two countries were determined to further deepen relations between the two countries, adding: "Not only our relations are not against any country, but also are in the interests of the two nations and the region".
The president also emphasised the important role of parliaments in the development of relations between governments, saying that the Iranian and Indian parliaments can pave the way for further strengthening of ties in line with the interests of the two nations.
The Vice-President and the Chairman of the Indian Senate, Venkaiah Naidu said that the Indian parliament and government supported inclusive development of Tehran-New Delhi relations and everybody were doing their best to make this happen.
He also called for strengthening of cooperation between the two countries in the fight against terrorism, saying: "All countries in the world confront face terrorism, because terrorism hinders progress, development and welfare of the countries".
A memorial is being held for a New Zealander who spent most of his life as a loving partner, caring father and an icon of the LGBT community.
Thomas the goose died 6 February at almost 40 years old and is being buried beside his partner on Saturday.
"Thomas has been such an iconic and well-loved bird," said Craig Shepherd, who runs the Wellington Bird Rehabilitation Trust where Thomas spent his last years. "It's lovely that he is going to be buried where he spent most of his life."
But how exactly did a goose end up an icon?
A love triangle
It all started around 1990 when a black swan named Henrietta flew in to the Waimanu lagoon, located in a small town on New Zealand's Kapiti Coast.
Due to a damaged wing, she was unable to fly with the other swans and was often alone until a few years later when a white goose named Thomas arrived. The duo quickly formed a bond and Thomas was very protective of Henrietta, even scaring off any humans or dogs that came near her.
But after 18 blissful years together, a new young female swan entered the equation and was often spotted with Henrietta. No one thought much of it, assuming that they were both females.
The shocker came when the new swan laid an egg. It turned out that Henrietta was in fact a male swan who had mated with the new female swan.
"It's very hard to establish the gender of mature black swans," said Michael Peryer, the tour guide at the Waikanae Estuary where the lagoon is located. "So it turned out in fact that Thomas and Henrietta – who was really a Henry – had 18 happy gay years together."
Henrietta was re-named Henry, and the new young swan was given the name Henrietta.
Naturally, Thomas the goose was not too pleased that someone had stolen his mate.
"He got really aggressive and started beating the swans up. But once their eggs hatched he changed completely and took to those babies like they were his own," said Mr Peryer.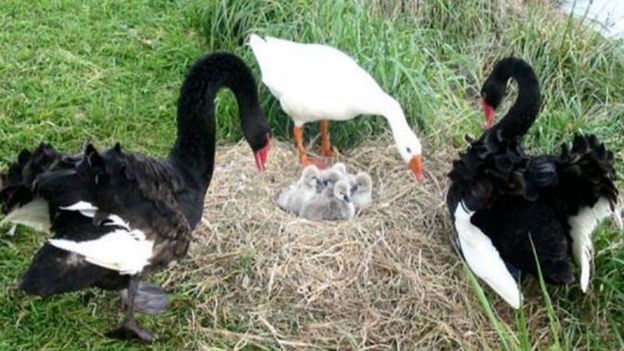 Henry and Henrietta went on to have 68 cygnets over the next six years.
Thomas decided to stick around with the duo where he played the role of a doting uncle, helping raise the swans, teaching them how to fly and taking care of them when their parents did not.
"It's so unusual to have two different species combining so intimately to raise a species," added Mr Peryer.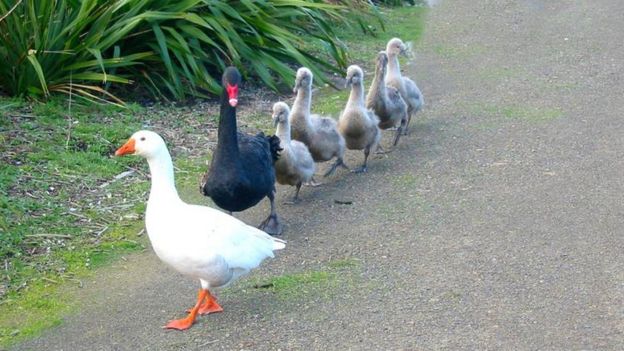 In 2009, Henry the black swan died due to old age. It wasn't long before Henrietta flew off with another bird and Thomas was left alone.
After a while, Thomas went on to meet a female goose in the estuary, and for the first time – he had 10 babies of his own.
However, his stint as a father was short-lived, as he had his babies stolen by another goose who raised the babies himself.
Thomas' eyesight soon began to fail him, becoming blind first in one eye and eventually both. He was in 2013 finally relocated to the Wellington Bird Rehabilitation Trust, where he spent the final years of his life.
"He died when he was almost 40 years old, that's pretty ancient. In human years he would be around 80 years old," said Mr Peryer.
According to Mr Peryer, it is not uncommon for geese to be bisexual, though he adds that the duo were the only pair in the Waikanae Estuary to mate with the same sex.
It is also not unheard of for geese to mate with swans, with the offspring of a swan and a goose known as a swoose.
Homosexual behaviour is extremely common across the animal kingdom, from insects to mammals. But only some animals seem to be lifelong homosexuals mating for life.
Tributes and tears
Thomas, a well-known figure at the estuary, was often visited by tourists who marvelled at how he would follow Henry and Henrietta around.
When news of his death spread, tributes from visitors from as far as Canada and the Netherlands poured in.
"I loved him so much. Many fond memories feeding him his sweet corn every evening," said one user on Facebook.
"Thomas, I remember meeting you and how amazing you were. Big hugs," another commented.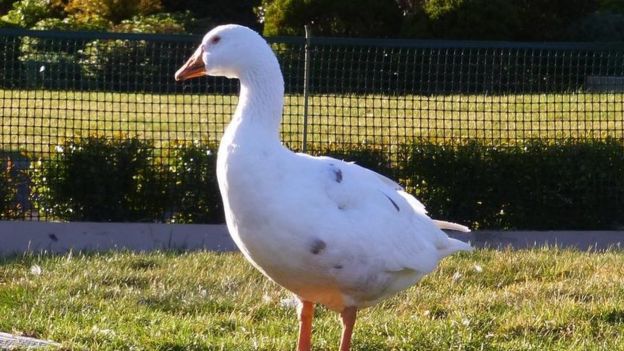 Thomas' memorial on Saturday will see him buried next to Henry the swan.
The event will be marked with a plaque in tribute to Thomas life, with an epitaph by New Zealand performer Pinky Agnew to be inscribed on his tombstone:
Here lies Thomas, the great-hearted goose,
Nestled near Henry, in their final roost,
Here where they raised young, and found sanctuary,
Somewhere above us, these great souls fly free.
Three people have been arrested on suspicion of helping a billionaire jeweller to defraud one of India's largest banks of millions.
Nirav Modi, a diamond broker and luxury jeweller to celebrities, is being investigated in a $44m (£31m) fraud case at Punjab National Bank (PNB).
Late on Friday, India's federal police arrested two bank officials and a business associate of Mr Modi's.
Mr Modi has not yet commented on the case, and no charges have been filed.
PNB has also claimed Mr Modi is involved in a $1.8bn (£1.3bn) fraud. That amount is almost a third of the bank's market value, and many times its quarterly profits.
Nirav Modi is one of India's richest people, with a personal wealth of $1.75bn, according to Forbes.
He has also been the jeweller for celebrities such as Naomi Watts and Kate Winslet – while one of India's biggest stars, Priyanka Chopra, is his company's brand ambassador.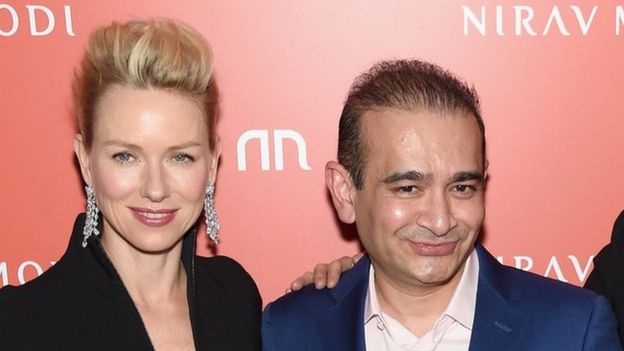 While no charges have been brought against Mr Modi, police have conducted several high-profile raids of his luxury jewellery shops.
India's Central Bureau of Investigation (CBI) named the three arrested as former deputy manager Gokulnath Shetty, Manoj Kharat, and Hemant Bhat, Mr Modi's associate.
A spokesman told the AFP news agency that Hemant Bhat was the "authorised signatory" of several companies linked to Mr Modi.
The three are jointly suspected of making fraudulent lines of credit available to companies linked to Mr Modi and his uncle, Mehul Choksi, the spokesman said.
Mr Choksi is head of the Gitanjali Group, which has about 4,000 shops across India.
PNB said a series of transactions at a single branch in Dubai were made "for the benefit of a select few account holders with their apparent connivance".
Many reports say Mr Modi has left the country, and police have as yet been unable to speak with him.
Both Mr Modi and his uncle have had their passports suspended.
A spokeswoman for India's tax authority told Reuters it had seized 105 bank accounts and 29 properties linked to Mr Modi and his companies, as it investigates possible tax evasion.

Meanwhile, opposition political parties have been seeking to link Mr Modi to Prime Minister Narendra Modi after a photo emerged of the pair together at the World Economic Forum in January – along with dozens of others. The men are not related.
Nirav Modi was born into a diamond trading dynasty, based in the industry capital Antwerp, and later established Firestar Diamond – his own diamond making operation in India almost 20 years ago.
He started trading under his own name in 2010, specialising in diamonds.
The brand made its mark in some style after one of his earliest pieces was featured on the front cover of a Christies catalogue and was sold by the auction house in Hong Kong for $3.8m.