Are you concerned about the impact social media and screen-use are having on young people? If so, MPs are looking to hear your thoughts.
The Commons Science and Technology Committee has announced an inquiry into the impact of social media and screen-use on young people's health.
The committee says it wants to hear the views of young people themselves, as well as of teachers and youth workers.
Chairman Norman Lamb said it was vital to assess the benefits and risks.
"Social media and smartphones are increasingly being used by children and young people," he said.
"We want to determine the scale of the issues – separating out the understandable concerns from the hard evidence, and to identify what practical measures people are already taking to boost the benefits and blunt the potential harms.
"We want to hear from schools and young people, as well as from the industry and government."
Mr Lamb says the committee is particularly keen to hear details of any initiatives undertaken, by children, schools and youth organisations, to help young people cope with the demands of the digital world.
Other issues the MPs would welcome thoughts on include:
the wellbeing benefits from social media usage, including any apps that provide mental-health benefits to users
the physical or mental harms from social media use and screen-use, including safety risks and the extent of any addictive behaviour
any measures being used, or needed, to mitigate any potential harmful effects of excessive screen-use
what monitoring, controls or regulation are needed and where responsibility and accountability should lie for such measures
areas that should be the focus of any further research
Those who would like to submit written views should do so – in no more than 3,000 words – through the committee's inquiry page by 6 April.
The Education Policy Institute's 2017 report showed 95% of 15-year-olds in the UK use social media before or after school, and half of nine to 16-year-olds used smart-phones on a daily basis.
And England's children's commissioner, Anne Longfield, warned in January that the move from primary to secondary school was problematic for children because social media became more important in their lives.
Her report into the effects of social media on eight to 12-year-old children said many were over-dependent on "likes" and comments for social validation.
The starting pistol for the review of university tuition fees in England will be fired early next week.
Or at least that's the latest claim in the political twisting and turning over one of the toughest domestic decisions facing a fragile government.
The last time Theresa May's review of fees seemed to be approaching, neither the education secretary Justine Greening nor the universities minister Jo Johnson seemed particularly enthusiastic – and within weeks both of them were out of their jobs.
The new team – Damian Hinds and Sam Gyimah – will know they have to deliver, with the prime minister and Mr Hinds expected to lead the charge.
As they head for the weekend TV studios, the next big question is what problem the fees review is trying to solve?
Fee freeze to stay
Is it trying to kill off a political problem – with middle England still unconvinced by young people leaving university with £50,000 in debts and interest rates up to 6.1%?
Or is it trying to find a fairer way of balancing the cost between student and taxpayer – and to support those who might currently be missing out, such as those in vocational training and those wanting to study part-time?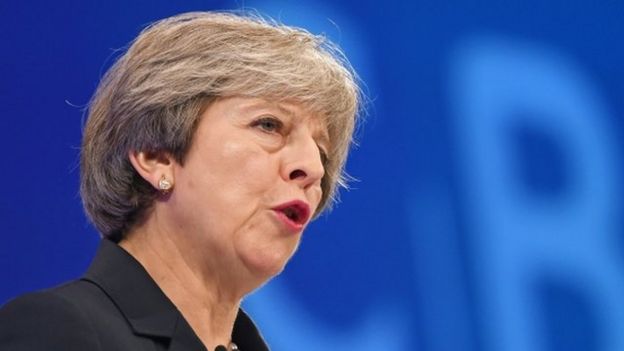 There are some outcomes that are predictable.
For instance, the freeze on annual fees at £9,250 is going to stretch further than this year.
You can't announce a review to show you are listening and then increase fees even more, so there will either be a long-term freeze or a big cut.
Lord Willetts, a former universities minister and author of A University Education, says the review could be politically "high risk".
The government can't "trump Corbyn", with Labour having already established its promise to scrap fees.
Lord Willetts argues that the current system is essentially a good model – it ensures that students do not have to pay up-front and it ensures universities the reliable funding that allows them to keep widening access.
Where he would make changes, he says, is to reduce interest rates and give students more financial support when they are studying.
'Reverse pupil premium'
This would also help parents who end up paying for their student children's living costs.
There have been suggestions – often attributed to the Treasury – that the review will consider varying the level of fees depending on the likely return in graduate earnings.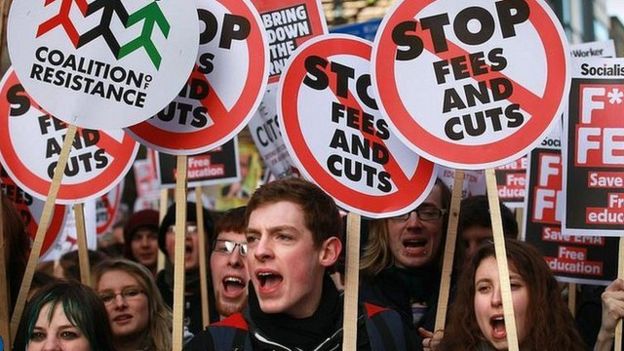 But Lord Willetts says this would become a "reverse pupil premium", concentrating more funding in the most prestigious universities and in courses that lead to the most lucrative careers.
A former Labour education secretary, Charles Clarke, says the review will need "absolute clarity of purpose", because it is such a complicated system with so many interlocking parts.
"No one seems to know what the aim of the reform in 2018 will be," he says.
Mr Clarke says that linking fees to the likely financial returns of specific courses would "significantly reduce fees for millions of students".
He backs cutting interest charges – and says that poorer students should have access to maintenance grants.
Help with living costs
In a theme that the current education secretary is likely to keep hearing, Mr Clarke also highlights the need to provide more support for students when they are studying.
He says there should be loans that cover the real living costs and that since students are adults, this shouldn't be dependent on parental income.
The former education secretary, Justine Greening, thinking more freely from the backbenches, wants maintenance grants reinstated and has raised concerns about the level of interest on student debts.
Sir Anthony Seldon, vice chancellor of the University of Buckingham and biographer of prime ministers, also wants a return of maintenance grants.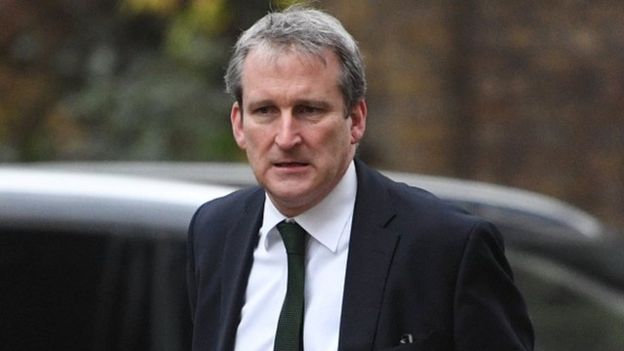 He wants a cut in interest rates for loans, saying the current level "undermines the credibility of the whole scheme".
But he wants a clearer message that repayments from students are a form of graduate contribution and not a "debt".
There are also calls for the fees review to be much wider than academic study at university – and to look more broadly at support for post-18 students taking vocational courses.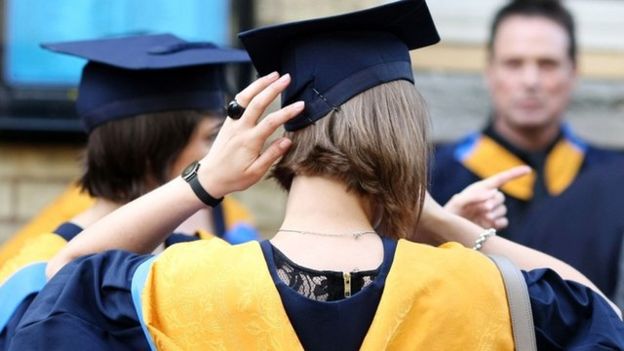 Robert Halfon, chair of the education select committee, recently warned that taxpayers were currently expected to "lavishly furnish universities", when the real shortage was in vocational skills.
But universities face their own problems.
This year's Ucas application figures have been much worse than superficially they might have appeared.
Among applicants in England, the numbers are the lowest since at least 2009 – even below the slump that happened when fees trebled in 2012.
Changing places
There is also an emerging pattern of high status universities getting bigger and attracting more applicants, while others, often doing the hardest work in widening access, are seeing a collapse in student numbers and funding.
If universities were Monty Python characters, they would be like the knight who has his arms and legs chopped off – and says "It's only a flesh wound."
They never want to look like they are in trouble.
But behind their shiny prospectuses and fixed smiles, there are some university leaders who are seriously concerned about a review that can only bring them less money.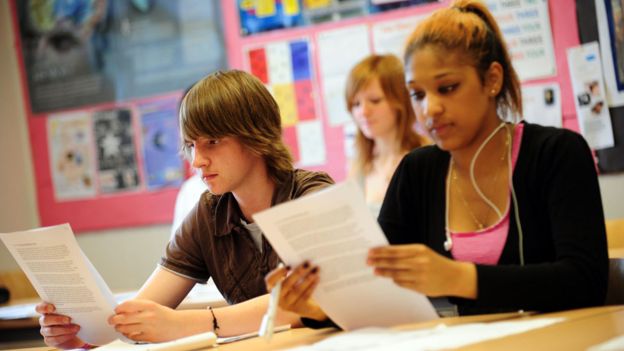 But this is about politics and this is a subject which has a remarkable track record for sudden switches.
It is easy to forget that in 2005 Theresa May was a shadow minister going into a general election with a Conservative manifesto promising to scrap all tuition fees.
In the previous year, it had been Labour that had been on the ropes over plans to increase fees to £3,000 per year.
In the general election, the shadow education secretary, Tim Collins, lead the Tory campaign to end fees.
He lost his seat to a youngster called Tim Farron and his education brief went to another newcomer, David Cameron.
The prime minister is to call for better value for students in England, admitting they face "one of the most expensive systems of university tuition in the world".
Theresa May will announce an independent review of fees and student finance on Monday.
She will also argue for an end to "outdated attitudes" that favour university over technical education.
Mrs May, announcing the year-long review of student finance and university funding, will warn that the system has failed to deliver sufficient competition on price – with almost all courses being charged at the maximum £9,250 per year.
For many students, the prime minister will say, "the level of fees charged do not relate to the cost or quality of the course".
There are "serious concerns" about the cost among parents and grandparents as well as students, she will say.
There is a temporary freeze on fees at £9,250 and that is likely to be extended for at least another year during the review.
'Value for money'
Education Secretary Damian Hinds said he wants "more variety" in the level of fees, rather than almost all courses and universities charging the maximum amount.
He also calls for more flexibility in how courses are delivered, such as two-year degrees, encouraging "commuter degrees" where students live at home and making it easier for part-time students and those who want to carry on working while studying.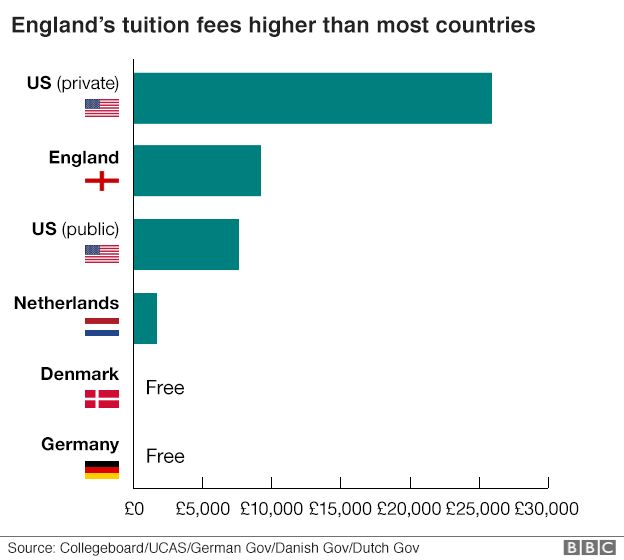 But there have been no suggestions from ministers that the review will consider scrapping or radically reducing fees, or replacing the system with a graduate tax.
"If you've benefitted from a university degree, we know that typically people earn over £100,000 more over the course of their life… then you should be making a big part of that investment," Mr Hinds said.
Former Labour education minister, Lord Adonis, called for a more significant change – arguing that fees should be much lower or abolished, in the way that had happened in Germany.
He accused universities of being "bloated" on high fees and said they needed to "get real" over how much they should charge.
But Lord Adonis rejected the idea of different subjects having different costs as a "big backward step", which would reduce numbers applying for science subjects, if they became more expensive than arts and humanities.
The tuition fee review also will consider ways of reducing costs such as cutting interest rates on loans – currently up to 6.1% – and reintroducing maintenance grants for disadvantaged students, as well as examining the level of fees.
Poorest with biggest debts
Mrs May will say the review needs to make sure poorer students can have an "equal chance".
Students from poorer families are offered bigger loans for living costs than better-off students, who are expected to be partly supported by their parents, but it means they graduate with bigger debts.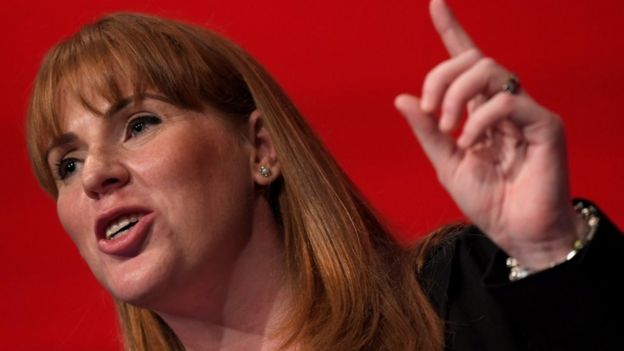 Restoring maintenance grants for poorer students, scrapped last year, would reduce their level of borrowing.
Support for vocational training and apprenticeships in "post-18 education" will also be considered.
The prime minister will also warn that the route into further technical and vocational training is "hard to navigate", saying the standards across the sector "are too varied" and the funding "is patchy".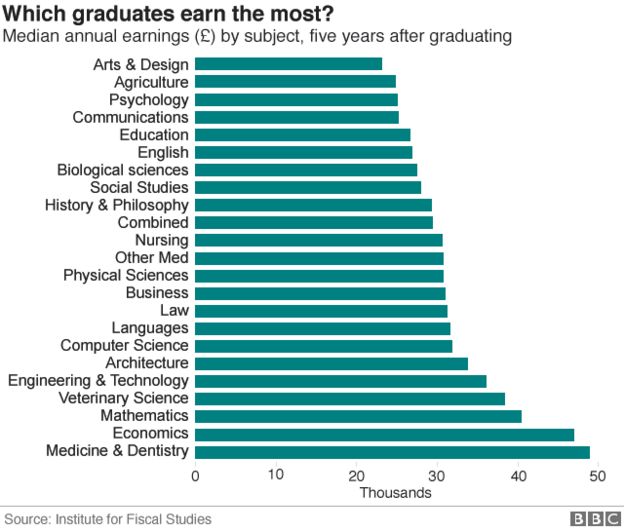 Labour's shadow education secretary, Angela Rayner, has called for services in further and higher education to be free at the point of delivery.
She called the tuition fee system "unsustainable" and called for fees to be scrapped and maintenance grants brought back.
The Treasury select committee, chaired by former education secretary Nicky Morgan, has raised concerns about the high level of interest rates.
---
How do tuition fees work in England?
Universities can charge up to £9,250 per year
Students do not pay this up-front, but can borrow the full amount
They can also take a loan for living costs
Disadvantaged students can borrow more for living costs, on the assumption that better-off students are supported by their parents
Interest of up to 6.1% is charged on loans from when students start at university
Students begin to repay loans once they earn £21,000, with this threshold being raised to £25,000
Any unpaid debts are written off after 30 years
---
The Institute for Fiscal Studies says students in England face more than £5,000 in interest charges before they have even left university – contributing to average graduate debts of more than £50,000.
Other former Conservative and Labour education ministers Ms Greening, Lord Willetts, Lord Adonis and Charles Clarke have all raised concerns about the level of interest charges.
Mrs Morgan has also called for more support for part-time students, saying that their numbers had "collapsed".
She said that the review needed to find a way to encourage more flexibility in courses and costs, saying that when the fees system was introduced it was "naively assumed" there would be be more competition.
'Variety' of fee levels
But there have been warnings against different levels of fees for sciences or humanities and arts, or for different types of university.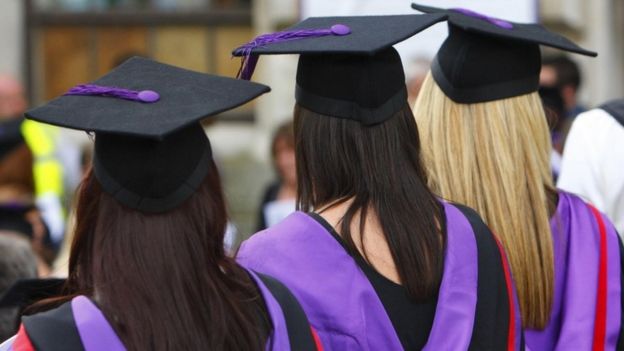 Lord Willetts said higher fees for courses with the highest graduate earnings would become a "reverse pupil premium", giving even more money to the most advantaged courses and institutions.
Sir Anthony Seldon, vice-chancellor of the University of Buckingham, backed calls for more flexible approaches – such as two-year degree courses – but warned that setting different fee levels would be a "bad idea".
Dame Janet Beer, president of Universities UK, said the current system needed to be "better understood and feel fairer to students".
The priorities should be support for disadvantaged students and reversing the collapse in numbers of part-time and mature students, said the university group leader.
Religious extremists are using schools to narrow children's horizons and "pervert education", England's chief inspector of schools is warning.
Amanda Spielman says some community leaders see schools as vehicles to "indoctrinate impressionable minds" – with extremist ideology in some cases.
Ofsted inspectors are increasingly coming into contact with such extremists, she says.
She is asking head teachers to confront those who foster extremist behaviour.
"Rather than adopting a passive liberalism that says anything goes, for fear of causing offence, schools leaders should be promoting a muscular liberalism," Ms Spielman will say at a conference held by the Church of England in London.
"That sort of liberalism holds no truck for ideologies that seek to close minds or narrow opportunity.
"Occasionally that will mean taking uncomfortable decisions or having tough conversations.
"It means not assuming that the most conservative voices in a particular faith speak for everyone."
She added: "Ofsted inspectors are increasingly brought into contact with those who want to actively pervert the purpose of education.
"Under the pretext of religious belief, they use education institutions, legal and illegal, to narrow young people's horizons, to isolate and segregate, and in the worst cases to indoctrinate impressionable minds with extremist ideology.
"Freedom of belief in the private sphere is paramount, but in our schools it is our responsibility to tackle those who actively undermine fundamental British values or equalities law."
'Tough decisions'
Ms Spielman has previously criticised practices in supplementary schools and some private faith schools.
She is understood to be making the speech in support of head teacher Neena Lall, of St Stephen's state primary in east London, who tried to prevent children under the age of eight from wearing the hijab in class.
Generally speaking, Muslim girls, although not all of them, wear the hijab after the age of 10.
Ms Lall also tried to stop younger pupils from taking part in Ramadan fasting during school hours.
This prompted a backlash from some members of the local community and parents, although many parents voiced support for the move.
'Campaign of abuse'
Ms Spielman will say: "School leaders must have the right to set school uniform policies in a way that they see fit, in order to promote cohesion.
"It is a matter of deep regret that this outstanding school has been subject to a campaign of abuse by some elements within the community.
"I want to be absolutely clear – Ofsted will always back heads who take tough decisions in the interests of their pupils."
Ofsted said Ms Spielman was not targeting the Islamic faith, but all forms of fundamentalism.
Dr Zubaida Haque, of the Runnymede Trust, wrote recently in the Times Educational Supplement that head teachers' attempts to ban the wearing of hijabs or other religious items in schools could contradict British values Ofsted was trying to promote, including mutual respect and tolerance of those with different faiths and beliefs.
A Department for Education official said: "Extremism has no place in our society – that's why we changed the law and the requirements on schools so that they have to actively promote the 'fundamental British values' of democracy, the rule of law, individual liberty, and the mutual respect and tolerance of those with different faiths and beliefs.
"If there are any allegations of schools promoting ideologies or discrimination in the classroom, we will not hesitate to take action."