A six-year-old girl has died after she was found unresponsive in a village in Nottinghamshire.
The girl was discovered in a house at about 15:00 GMT on Monday, on Lincoln Road, Tuxford, near Newark.
The youngster was taken by air ambulance to Sheffield Children's Hospital, where she was later pronounced dead.
Nottinghamshire Police said its investigation into her death was "still ongoing".
Two men have been stabbed to death within the space of two hours in Camden, north London.
One victim, believed to be in his late teens, died in Bartholomew Road after he was stabbed at about 20:30 GMT on Tuesday.
Police were then called to Malden Road soon after 22:10, following reports of a disturbance, where they found a man with serious knife wounds.
The Met said they were trying to identify if the killings are linked.
The second man, thought to be about 20, was given first aid but died at the scene near the junction with Marsden Street.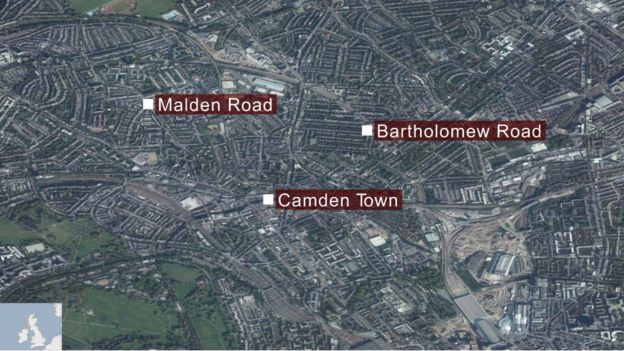 Denise Arnold, 63, who lives in Malden Road said she saw "a large group of people" who were trying to resuscitate the victim of the second stabbing.
"There was a lot of wailing and screaming," she said.
Following the deaths, additional police patrols were sent to Camden overnight and a Section 60 order authorised across the borough until 07:00.
The order gives police the right to search people in places where they believe serious violence may take place.
A police spokesperson said no arrests had been made and "urgent inquiries are under way to establish the full circumstances".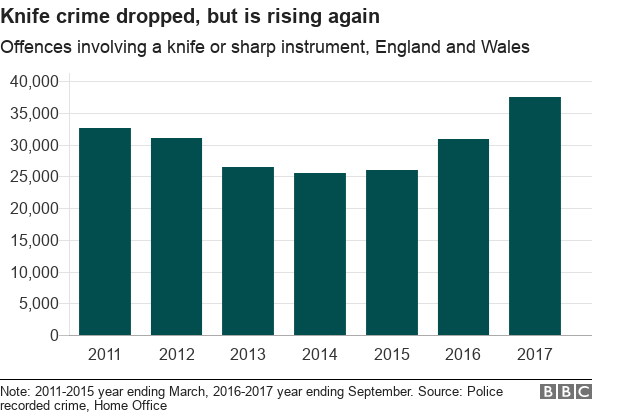 Sixteen people have been stabbed to death in London since the start of 2018. Five of those have been teenagers.
A 19-year-old man who lives near Bartholomew Road told BBC Radio London the stabbings were becoming "everyday behaviour for these youngsters".
"It's just normal now. It's getting to the point where it's getting ridiculous."

At the scene: Greg McKenzie, BBC Radio London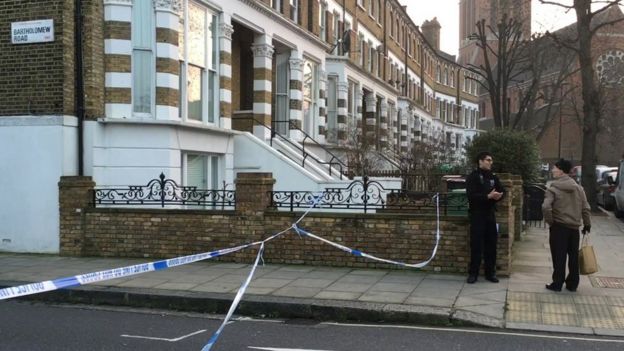 I'm at the crime scene in Bartholomew Road, where there is a large police cordon in place.
There are a number of police officers here and in the distance is a white tent where the victim was found and pronounced dead.
Malden Road, where the second victim died, is about a 15-minute walk from here.
Following that death the police issued a Section 60 order across the borough which gave them special powers to stop and search people.
Police are able to use stop and search normally but these powers mean they do not need to have any suspicion that people are involved in violence or are holding weapons to stop them.
Are you concerned about the impact social media and screen-use are having on young people? If so, MPs are looking to hear your thoughts.
The Commons Science and Technology Committee has announced an inquiry into the impact of social media and screen-use on young people's health.
The committee says it wants to hear the views of young people themselves, as well as of teachers and youth workers.
Chairman Norman Lamb said it was vital to assess the benefits and risks.
"Social media and smartphones are increasingly being used by children and young people," he said.
"We want to determine the scale of the issues – separating out the understandable concerns from the hard evidence, and to identify what practical measures people are already taking to boost the benefits and blunt the potential harms.
"We want to hear from schools and young people, as well as from the industry and government."
Mr Lamb says the committee is particularly keen to hear details of any initiatives undertaken, by children, schools and youth organisations, to help young people cope with the demands of the digital world.
Other issues the MPs would welcome thoughts on include:
the wellbeing benefits from social media usage, including any apps that provide mental-health benefits to users
the physical or mental harms from social media use and screen-use, including safety risks and the extent of any addictive behaviour
any measures being used, or needed, to mitigate any potential harmful effects of excessive screen-use
what monitoring, controls or regulation are needed and where responsibility and accountability should lie for such measures
areas that should be the focus of any further research
Those who would like to submit written views should do so – in no more than 3,000 words – through the committee's inquiry page by 6 April.
The Education Policy Institute's 2017 report showed 95% of 15-year-olds in the UK use social media before or after school, and half of nine to 16-year-olds used smart-phones on a daily basis.
And England's children's commissioner, Anne Longfield, warned in January that the move from primary to secondary school was problematic for children because social media became more important in their lives.
Her report into the effects of social media on eight to 12-year-old children said many were over-dependent on "likes" and comments for social validation.
The Met Police has lost an appeal at the Supreme Court against two victims of black cab rapist John Worboys who won compensation for its failings.
The women were raped by Worboys in 2003 and 2007 and said their treatment by police, who failed to believe their reports, caused them mental harm.
The Supreme Court unanimously dismissed the police's appeal.
The women are also separately pursuing a judicial review of the Parole Board's decision to release Worboys.
Worboys was able to continue to attack women until he was convicted in 2009, when he was jailed for life for 19 offences, including one rape and five sexual assaults.
The Met believe he may have attacked more than 100 women.
A minor earthquake with 4.4 magnitude has affected parts of Wales and England.
Shaking has been reported across south Wales, the south west of England and the Midlands.
The British Geological Survey said the epicentre was approximately 20km north-north-east of Swansea and at a depth of 7.4km.
Events of this magnitude only happen in the UK every 2-3 years, it added.
There has been a minor earthquake throughout South Wales….no need for you to contact the Emergency Services unless you have something to report ie:- injuries or damage. Hope this sets you minds at rest SWP

— SW Police Cardiff (@swpcardiff) February 17, 2018
Dyfed Powys Police force said it had received "an extremely high volume" of calls relating to tremors.
Meanwhile, South Wales Police urged the public to avoid calling the emergency services unless it was to report damage or injuries.
'The walls cracked'
Vera Sanderberg, from Croyde in north Devon, said she felt her 10 bedroom house shake.
"The neighbour's horses bolted," she said.
"It was just a split second. We can't see anything damaged."
In Cheltenham, Paul Samway said it felt like "a washing machine breaking down".
"We heard the walls crack and there was a bit if juddering," he added.
"We thought nothing of it until we saw reports from other people on social media."
Boris Johnson is to attempt to reassure voters who are angry and alienated by Brexit that the UK's split from the EU is a cause for "hope not fear".
The foreign secretary will use a speech to try to build bridges with those who voted to remain in the EU, saying their belief in European solidarity is based on "noble sentiments".
"It is not good enough to say 'you lost, get over it'," he will say.
But he will also insist those who want to stop Brexit cannot prevail.
In the speech in London, he will say that that holding another referendum on the UK's membership of the EU would be a "disastrous mistake that would lead to permanent and ineradicable feelings of betrayal".
Labour MP Chuka Umunna, who supports the Open Britain campaign "against a hard, destructive Brexit", said Mr Johnson was "totally unqualified to preach about the perils of fear and betrayal", having "engaged in disgraceful scaremongering" during the EU referendum.
Mr Johnson's speech is the first in a series of speeches by Theresa May and her ministers on the "road to Brexit".
The prime minister is expected to address the UK's future relations with the EU in a speech in Munich on Saturday, the day after she holds talks with German Chancellor Angela Merkel in Berlin.
In what has been billed as his most substantial speech on Brexit for more than a year, Mr Johnson – a leading figure in the Leave campaign during the 2016 referendum – is expected to make the "liberal case" for the UK's withdrawal and argue it will allow the country to play a greater role on the world stage.
Excerpts released in advance of the speech suggest Mr Johnson will appeal to both sides to move on from the divisions of the past and unite around a shared goal of seeing an outward-facing and global nation succeed.
"We must accept that many [Remainers] are actuated by entirely noble sentiments, a real sense of solidarity with our European neighbours and a desire for the UK to succeed," he will say.
"If we are to carry this project through to national success – as we must – then we must also reach out to those who still have anxieties.
"I want to try to anatomise at least some of those fears and to show to the best of my ability that they are unfounded and that the very opposite is usually true: that Brexit is not grounds for fear but hope."
---
Analysis
by Ben Wright, political correspondent, BBC News
It's a conciliatory tone we haven't heard much from Cabinet ministers.
And it's a recognition of the deep divisions Brexit has opened. Boris Johnson will use his Valentine's Day speech to try to woo despairing Remain supporters who think Brexit is a disaster.
There's no crumb of comfort for people who would like to see Brexit stopped. Mr Johnson insists it must happen.
Furthermore, he will say the UK must take back full control of regulations and tariff schedules.
It's no secret the Cabinet is divided on how closely the UK and EU should align after Brexit.
Last month the Chancellor Philip Hammond said he wanted the two economies to move apart only "very modestly", a statement that enraged Brexiteers.
Boris Johnson's speech shows again that he is not in the close alignment camp.
His speech was approved by Number 10 and will be scoured for clues about how Theresa May's divided Cabinet plans to find common ground around the deal it hopes to strike with the EU.
---
Continuing the conciliatory tone in an article for the Sun, Mr Johnson writes: "To those who worry that we are somehow going to become more insular, the exact reverse is true.
"We do not want to haul up the drawbridge and we certainly don't want to deter the international students who make a huge contribution to our economy."
Mr Johnson is expected to focus on the potential for extending British influence in the rest of the world, exploiting Britain's traditional strengths in trade, diplomacy, soft power, development and human rights.
The foreign secretary, who returned on Tuesday from a visit to Myanmar and Thailand, told the Guardian last month he would like to see the UK "taking advantage" of the people's decision to leave to get the "best economic result from that decision, and do the best we can do".
Ministers are under pressure to spell out how they can square their desire for frictionless trade after Brexit with the UK's exit from the single market and customs union, which EU officials say will create trade barriers.
By leaving the customs union, the UK has said it will have freedom to negotiate trade deals of its own during the transition period, while reducing tariffs on imports from developing countries.
Mr Johnson is one of the most enthusiastic Brexiteers in the cabinet but his decision to deliver a Brexit speech shortly before Mrs May's Florence speech in October, plus his recent plea for more money to be spent on the NHS after Brexit, has seen him face criticism from some in his party.
Meanwhile, a report by the Commons Home Affairs Committee has said the UK is ill-equipped to cope with changes to the immigration system after Brexit due to a lack of resources.
A group of MPs has warned that the Home Office is planning only "moderate adjustments for an immense bureaucratic challenge".
The Home Office said preparations for Brexit were well advanced and more staff were being recruited.
The fraud trial of three former Tesco bosses has been abandoned after one of the defendants suffered a major heart attack.
The trial at Southwark Crown Court, which began in September last year, collapsed after Carl Rogberg, 51, was taken to hospital.
Judge Deborah Taylor was due to begin her summing up after significant delays in the case, but instead discharged the jury on Monday.
The collapse of the case can be reported for the first time after reporting restrictions were lifted on Tuesday.
Rogberg, Chris Bush, 51, and John Scouler, 49, are accused of failing to correct inaccurately recorded income figures which were published to auditors, other employees and the wider market.
The Serious Fraud Office is considering if the case should go to retrial.
Judge Deborah Taylor told the 11 remaining members of the Tesco jury on Monday: "Thank you once again for your patience.
"The position is this: very unfortunately and sadly Mr Rogberg has suffered from a heart attack and is currently in hospital awaiting surgery.
"In the circumstances it would not be right or proper to continue with this trial and therefore I am discharging you from further dealing with this case.
"It has been a long period and I know it must be quite frustrating for you not to come to a conclusion at the end of all your hard work during the course of this trial."
Nicholas Purnell QC, representing Rogberg, told the court on Monday that he was rushed to hospital on Thursday last week after suffering a major heart attack.
He is due to have surgery later this week after three blockages were found in his heart, Mr Purnell said.
"He has found the delay increasingly stressful," he added.
A group of schoolgirls were rushed to hospital after becoming ill and unable to walk after allegedly taking prescription drugs on school grounds.
Six pupils at the all-girls' Burntwood School in Wandsworth are believed to have taken Xanax, a potentially addictive anti-anxiety medicine.
Helen Dorfman, principal of the 1,700-strong secondary school, confirmed staff called paramedics after the pupils were found unwell. She told the Standard she was "very relieved" they suffered no serious harm.
One student witness said: "It's been happening for years — students taking drugs at schools. It's different drugs, but it's mainly Xanax.
"These students were taken to hospital so they could have a drugs test. They were all high and could not walk. Parents were called in, and police and ambulances were there too."
Burntwood, which became an academy in 2013, was rated "good" in its latest Ofsted report. It won the Stirling Prize, the most prestigious architecture award in the country, for its new buildings in 2015.
Past pupils include actress Pearl Mackie, who played the Doctor's companion in Doctor Who.
A spokeswoman for Scotland Yard said it was believed the girls may have consumed prescription drugs.
Mrs Dorfman said: "As soon as the school became aware some students were unwell, we requested paramedics attend and alerted parents. Six were taken to hospital as a precaution. They were accompanied by representatives of their families. The students have since been discharged. At this time we understand all are well."
She added: "Police spoke with staff and students. They are investigating the circumstances. We are cooperating fully with the officers. We are just very relieved our students are well and have suffered no ill effects." A Met spokesman said: "Police were called by London Ambulance Service at approximately 1pm on Monday to reports of a number of teenagers taken unwell at a school in Wandsworth.
"At this very early stage it is believed that they may have consumed prescription drugs. Officers are liaising with the school and local education authority. There have been no arrests."
London Ambulance Service confirmed three ambulances were sent to the school, with patients treated at the scene before being taken to hospital.
According to new research by the Oxford Internet Institute, the UK is second behind the US for the highest number of global trades in Xanax on the dark web. The pills are not available on the NHS but are licensed by the UK medicines regulator and can be ob-tained on private prescription.
They are also available from street dealers.
While overdoses are less common, side effects include blurred vision, muscle pain and seizures. At a debate in Parliament last month, MPs were told Xanax takes effect within 15 minutes and its sedative action can last 10 to 20 hours. When taken with alcohol the impact is multiplied and can cause memory loss.
A 19-year-old man has been stabbed to death in Barking.
Police appealed for help as they hunt the killer after they were called at 10.11pm on Saturday on Abbey Road.
Medics battled to save the teen but he was pronounced dead at the scene about 40 minutes later, at 10.55pm.
The Met said: "Officers attended along with London Ambulance Service and found a 19-year-old man suffering from stab wounds."
His next of kin have been informed, a post-mortem examination is due and a murder investigation has been launched.
"No arrests have been made at this early stage. Enquiries are ongoing," said a spokesman.
Any witnesses or anyone with information that may assist the investigation should contact HMCC officers via 101, quoting ref 7838feb03.
To remain anonymous call Crimestoppers on 0800 555 111.
Black cab rapist John Worboys has been moved out of London after uproar over his move into a jail in the capital.
Worboys was transferred back to HMP Wakefield from HMP Belmarsh after a fierce backlash in January when critics slammed the prison service for moving him to the city where he committed his crimes.
It is understood that he has been moved back to the category A prison in West Yorkshire while legal proceedings take place over his release on parole.
Worboys' return to HMP Wakefield came out as a lawyer said she had passed details of fresh allegations made by five women to police.
Harriet Wistrich told the Sunday Mirror that two further women, whose cases were reported to police but not prosecuted as part of his trial, have asked for their allegations to be reconsidered.
Worboys was jailed indefinitely in 2009, with a minimum term of eight years, for drugging and sexually assaulting women passengers.
He became known as the black cab rapist after attacking victims in his hackney carriage.
The predator was convicted of 19 offences against 12 victims, but has been linked to more than 100 complaints in total.
A Parole Board decision that he should be released on licence after spending less than a decade behind bars sparked outrage when it emerged in January.
A High Court judge later ordered a temporary bar on Worboys' release after considering an urgent application by two of his victims.
The women, supported by London Mayor Sadiq Khan, applied for a "stay" on his release "pending determination of the claim for judicial review or further order".
A hearing at the High Court in London is now expected between February 6 and 8, but a date has yet to be confirmed.