Six fire engines were sent to the scene after members of the public reported a large blast in the area at around 7pm.
A spokeswoman for Leicestershire Fire and Rescue Service said firefighters were on their way to the scene when police told them a building had collapsed.
The building was two-storeys high with a loft conversion and it had suffered a "pancake collapse", she said.
"This is a search and rescue at the moment," she added, saying that there is "no indication" of the cause.
We can confirm that four patients from the scene have been taken to Leicester Royal Infirmary via @EMASNHSTrust in a critical condition. @Leicspolice are advising everyone to avoid the area. Please only attend A&E if absolutely necessary. If not an emergency, please call NHS 111 https://t.co/7uso1OwAJD

— Leicester's Hospitals (@Leic_hospital) 25 February 2018
Additional specialist search and rescue teams have been sent to the scene on Hinckley Road, including a search and rescue dog from neighbouring Lincolnshire.
:: LIVE: Search and rescue after Leicester 'blast'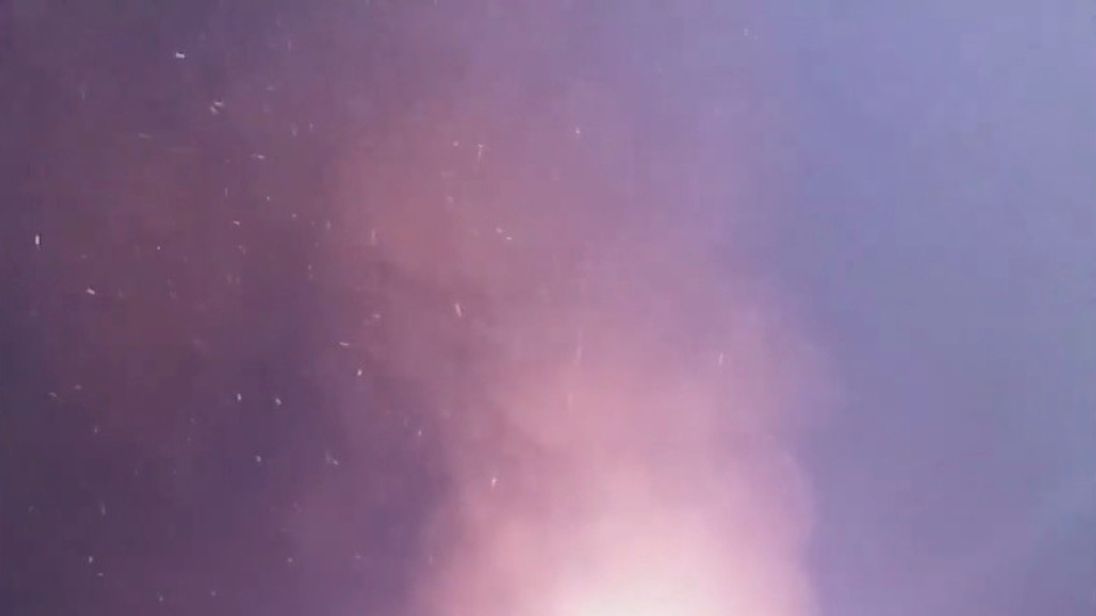 Debris was blasted across both carriageways of the road after the blast, which destroyed a house and a convenience store, according to reports.
People have been evacuated from businesses and homes nearby and taken to a police station for their safety, police said.
I understand there are no early indications that the explosion in Leicester was connected to terrorist activity. Police are investigating.

— Alistair Bunkall (@AliBunkallSKY) 25 February 2018
Resident Kat Pattinson told Sky News: "We were just in the house…about 500m from where the blast has taken place.
"There was a bang and the whole house shook.
"The emergency services were in attendance, there was a lot of smoke, just an awful lot of smoke.
"It was just one event so hopefully, whatever happened, it is in the process of being contained now…the building doesn't appear to be there anymore."
She described the building as "a shop with flats on top of it".
At the scene, Sky News Correspondent Tom Parmenter that damage to the main building, a Polish grocery store, had been "very very significant".
He said the store had been "effectively demolished by the force of the explosion".
We're on scene at incident in Leic with our ambulance crews, HART https://t.co/M9NRMHyKHj and @EMICS999 Drs. Follow @leicspolice for updates

— East Midlands Ambulance Service NHS Trust (@EMASNHSTrust) 25 February 2018
Local journalist Laura Scigliano told Sky News: "The smoke is so thick you can feel it in your throat.
"I can't see any flames now – it's just thick smoke."
She added: "I spoke to one lady who heard a massive bang.
"One man said he thought it sounded like a bomb.
"It looks like extensive damage…the building just looks like it has completely collapsed."
She described the road as one of the main routes into the city that was "usually very busy during the day".
#Explosion on or near #HinckleyRoad in #Leicester. Whole house shook, loud bang, lots of smoke. Avoid the area – lots of sirens and no doubt they're closing it off

— applepearmamabear (@applepearmama) 25 February 2018
Leicestershire Police said: "The cause of the explosion will be the subject of a joint investigation by the police and Leicestershire Fire and Rescue Service.