A six-year-old girl has died after she was found unresponsive in a village in Nottinghamshire.
The girl was discovered in a house at about 15:00 GMT on Monday, on Lincoln Road, Tuxford, near Newark.
The youngster was taken by air ambulance to Sheffield Children's Hospital, where she was later pronounced dead.
Nottinghamshire Police said its investigation into her death was "still ongoing".
Two men have been stabbed to death within the space of two hours in Camden, north London.
One victim, believed to be in his late teens, died in Bartholomew Road after he was stabbed at about 20:30 GMT on Tuesday.
Police were then called to Malden Road soon after 22:10, following reports of a disturbance, where they found a man with serious knife wounds.
The Met said they were trying to identify if the killings are linked.
The second man, thought to be about 20, was given first aid but died at the scene near the junction with Marsden Street.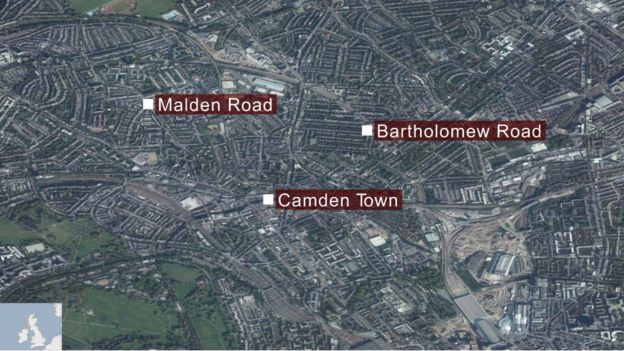 Denise Arnold, 63, who lives in Malden Road said she saw "a large group of people" who were trying to resuscitate the victim of the second stabbing.
"There was a lot of wailing and screaming," she said.
Following the deaths, additional police patrols were sent to Camden overnight and a Section 60 order authorised across the borough until 07:00.
The order gives police the right to search people in places where they believe serious violence may take place.
A police spokesperson said no arrests had been made and "urgent inquiries are under way to establish the full circumstances".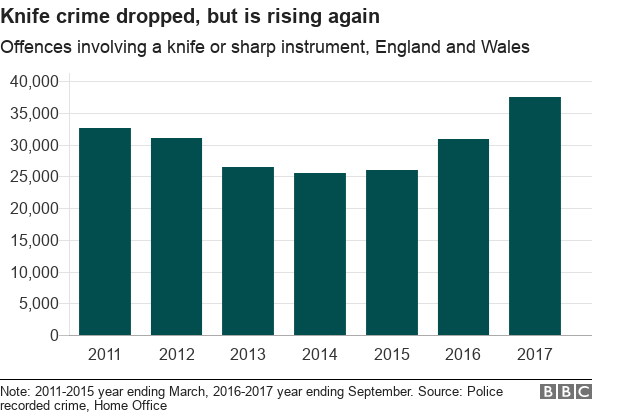 Sixteen people have been stabbed to death in London since the start of 2018. Five of those have been teenagers.
A 19-year-old man who lives near Bartholomew Road told BBC Radio London the stabbings were becoming "everyday behaviour for these youngsters".
"It's just normal now. It's getting to the point where it's getting ridiculous."

At the scene: Greg McKenzie, BBC Radio London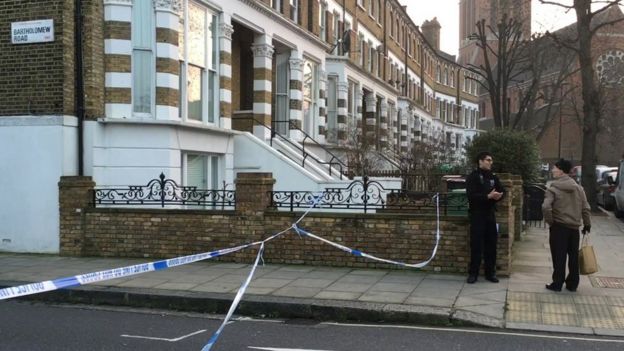 I'm at the crime scene in Bartholomew Road, where there is a large police cordon in place.
There are a number of police officers here and in the distance is a white tent where the victim was found and pronounced dead.
Malden Road, where the second victim died, is about a 15-minute walk from here.
Following that death the police issued a Section 60 order across the borough which gave them special powers to stop and search people.
Police are able to use stop and search normally but these powers mean they do not need to have any suspicion that people are involved in violence or are holding weapons to stop them.
Are you concerned about the impact social media and screen-use are having on young people? If so, MPs are looking to hear your thoughts.
The Commons Science and Technology Committee has announced an inquiry into the impact of social media and screen-use on young people's health.
The committee says it wants to hear the views of young people themselves, as well as of teachers and youth workers.
Chairman Norman Lamb said it was vital to assess the benefits and risks.
"Social media and smartphones are increasingly being used by children and young people," he said.
"We want to determine the scale of the issues – separating out the understandable concerns from the hard evidence, and to identify what practical measures people are already taking to boost the benefits and blunt the potential harms.
"We want to hear from schools and young people, as well as from the industry and government."
Mr Lamb says the committee is particularly keen to hear details of any initiatives undertaken, by children, schools and youth organisations, to help young people cope with the demands of the digital world.
Other issues the MPs would welcome thoughts on include:
the wellbeing benefits from social media usage, including any apps that provide mental-health benefits to users
the physical or mental harms from social media use and screen-use, including safety risks and the extent of any addictive behaviour
any measures being used, or needed, to mitigate any potential harmful effects of excessive screen-use
what monitoring, controls or regulation are needed and where responsibility and accountability should lie for such measures
areas that should be the focus of any further research
Those who would like to submit written views should do so – in no more than 3,000 words – through the committee's inquiry page by 6 April.
The Education Policy Institute's 2017 report showed 95% of 15-year-olds in the UK use social media before or after school, and half of nine to 16-year-olds used smart-phones on a daily basis.
And England's children's commissioner, Anne Longfield, warned in January that the move from primary to secondary school was problematic for children because social media became more important in their lives.
Her report into the effects of social media on eight to 12-year-old children said many were over-dependent on "likes" and comments for social validation.
The Met Police has lost an appeal at the Supreme Court against two victims of black cab rapist John Worboys who won compensation for its failings.
The women were raped by Worboys in 2003 and 2007 and said their treatment by police, who failed to believe their reports, caused them mental harm.
The Supreme Court unanimously dismissed the police's appeal.
The women are also separately pursuing a judicial review of the Parole Board's decision to release Worboys.
Worboys was able to continue to attack women until he was convicted in 2009, when he was jailed for life for 19 offences, including one rape and five sexual assaults.
The Met believe he may have attacked more than 100 women.
The starting pistol for the review of university tuition fees in England will be fired early next week.
Or at least that's the latest claim in the political twisting and turning over one of the toughest domestic decisions facing a fragile government.
The last time Theresa May's review of fees seemed to be approaching, neither the education secretary Justine Greening nor the universities minister Jo Johnson seemed particularly enthusiastic – and within weeks both of them were out of their jobs.
The new team – Damian Hinds and Sam Gyimah – will know they have to deliver, with the prime minister and Mr Hinds expected to lead the charge.
As they head for the weekend TV studios, the next big question is what problem the fees review is trying to solve?
Fee freeze to stay
Is it trying to kill off a political problem – with middle England still unconvinced by young people leaving university with £50,000 in debts and interest rates up to 6.1%?
Or is it trying to find a fairer way of balancing the cost between student and taxpayer – and to support those who might currently be missing out, such as those in vocational training and those wanting to study part-time?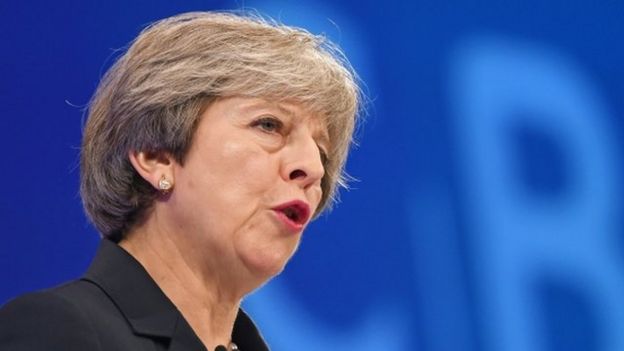 There are some outcomes that are predictable.
For instance, the freeze on annual fees at £9,250 is going to stretch further than this year.
You can't announce a review to show you are listening and then increase fees even more, so there will either be a long-term freeze or a big cut.
Lord Willetts, a former universities minister and author of A University Education, says the review could be politically "high risk".
The government can't "trump Corbyn", with Labour having already established its promise to scrap fees.
Lord Willetts argues that the current system is essentially a good model – it ensures that students do not have to pay up-front and it ensures universities the reliable funding that allows them to keep widening access.
Where he would make changes, he says, is to reduce interest rates and give students more financial support when they are studying.
'Reverse pupil premium'
This would also help parents who end up paying for their student children's living costs.
There have been suggestions – often attributed to the Treasury – that the review will consider varying the level of fees depending on the likely return in graduate earnings.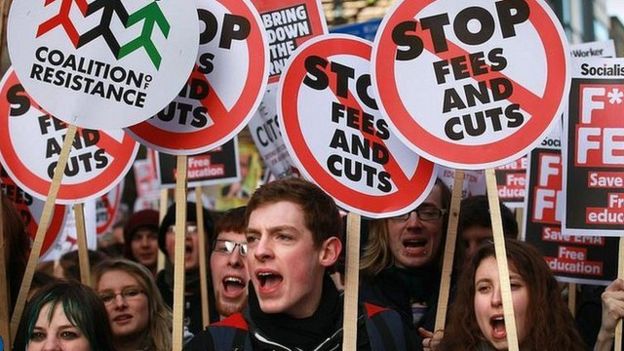 But Lord Willetts says this would become a "reverse pupil premium", concentrating more funding in the most prestigious universities and in courses that lead to the most lucrative careers.
A former Labour education secretary, Charles Clarke, says the review will need "absolute clarity of purpose", because it is such a complicated system with so many interlocking parts.
"No one seems to know what the aim of the reform in 2018 will be," he says.
Mr Clarke says that linking fees to the likely financial returns of specific courses would "significantly reduce fees for millions of students".
He backs cutting interest charges – and says that poorer students should have access to maintenance grants.
Help with living costs
In a theme that the current education secretary is likely to keep hearing, Mr Clarke also highlights the need to provide more support for students when they are studying.
He says there should be loans that cover the real living costs and that since students are adults, this shouldn't be dependent on parental income.
The former education secretary, Justine Greening, thinking more freely from the backbenches, wants maintenance grants reinstated and has raised concerns about the level of interest on student debts.
Sir Anthony Seldon, vice chancellor of the University of Buckingham and biographer of prime ministers, also wants a return of maintenance grants.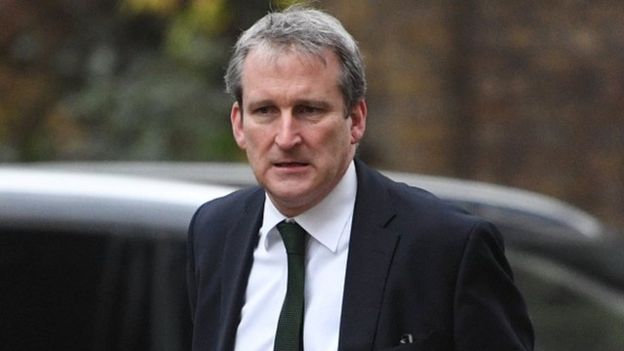 He wants a cut in interest rates for loans, saying the current level "undermines the credibility of the whole scheme".
But he wants a clearer message that repayments from students are a form of graduate contribution and not a "debt".
There are also calls for the fees review to be much wider than academic study at university – and to look more broadly at support for post-18 students taking vocational courses.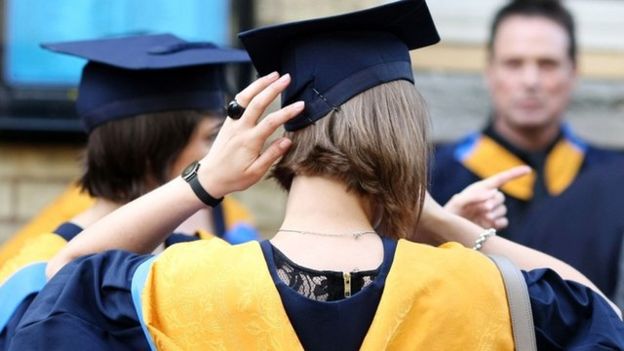 Robert Halfon, chair of the education select committee, recently warned that taxpayers were currently expected to "lavishly furnish universities", when the real shortage was in vocational skills.
But universities face their own problems.
This year's Ucas application figures have been much worse than superficially they might have appeared.
Among applicants in England, the numbers are the lowest since at least 2009 – even below the slump that happened when fees trebled in 2012.
Changing places
There is also an emerging pattern of high status universities getting bigger and attracting more applicants, while others, often doing the hardest work in widening access, are seeing a collapse in student numbers and funding.
If universities were Monty Python characters, they would be like the knight who has his arms and legs chopped off – and says "It's only a flesh wound."
They never want to look like they are in trouble.
But behind their shiny prospectuses and fixed smiles, there are some university leaders who are seriously concerned about a review that can only bring them less money.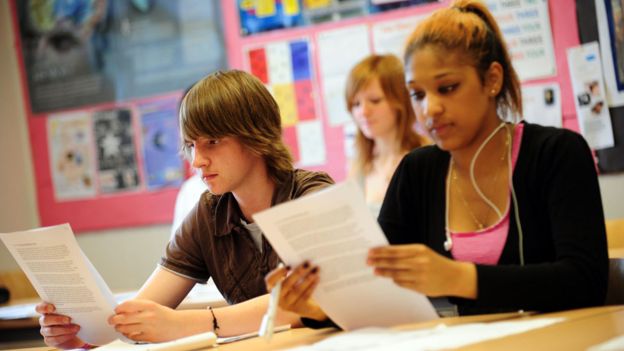 But this is about politics and this is a subject which has a remarkable track record for sudden switches.
It is easy to forget that in 2005 Theresa May was a shadow minister going into a general election with a Conservative manifesto promising to scrap all tuition fees.
In the previous year, it had been Labour that had been on the ropes over plans to increase fees to £3,000 per year.
In the general election, the shadow education secretary, Tim Collins, lead the Tory campaign to end fees.
He lost his seat to a youngster called Tim Farron and his education brief went to another newcomer, David Cameron.
The prime minister is to call for better value for students in England, admitting they face "one of the most expensive systems of university tuition in the world".
Theresa May will announce an independent review of fees and student finance on Monday.
She will also argue for an end to "outdated attitudes" that favour university over technical education.
Mrs May, announcing the year-long review of student finance and university funding, will warn that the system has failed to deliver sufficient competition on price – with almost all courses being charged at the maximum £9,250 per year.
For many students, the prime minister will say, "the level of fees charged do not relate to the cost or quality of the course".
There are "serious concerns" about the cost among parents and grandparents as well as students, she will say.
There is a temporary freeze on fees at £9,250 and that is likely to be extended for at least another year during the review.
'Value for money'
Education Secretary Damian Hinds said he wants "more variety" in the level of fees, rather than almost all courses and universities charging the maximum amount.
He also calls for more flexibility in how courses are delivered, such as two-year degrees, encouraging "commuter degrees" where students live at home and making it easier for part-time students and those who want to carry on working while studying.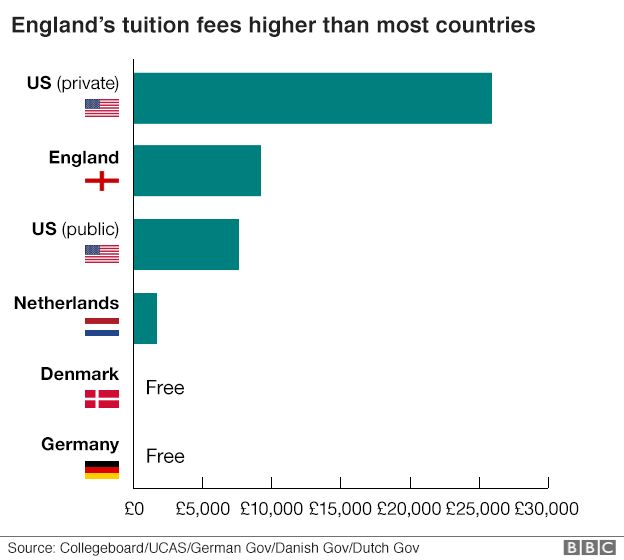 But there have been no suggestions from ministers that the review will consider scrapping or radically reducing fees, or replacing the system with a graduate tax.
"If you've benefitted from a university degree, we know that typically people earn over £100,000 more over the course of their life… then you should be making a big part of that investment," Mr Hinds said.
Former Labour education minister, Lord Adonis, called for a more significant change – arguing that fees should be much lower or abolished, in the way that had happened in Germany.
He accused universities of being "bloated" on high fees and said they needed to "get real" over how much they should charge.
But Lord Adonis rejected the idea of different subjects having different costs as a "big backward step", which would reduce numbers applying for science subjects, if they became more expensive than arts and humanities.
The tuition fee review also will consider ways of reducing costs such as cutting interest rates on loans – currently up to 6.1% – and reintroducing maintenance grants for disadvantaged students, as well as examining the level of fees.
Poorest with biggest debts
Mrs May will say the review needs to make sure poorer students can have an "equal chance".
Students from poorer families are offered bigger loans for living costs than better-off students, who are expected to be partly supported by their parents, but it means they graduate with bigger debts.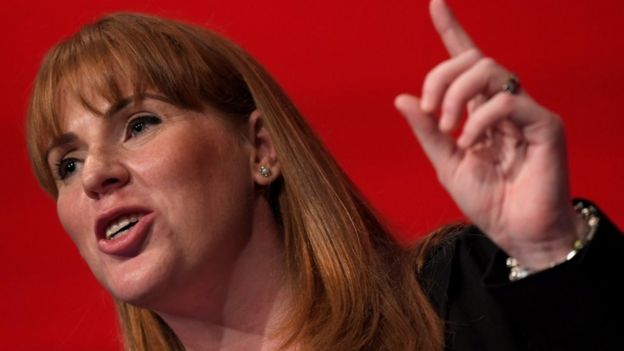 Restoring maintenance grants for poorer students, scrapped last year, would reduce their level of borrowing.
Support for vocational training and apprenticeships in "post-18 education" will also be considered.
The prime minister will also warn that the route into further technical and vocational training is "hard to navigate", saying the standards across the sector "are too varied" and the funding "is patchy".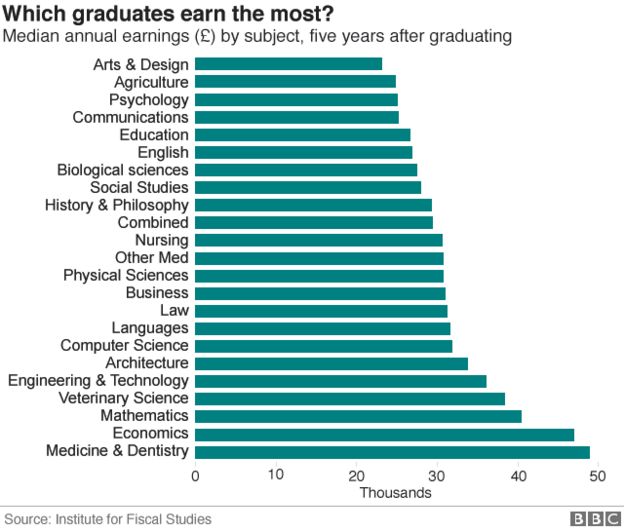 Labour's shadow education secretary, Angela Rayner, has called for services in further and higher education to be free at the point of delivery.
She called the tuition fee system "unsustainable" and called for fees to be scrapped and maintenance grants brought back.
The Treasury select committee, chaired by former education secretary Nicky Morgan, has raised concerns about the high level of interest rates.
---
How do tuition fees work in England?
Universities can charge up to £9,250 per year
Students do not pay this up-front, but can borrow the full amount
They can also take a loan for living costs
Disadvantaged students can borrow more for living costs, on the assumption that better-off students are supported by their parents
Interest of up to 6.1% is charged on loans from when students start at university
Students begin to repay loans once they earn £21,000, with this threshold being raised to £25,000
Any unpaid debts are written off after 30 years
---
The Institute for Fiscal Studies says students in England face more than £5,000 in interest charges before they have even left university – contributing to average graduate debts of more than £50,000.
Other former Conservative and Labour education ministers Ms Greening, Lord Willetts, Lord Adonis and Charles Clarke have all raised concerns about the level of interest charges.
Mrs Morgan has also called for more support for part-time students, saying that their numbers had "collapsed".
She said that the review needed to find a way to encourage more flexibility in courses and costs, saying that when the fees system was introduced it was "naively assumed" there would be be more competition.
'Variety' of fee levels
But there have been warnings against different levels of fees for sciences or humanities and arts, or for different types of university.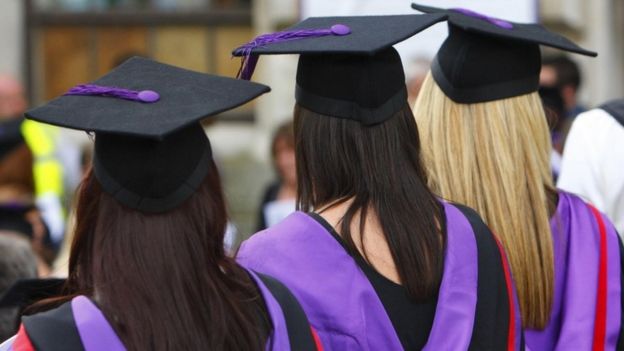 Lord Willetts said higher fees for courses with the highest graduate earnings would become a "reverse pupil premium", giving even more money to the most advantaged courses and institutions.
Sir Anthony Seldon, vice-chancellor of the University of Buckingham, backed calls for more flexible approaches – such as two-year degree courses – but warned that setting different fee levels would be a "bad idea".
Dame Janet Beer, president of Universities UK, said the current system needed to be "better understood and feel fairer to students".
The priorities should be support for disadvantaged students and reversing the collapse in numbers of part-time and mature students, said the university group leader.
Canadian Prime Minister Justin Trudeau's first official visit to India has not been the headline-grabbing love fest he must be accustomed to on his overseas trips.
Despite plenty of photo opportunities, including at the Taj Mahal, Mr Trudeau and his family's tour has been largely ignored by senior members of the Indian government so far.
When he arrived in the capital, Delhi, he was met at the airport by a junior minister in what many interpreted to be a "snub".
Prime Minister Narendra Modi has, on many occasions, personally received visiting government leaders. He also famously hugs his foreign counterparts.
Most recently Mr Modi extended the courtesy – both the personal reception and the hug – to Israeli Prime Minister Benjamin Netanyahu who visited in January.
But Mr Modi has not yet met the Canadian prime minister, despite him being in India for two days.
He was also absent when Mr Trudeau visited his home state of Gujarat on Monday.
And it's not just the prime minister.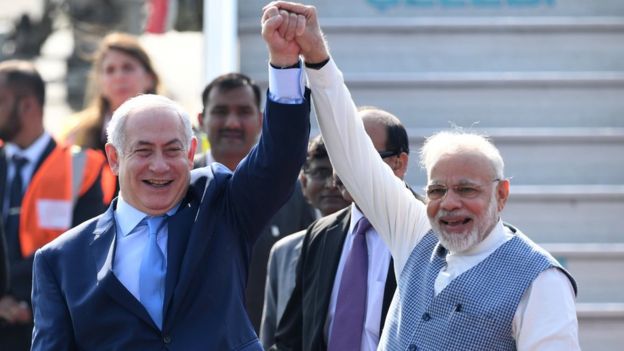 When Mr Trudeau visited the Taj Mahal on Sunday, some media reports pointed to the fact that the chief minister of Uttar Pradesh, where the monument is located, did not go to greet the visiting premier.
The pictures, headlines and social media frenzy that usually accompany Mr Trudeau's overseas travels have also been largely missing.
So is India really cold shouldering Justin Trudeau? And if so, why?
"Yes, this is a major snub. The fact that a junior minister was sent to receive Mr Trudeau and his family is most definitely a snub," columnist and economist Vivek Dehejia told the BBC.
Mr Dehejia said the reason for Mr Trudeau's lukewarm reception could well be that several members of his government were closely allied with a Sikh independence movement – the Khalistan movement – which seeks to create a separate independent Sikh homeland in the Sikh-dominated northern state of Punjab.
Canadian authorities have also linked Sikh separatist militants to Canada's 1985 Air India bombing, which killed 329 people.
"His Liberal party relies heavily on the Sikh-Canadian vote bank and some of the Sikh members of his government are fellow travellers with the Khalistanis," said Mr Dehejia.
Mr Trudeau counts four Sikh-Canadians in his cabinet.
If this were the case, it would not be the first time that Khalistan has soured relations between officials from the two countries.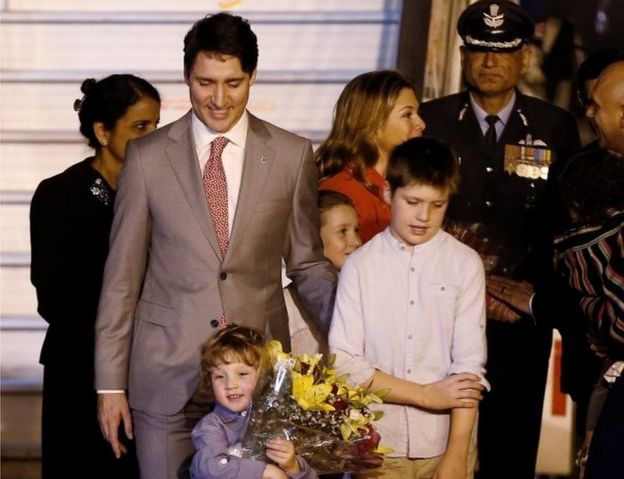 Punjab's top elected official refused to meet Canadian defence minister Harjit Sajjan in April last year, alleging that he was "a Khalistani sympathiser".
But India's former high commissioner to Canada, Vishnu Prakash, denied that Mr Trudeau was being "snubbed", saying that India had closely followed diplomatic protocol when receiving him.
"According to protocol, it is a cabinet minister who receives a visiting foreign leader, and this courtesy was extended to Mr Trudeau," Mr Prakash told the BBC.
He said that although Mr Modi had "breached protocol" to personally greet foreign leaders in the past, he could not be expected to greet every visitor that came to India.
"It's not like the prime minister is not going to meet him at all. There is a ceremonial welcome that will be held for him on 23 February and he will meet him there," he added.
Former diplomat Kanwal Sibal told the BBC that it would be both politically and professionally "wrong" for India to begin a state visit by Mr Trudeau with the "prejudice" of Khalistan when it could be used instead as a platform to raise India's concerns with Khalistan at the highest level.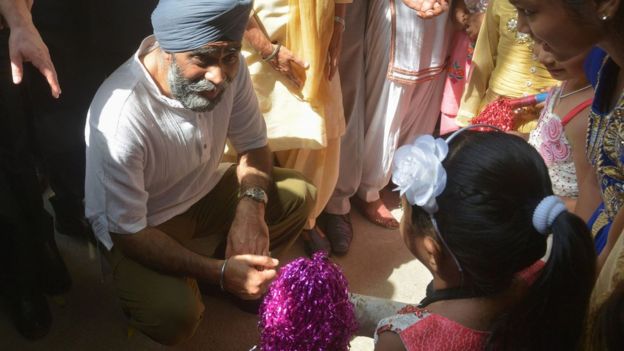 "It is true that domestic political reasons have meant that India has not got the kind of support on the issue, but we can use the visit to get a commitment of action from the Canadian government," he said.
Mr Sibal also said he believed it was "not true" that India was snubbing Mr Trudeau, saying that relations between the two countries improved "dramatically" in the recent past, with the signing of a nuclear deal showing that they had "common interests" now.
Canada announced it would supply uranium to India in 2015, in what was believed to be a significant step forward in relations between the nations.
Mr Sibal said he felt too much was being read into the fact that a junior minister was sent to greet Mr Trudeau at the airport when he arrived in India.
"This is normal protocol. Neither India nor Canada would want to jeopardise a state visit they knew was happening. It is in the interests of both countries to make sure it is a success," he said.
Investors in a luxury property development in India are being offered the chance to have "conversation and dinner" with Donald Trump Jr.
The eldest son of the US president is visiting India this week and will promote the Trump Towers development near Delhi.
Critics say the Trump family is cashing in on the president's name.
But Mr Trump Jr has said he has been building relationships in India for years.
India importance
The full-page advertisement, which ran as the front cover of several Indian newspapers over the weekend, featured a picture of Mr Trump Jr together with text: "Trump is here. Are you invited?" and "Trump has arrived. Have you?"
Historian and biographer Patrick French was one of those criticising the advert:
For the last however many days every newspaper in India has been wrapped in this abominable invitation to dinner with Trump Jr. pic.twitter.com/HXub9Hrpte

— Patrick French (@PatrickFrench) February 18, 2018
The 47-storey towers in Gurgaon, close to the Indian capital, are being developed by the Trump Organisation and local partners – with some apartments selling for more than $1m.
The Trump Organisation, formerly headed up by President Donald Trump, is an umbrella company for hundreds of investments in businesses including real estate. Donald Jr is now its executive director.
India is the group's biggest property market outside the US, and in 2016 the Trump family earned up to $3m (£2.14m) in royalties from ventures in India, according to a financial disclosure report.
---
Trump brand defies comatose property market – Analysis by Devina Gupta, BBC News, Delhi
Selling two towers with 254 ultra-luxury flats might seem like a tall order. But if the brand name was not enough, offering buyers a chance to meet the US president's son seems to be working.
The company claims to have already done $77m worth of deals, with an average selling price of about $1.1m. This makes it the fastest-selling project in a comatose Indian property market.
Changes in tax rules and attempts to clamp down on corruption cooled India's real estate industry.
But in the case of the Trump Towers and its Indian partners that's not been the case, as they use the Trump name to target wealthy Indians living both inside and outside the country.
---
'Bizarre'
Daniel S Markey, who worked on South Asia policy for the State Department during the George W Bush administration, said he was surprised by the involvement of Mr Trump Jr in an Indian business deal.
"The idea that the president's son would be going and shilling the president's brand at the same time Donald Trump is president and is managing strategic and foreign relations with India – that is just bizarre," he told the New York Times.
The Citizens for Responsibility and Ethics in Washington (Crew) – a watchdog group – added the Indian promotion to a list of instances it believes show the Trump name being used for commercial gain.
In an interview last week, cited by The Guardian, Donald Trump Jr said he had spent nearly a decade "cultivating relationships in India" and that the firm was "now seeing the response of that effort".
He said his itinerary was designed to steer clear of politics.
However, he is listed as a keynote speaker at a global business conference, which will be attended by Indian politicians, including Prime Minister Narendra Modi and some of India's business elite.
President Trump handed over control of his business empire to Donald Trump Junior and Eric Trump before his inauguration last year.
But the director of the US Office of Government Ethics said at the time that this did not go far enough to ensure there would be no conflict of interest between his politics and personal business.
Since taking office, critics have claimed the US president is continuing to profit from his family's business interests.
They have also accused the Trump family of playing up its connections with the White House in order to influence business deals.
In May last year, the company owned by the family of Jared Kushner, Donald Trump's son-in-law, pulled out of a real estate presentation in China.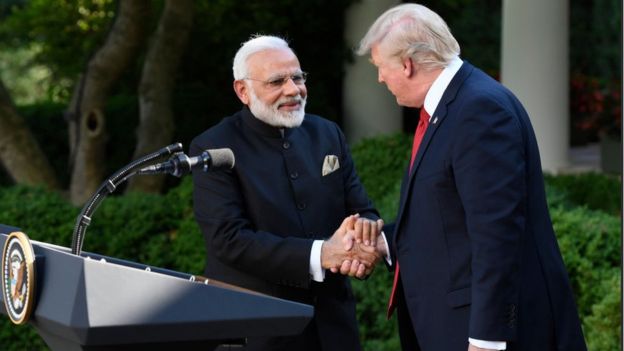 Kushner Companies had been scheduled to pitch opportunities to real estate investors in China, but Mr Kushner's sister was widely criticised for using his name in a pitch.
And in November last year, President Trump's daughter, Ivanka, was criticised for speaking at a global entrepreneurs summit in Hyderabad, with some saying the summit had become more about Ms Trump and her namesake brand than the wider issue.
Chinese authorities have demanded "severe punishment" for a man who allegedly stole the thumb of a terracotta warrior statue on display in the US, Chinese state media report.
The 2,000-year-old statue, worth $4.5m (£3.2m), is one of 10 on loan to the Franklin Institute in Philadelphia.
Last week, Michael Rohana was charged with theft and concealment of a major artwork, and later released on bail.
The Terracotta Army is one of China's most important archaeological finds.
A selfie and a theft
According to court documents, Mr Rohana, 24, was attending an Ugly Sweater Party at the Franklin Institute on 21 December when he made his way into the Terracotta Warriors exhibit, which was then closed.
Mr Rohana used a mobile phone as a flashlight and took a selfie with one of the warriors, according to Chinese state media Xinhua quoting the FBI.
He then put his hand on the left hand of the statue and appeared to break something off from it. He pocketed the item and left.
Museum staff noticed the missing thumb on 8 January and the FBI later traced it to Mr Rohana. He later admitted that he had kept the thumb in a desk drawer.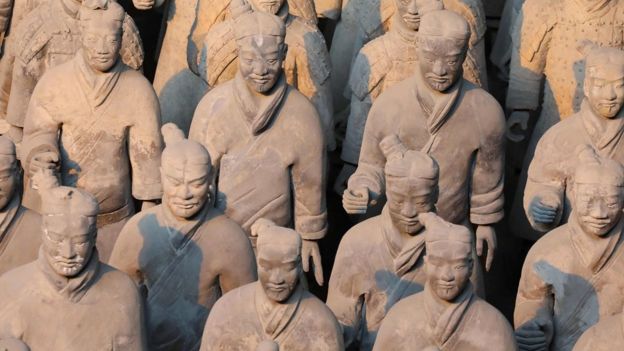 On Monday, the director of the Shaanxi Cultural Heritage Promotion Centre, the government-run organisation which loaned the statues out, "strongly condemned" the Franklin Institute for being "careless" with the statues, CCTV reported.
"We ask that the US severely punish the perpetrator. We have lodged a serious protest with them," said Wu Haiyun.
Mr Wu said the centre would be sending two experts to the US to assess the damage and repair the statue with the recovered thumb. There would be a claim for compensation, he added.
The 10 statues currently on display at the Franklin Institute are part of an army of 8,000 life-size clay warriors which make up the Terracotta Army.
The statues were built by the Chinese emperor Qin Shi Huang, who died in 210 BCE, and who believed they would protect him in the afterlife.
They were discovered in China's Xi'an city in 1974 by a group of Chinese farmers.
The wreckage of a plane that crashed in Iran on Sunday has been found, local media are reporting.
But a civil aviation spokesman told Reuters news agency he could not confirm the reports.
The Aseman Airlines passenger plane came down in the Zagros mountains on Sunday, and all 66 people on board are feared to have been killed.
Heavy wind and snow forced search and rescue teams to stop work on Sunday but they resumed the search on Monday.
Officials from the region told news channels rescuers had reached the site.
Both channels – IRINN and English-language Press TV – also said they could not confirm the reports independently.
The ATR 72-500 twin-engine turboprop was travelling from Tehran to the south-western city of Yasuj.
Flight EP3704 left Tehran at 04:30 GMT on Sunday, and crashed about an hour later.
The crash site is about 22km (14 miles) from Yasuj, Iranian media reported, in the Mount Dena area, close to the city of Semirom in Isfahan province.
The crashed plane was 25 years old, Iran's civil aviation organisation said.
'Grief and sorrow'
Sixty passengers, two security guards, two flight attendants and the pilot and co-pilot were on board.
Iran's President Hassan Rouhani expressed sympathy for all involved, saying in a statement that the incident brought "great grief and sorrow".
Supreme Leader Ayatollah Ali Khamenei said the accident "saddened the hearts".
Iran has suffered several aviation accidents in recent years and has an ageing aircraft fleet.
The country has struggled to obtain spare parts to maintain its planes in the face of international sanctions imposed to curb its nuclear programme.
Those sanctions have been mostly lifted under a 2015 deal between Iran and the US alongside several other powers.