Rival demonstrations by far-right and anti-fascist groups a week before Italy's general election have led to scuffles with police.
Police in Milan used batons as left-wing demonstrators tried to break through a cordon.
Elsewhere, the leader of the anti-immigration League party, Matteo Salvini, told supporters that defence of the country was a "sacred duty".
Protests also took place in Rome and the Sicilian city of Palermo.
As the election campaign enters its final week, opinion polls suggest that the right-wing Forza Italia party led by former Prime Minister Silvio Berlusconi is in the lead.
The anti-establishment Five Star Movement will be vying with Mr Berlusconi's party for the top spot in the 4 March election. However, it has repeatedly ruled out governing with other parties.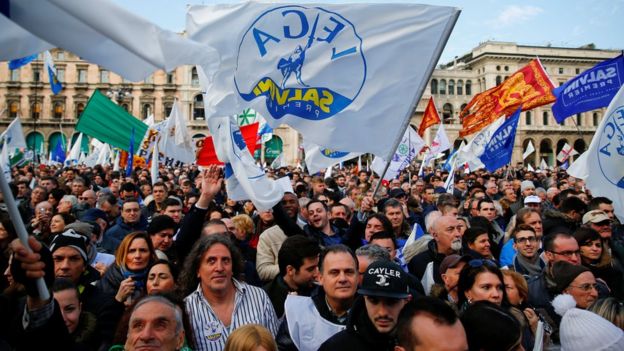 The far-right League and the Brothers of Italy parties could attempt to form a right-wing coalition government with Mr Berlusconi but this is unlikely to achieve a parliamentary majority.
Clashes between anti-fascist and far-right activists have increased in recent weeks ahead of a general election on 4 March.
On Thursday, several police officers were injured in clashes between far-left and far-right protesters in Turin.
Riot police clashed with protesters at a campaign rally in Pisa on Friday by the League party.
On Saturday, anti-fascist demonstrators in Milan protested against the anti-migrant stances of far-right parties. When they tried to break through police lines, officers beat them back with batons.
In Rome, some 3,000 officers were deployed for marches and sit-ins on Saturday. Riot police used metal detectors in a series of measures aimed at preventing violence.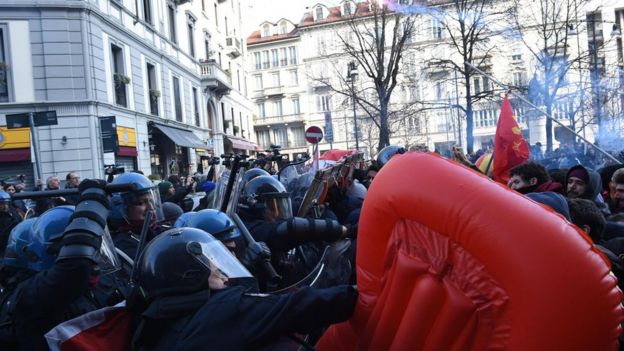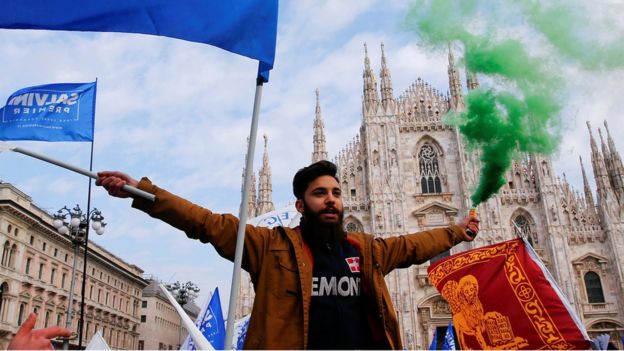 Several thousand people took to the streets of the capital to protest for democratic values and against what they described as resurgent fascism.
Former Italian Prime Minister Matteo Renzi took part in a rally which was arranged by the National Partisans' Organisation (ANPI) under the slogan "Fascism Never Again".
At the same time in the city, a protest led by the left-wing union group Cobas marched against the labour reforms known as the Jobs Act. The reforms were a signature policy of Mr Renzi's government.
Meanwhile, consecutive marches in Palermo in northern Sicily are expected to be attended by Roberto Fiore, the head of the far-right group Forza Nuova, and members of a far-left movement.
A newly married man and his grandmother were killed in India when a wedding gift they were opening exploded.
The man's wife was critically injured in the blast on Friday in the eastern state of Odisha, police said.
Soumya Sekhar and Reema Sahu got married on the 18 February and they received the "gift" at their wedding reception a few days later.
It was actually a parcel bomb and did not have the sender's address of it, police said.
The parcel exploded as soon as it was unwrapped, relatives told local media.
Mr Sehu and his 85-year-old grandmother, Jemamani Sahu, died from their injuries in a hospital.
The motive for the attack is not clear, police said, however they suspect it was carried out by someone in the area.
The employers of a Filipina maid found dead in a freezer in Kuwait have been arrested in the Syrian capital Damascus after a manhunt lasting several weeks.
Joanna Demafelis, 29, was found frozen in her employers' apartment more than a year after she was reported missing.
Both Nader Essam Assaf and his Syrian wife Mona are being held on suspicion of murder, officials said on Saturday.
Mr Assaf, who is a Lebanese national, was transferred to Beirut but his wife remains in custody in Damascus.
On Saturday, a Lebanese judicial official said the couple had left Kuwait and made a "very brief stopover" in Lebanon before travelling on the neighbouring Syria.
"Lebanon has asked Kuwait to pass on [Mr Assaf's] police record," the official added.
Ms Demafelis's death prompted outrage in the Philippines and a ban on Filipinos travelling to work in Kuwait.
Both suspects became the subject of an international manhunt aided by Interpol.
Philippines foreign secretary Alan Peter Cayetano welcomed the news of the arrests, calling it a "critical first step in our quest for justice for Joanna".
The maid's body was found this month with apparent signs of torture, Philippine officials said, in an apartment that had apparently been abandoned for at least a year.
In the aftermath of the discovery, Philippine authorities say they facilitated the return of more than 1,000 "distressed overseas Filipino workers" in Kuwait, most of whom had worked as household servants.
The country's department of foreign affairs estimate that some 252,000 of its citizens are living and working there.
Kuwaiti authorities, meanwhile, have vowed to do everything possible to see justice is done.
Mr Cayetano said he expected Kuwaiti authorities to request the extradition of Mr Assaf from Lebanon, to stand trial in Kuwait.
A wave of attacks across Afghanistan has left more than 25 people dead, most of them soldiers, officials say.
In the worst incident, Taliban militants stormed an army post in the western province of Farah, killing 22 soldiers.
A suicide attack in the capital Kabul left at least three security officers dead.
There has been a surge in militant attacks in recent months and the army is often targeted.
Some analysts see it as a response to a new, more aggressive strategy announced by US President Donald Trump last year, which committed the US army to an open-ended conflict, with the focus on "killing terrorists".
Early on Saturday, Taliban forces mounted an overnight attack on a base in Farah.
Weapons were seized and the Afghan military said the Taliban had incurred a "lot of casualties".
In Kabul, a suicide bomber detonated his explosives in an area dotted with key diplomatic buildings.
"I was driving nearby when I heard a big explosion, the windows of my car were smashed. I saw several wounded people on the street near me," a witness told Afghan channel Tolonews TV.
Jihadist group Islamic State said it carried out the attack, Reuters reported.
There were further suicide attacks in Helmand province in the south, leaving two army members dead, and others, including women and children, injured.
The Taliban control large swathes of Afghanistan – but IS militants hold sway in a much smaller number of districts.
However, both groups have demonstrated their ability to hit targets across the country.
They have often come into conflict with each other, too.
wo car-bomb attacks have killed at least 38 people in the Somali capital Mogadishu, officials say.
The first took place outside the presidential palace late on Friday. The second hit a nearby hotel. Dozens of people were wounded.
The Islamist militant group al-Shabab, which has been trying to oust Somalia's government, says it was behind both.
A gun battle followed the attack near the presidential palace in which five militants were killed, officials say.
Friday's bombings are the latest in a series of attacks attributed to al-Shabab, which once controlled Mogadishu before being forced out by African Union troops in 2011.
Last October, more than 500 people were killed by a truck bomb in the city. Officials blamed al-Shabab but the group never said it was behind that attack.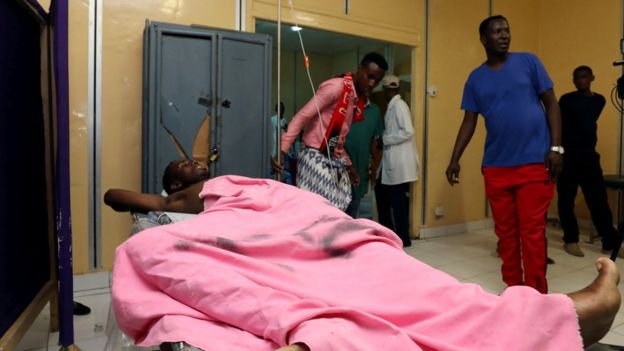 The latest incident began when a vehicle failed to stop at a checkpoint outside the presidential palace before being blown up, state media say. This was followed by an exchange of fire between militants and security forces.
Then a parked car exploded near the hotel. However, al-Shabab said it had targeted security forces.
The group said five of its fighters, including the two drivers, had been "martyred" and 35 soldiers were killed in the attacks.
A police spokesman told Reuters news agency: "There were many military soldiers who guarded the street adjacent to the palace."
Drones turned into missiles, fake videos manipulating public opinion and automated hacking are just three of the threats from artificial intelligence in the wrong hands, experts have said.
The Malicious Use of Artificial Intelligence report warns that AI is ripe for exploitation by rogue states, criminals and terrorists.
Those designing AI systems need to do more to mitigate possible misuses of their technology, the authors said.
And governments must consider new laws.
The report calls for:
Policy-makers and technical researchers to work together to understand and prepare for the malicious use of AI
A realisation that, while AI has many positive applications, it is a dual-use technology and AI researchers and engineers should be mindful of and proactive about the potential for its misuse
Best practices that can and should be learned from disciplines with a longer history of handling dual use risks, such as computer security
An active expansion of the range of stakeholders engaging with, preventing and mitigating the risks of malicious use of AI
Speaking to the BBC, Shahar Avin, from Cambridge University's Centre for the Study of Existential Risk, explained that the report concentrated on areas of AI that were available now or likely to be available within five years, rather than looking to the distant future.
'Game changer'
Particularly worrying is the new area of reinforcement learning where AIs are trained to superhuman levels of intelligence without human examples or guidance.
He outlined some of the scenarios where AI could turn "rogue" in the near future:
Technologies such as AlphaGo – an AI developed by Google's DeepMind and able to outwit human Go players – could be used by hackers to find patterns in data and new exploits in code
A malicious individual could buy a drone and train it with facial recognition software to target a certain individual
Bots could be automated or "fake" lifelike videos for political manipulation
Hackers could use speech synthesis to impersonate targets
Miles Brundage, research fellow at Oxford University's Future of Humanity Institute, said: "AI will alter the landscape of risk for citizens, organisations and states – whether it's criminals training machines to hack or 'phish' at human levels of performance or privacy-eliminating surveillance, profiling and repression – the full range of impacts on security is vast.
"It is often the case that AI systems don't merely reach human levels of performance but significantly surpass it.
"It is troubling, but necessary, to consider the implications of superhuman hacking, surveillance, persuasion, and physical target identification, as well as AI capabilities that are subhuman but nevertheless much more scalable than human labour."
Dr Seán Ó hÉigeartaigh, executive director of the Centre for the Study of Existential Risk and one of the co-authors, added: "Artificial intelligence is a game changer and this report has imagined what the world could look like in the next five to 10 years.
"We live in a world that could become fraught with day-to-day hazards from the misuse of AI and we need to take ownership of the problems – because the risks are real.
"There are choices that we need to make now, and our report is a call to action for governments, institutions and individuals across the globe.
"For many decades hype outstripped fact in terms of AI and machine learning. No longer. This report looks at the practices that just don't work anymore – and suggests broad approaches that might help: for example, how to design software and hardware to make it less hackable – and what type of laws and international regulations might work in tandem with this."
The 100-page report identified three areas – digital, physical and political – in which the malicious use of AI is most likely to be exploited.
Contributors included OpenAI, a non-profit research firm, digital rights group The Electronic Frontier Foundation and the Center for a New American Security, a national security think-tank.
UK unemployment has increased slightly for the first time in two years.
The rate of unemployment rose from 4.3% to 4.4% for the three months to the end of December, the Office for National Statistics said.
Despite the slight increase in the unemployment rate, the total number of those in work increased by 88,000.
Wages grew by an average of 2.5%, up from 2.4% the previous month, although the increase remained below inflation.
The number of unemployed people rose by 46,000 to 1.47 million for the final quarter of the year, compared to the previous three months.
A six-year-old girl has died after she was found unresponsive in a village in Nottinghamshire.
The girl was discovered in a house at about 15:00 GMT on Monday, on Lincoln Road, Tuxford, near Newark.
The youngster was taken by air ambulance to Sheffield Children's Hospital, where she was later pronounced dead.
Nottinghamshire Police said its investigation into her death was "still ongoing".
Two men have been stabbed to death within the space of two hours in Camden, north London.
One victim, believed to be in his late teens, died in Bartholomew Road after he was stabbed at about 20:30 GMT on Tuesday.
Police were then called to Malden Road soon after 22:10, following reports of a disturbance, where they found a man with serious knife wounds.
The Met said they were trying to identify if the killings are linked.
The second man, thought to be about 20, was given first aid but died at the scene near the junction with Marsden Street.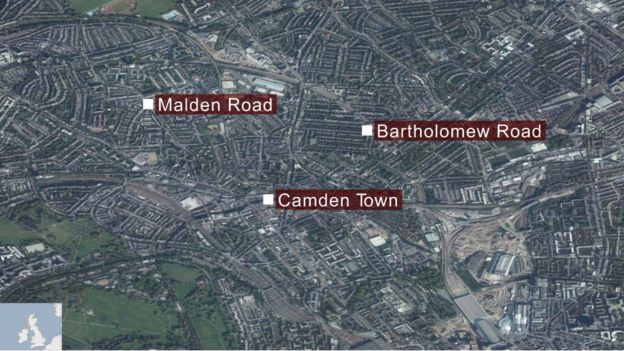 Denise Arnold, 63, who lives in Malden Road said she saw "a large group of people" who were trying to resuscitate the victim of the second stabbing.
"There was a lot of wailing and screaming," she said.
Following the deaths, additional police patrols were sent to Camden overnight and a Section 60 order authorised across the borough until 07:00.
The order gives police the right to search people in places where they believe serious violence may take place.
A police spokesperson said no arrests had been made and "urgent inquiries are under way to establish the full circumstances".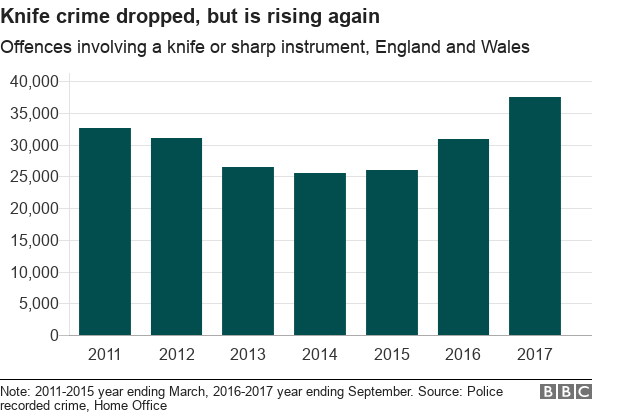 Sixteen people have been stabbed to death in London since the start of 2018. Five of those have been teenagers.
A 19-year-old man who lives near Bartholomew Road told BBC Radio London the stabbings were becoming "everyday behaviour for these youngsters".
"It's just normal now. It's getting to the point where it's getting ridiculous."

At the scene: Greg McKenzie, BBC Radio London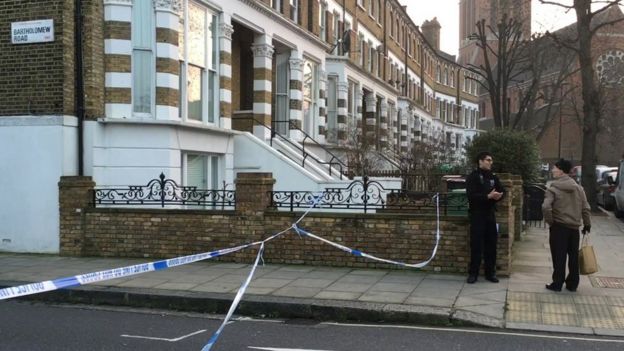 I'm at the crime scene in Bartholomew Road, where there is a large police cordon in place.
There are a number of police officers here and in the distance is a white tent where the victim was found and pronounced dead.
Malden Road, where the second victim died, is about a 15-minute walk from here.
Following that death the police issued a Section 60 order across the borough which gave them special powers to stop and search people.
Police are able to use stop and search normally but these powers mean they do not need to have any suspicion that people are involved in violence or are holding weapons to stop them.
Are you concerned about the impact social media and screen-use are having on young people? If so, MPs are looking to hear your thoughts.
The Commons Science and Technology Committee has announced an inquiry into the impact of social media and screen-use on young people's health.
The committee says it wants to hear the views of young people themselves, as well as of teachers and youth workers.
Chairman Norman Lamb said it was vital to assess the benefits and risks.
"Social media and smartphones are increasingly being used by children and young people," he said.
"We want to determine the scale of the issues – separating out the understandable concerns from the hard evidence, and to identify what practical measures people are already taking to boost the benefits and blunt the potential harms.
"We want to hear from schools and young people, as well as from the industry and government."
Mr Lamb says the committee is particularly keen to hear details of any initiatives undertaken, by children, schools and youth organisations, to help young people cope with the demands of the digital world.
Other issues the MPs would welcome thoughts on include:
the wellbeing benefits from social media usage, including any apps that provide mental-health benefits to users
the physical or mental harms from social media use and screen-use, including safety risks and the extent of any addictive behaviour
any measures being used, or needed, to mitigate any potential harmful effects of excessive screen-use
what monitoring, controls or regulation are needed and where responsibility and accountability should lie for such measures
areas that should be the focus of any further research
Those who would like to submit written views should do so – in no more than 3,000 words – through the committee's inquiry page by 6 April.
The Education Policy Institute's 2017 report showed 95% of 15-year-olds in the UK use social media before or after school, and half of nine to 16-year-olds used smart-phones on a daily basis.
And England's children's commissioner, Anne Longfield, warned in January that the move from primary to secondary school was problematic for children because social media became more important in their lives.
Her report into the effects of social media on eight to 12-year-old children said many were over-dependent on "likes" and comments for social validation.