Investors in a luxury property development in India are being offered the chance to have "conversation and dinner" with Donald Trump Jr.
The eldest son of the US president is visiting India this week and will promote the Trump Towers development near Delhi.
Critics say the Trump family is cashing in on the president's name.
But Mr Trump Jr has said he has been building relationships in India for years.
India importance
The full-page advertisement, which ran as the front cover of several Indian newspapers over the weekend, featured a picture of Mr Trump Jr together with text: "Trump is here. Are you invited?" and "Trump has arrived. Have you?"
Historian and biographer Patrick French was one of those criticising the advert:
For the last however many days every newspaper in India has been wrapped in this abominable invitation to dinner with Trump Jr. pic.twitter.com/HXub9Hrpte

— Patrick French (@PatrickFrench) February 18, 2018
The 47-storey towers in Gurgaon, close to the Indian capital, are being developed by the Trump Organisation and local partners – with some apartments selling for more than $1m.
The Trump Organisation, formerly headed up by President Donald Trump, is an umbrella company for hundreds of investments in businesses including real estate. Donald Jr is now its executive director.
India is the group's biggest property market outside the US, and in 2016 the Trump family earned up to $3m (£2.14m) in royalties from ventures in India, according to a financial disclosure report.
---
Trump brand defies comatose property market – Analysis by Devina Gupta, BBC News, Delhi
Selling two towers with 254 ultra-luxury flats might seem like a tall order. But if the brand name was not enough, offering buyers a chance to meet the US president's son seems to be working.
The company claims to have already done $77m worth of deals, with an average selling price of about $1.1m. This makes it the fastest-selling project in a comatose Indian property market.
Changes in tax rules and attempts to clamp down on corruption cooled India's real estate industry.
But in the case of the Trump Towers and its Indian partners that's not been the case, as they use the Trump name to target wealthy Indians living both inside and outside the country.
---
'Bizarre'
Daniel S Markey, who worked on South Asia policy for the State Department during the George W Bush administration, said he was surprised by the involvement of Mr Trump Jr in an Indian business deal.
"The idea that the president's son would be going and shilling the president's brand at the same time Donald Trump is president and is managing strategic and foreign relations with India – that is just bizarre," he told the New York Times.
The Citizens for Responsibility and Ethics in Washington (Crew) – a watchdog group – added the Indian promotion to a list of instances it believes show the Trump name being used for commercial gain.
In an interview last week, cited by The Guardian, Donald Trump Jr said he had spent nearly a decade "cultivating relationships in India" and that the firm was "now seeing the response of that effort".
He said his itinerary was designed to steer clear of politics.
However, he is listed as a keynote speaker at a global business conference, which will be attended by Indian politicians, including Prime Minister Narendra Modi and some of India's business elite.
President Trump handed over control of his business empire to Donald Trump Junior and Eric Trump before his inauguration last year.
But the director of the US Office of Government Ethics said at the time that this did not go far enough to ensure there would be no conflict of interest between his politics and personal business.
Since taking office, critics have claimed the US president is continuing to profit from his family's business interests.
They have also accused the Trump family of playing up its connections with the White House in order to influence business deals.
In May last year, the company owned by the family of Jared Kushner, Donald Trump's son-in-law, pulled out of a real estate presentation in China.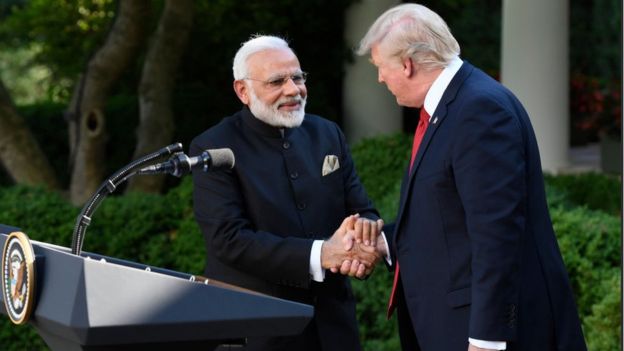 Kushner Companies had been scheduled to pitch opportunities to real estate investors in China, but Mr Kushner's sister was widely criticised for using his name in a pitch.
And in November last year, President Trump's daughter, Ivanka, was criticised for speaking at a global entrepreneurs summit in Hyderabad, with some saying the summit had become more about Ms Trump and her namesake brand than the wider issue.
Former prime minister Nawaz Sharif on Tuesday told the Supreme Court that he will not be party in the proceedings of a case which seeks to determine the time period of disqualification of a holder of public office under Article 62(1)(f) of the Constitution.
A five-member bench of the apex court ─ headed by Chief Justice of Pakistan Mian Saqib Nisar and comprising Justice Sheikh Azmat Saeed, Justice Umar Ata Bandial, Justice Ijazul Ahsan and Justice Sajjad Ali Shah ─ has taken up 17 appeals against the disqualification of lawmakers.
Article 62(1)(f), which sets the precondition for a member of parliament to be "sadiq and ameen" (honest and righteous), had provided the grounds for the disqualification of the former premier from holding public office in the July 28, 2017, judgement on the Panama Papers case handed down by the apex court.
In a response submitted to the apex court today, the ex-PM said that he had decided not to participate in the court proceedings after consulting leaders of the PML-N. He recalled that time to hold the consultations had been sought from ─ and granted ─ by the SC when his lawyer had appeared before the bench on January 31.
The former premier noted in his reply that the matter ─ one of "far-reaching consequences relating to the body politic of the country" ─ has been taken up by the court on the "motion of many other aggrieved parties".
He added that his participation in the case may bring "prejudice" to the proceedings.
Nawaz also said that if he had decided to participate in the proceedings, he would have asked Justice Saeed and Justice Ahsan to recuse themselves from the case as they had served on the bench that disqualified him in the Panama Papers case.
It is pertinent to mention that four of the judges hearing the case, excluding Justice Shah, have given either observations or judgements in the Panama Papers case.
Theresa May has indicated she will fight a proposal to give residency rights to EU citizens during the transition period after Brexit.
She said there had to be a difference between those arriving after the UK leaves and those who came before.
She also sought to reassure Tory MPs worried about the length of transition.
The European Parliament's Brexit lead, Guy Verhofstadt, responded by telling The Guardian: "Citizens' rights during the transition is not negotiable."
He said that "for the transition to work" there could not be "two sets of rights for EU citizens".
Earlier this week, the EU set out what it was prepared to offer the UK, saying it expected the transition to last from the day of the UK's departure on 29 March 2019 to 31 December 2020.
But reports that it could be extended have dismayed some Brexit-supporting MPs.
Speaking during her trade trip to China, Mrs May insisted such an "implementation period" would last about two years.
"We are not talking about something that is going to go on and on… we're leaving the European Union. There is an adjustment period for businesses – and indeed government – for changes that need to be made," she said.
---
Fox urges Tories to focus on the big picture
By Laura Kuenssberg, political editor
International Trade Secretary Liam Fox is in China and wants his restive colleagues at home to focus on the big picture.
Listing the number of deals that have been done already this week during the prime minister's visit he told me that building levels of trade with China is a real "success story".
No 10 is confident that by the end of this marathon trip well over £9bn of new contracts will have been secured – such a high profile political investment edging deals over the line.
Dr Fox accepts it will take some to get trade deals done in the longer term. The UK will be limited not just before Brexit, but also during the transition period, in how much can get done.
---
In December, the two sides agreed a deal setting out the rights of EU citizens in the UK and British expats on the continent.
All EU nationals who have been in the UK for more than five years will be expected to be granted settled status, giving them indefinite leave to remain with the same access to public services as now.
Those who have been resident for a shorter period but who arrive before Brexit cut-off date, currently expected to be 29 March 2019, will also be able to stay and get settled status once they have been in the UK for five years.
At the time, Downing Street said it envisaged anyone arriving after Brexit being able to continue to live, work and study in the UK during the transition period but that they would need to register, and the future immigration rules would have to be agreed as part of the wider transition negotiations.
But the EU has since said it expects existing rules on freedom of movement – including the path to permanent residency – to apply in full until the end of the transition phase, which is currently expected to be 31 December 2020.
Mrs May, who is on the second day of a three-day trade trip to China, said she would contest the issue of long-term residency rights when transition negotiations begin in earnest next month.
"When we agreed the citizens' rights deal in December we did so on the basis that people who had come to the UK when we were a member of the EU had set up certain expectations," she said.
"It was right that we have made an agreement that ensured they could continue their life in the way they had wanted to – now for those who come after March 2019 that will be different because they will be coming to a UK that they know will be outside the EU.
"I'm clear there is a difference between those people who came prior to us leaving and those who will come when they know the UK is no longer a member."
Alp Mehmet, vice chair of campaign group Migration Watch UK told BBC Radio 4's Today programme: "What shouldn't happen and what people don't expect to happen is that those arriving during the transition period can acquire the right to remain here indefinitely."
But MEP Mairead McGuinness, vice-president of the European Parliament, told the programme there was a "total illogicality" as the EU "will insist that the rights of UK citizens in that transition period will remain exactly as they are today" and she said the agreement around rights would apply at the end of the transition period.
'Enormous contribution'
The BBC's political editor Laura Kuenssberg, who is travelling with the prime minister, said Mrs May was showing she was willing to push back against the EU amid discontent on the Conservative benches.
Labour MP Peter Kyle said anything that caused uncertainty for EU workers in the UK was bad for business.
Meanwhile, government analysis has emerged suggesting the cost of cutting EU migration would be much greater than the benefits of a US trade deal.
BuzzFeed News has claimed government studies on the economic impact of Brexit say reducing migration from the bloc into the UK would nullify the benefits of any trade deal struck with Washington.
Ministers agreed on Wednesday to let MPs see another leak from the same impact analysis which suggests the economy would be worse off as a result of a number of possible Brexit scenarios.
In response to the fresh leak, the government said the UK would forge new and ambitious trade deals but remain an "open and tolerant country" while ensuring there is control of migrants.
In another development, the government's flagship EU (Withdrawal Bill) cleared its first hurdle in the House of Lords as it passed its second reading and former Labour minister Lord Adonis withdrew an amendment calling for a referendum on the final deal.
Donald Trump bragged today that Democrats had "caved" by agreeing an emergency deal to end the three-day US government shutdown — casting doubt on the hopes of immigrant "Dreamers".
"Big win for Republicans as Democrats cave on Shutdown," the president tweeted after signing a bill that funds government services until February 8.
"See you at the negotiating table!" he added after Senate Democrats agreed to adopt the short-term budget.
The deal struck by party leaders yesterday — and passed by the Senate and House of Representatives — allows hundreds of thousands of federal employees to return to work today.
Big win for Republicans as Democrats cave on Shutdown. Now I want a big win for everyone, including Republicans, Democrats and DACA, but especially for our Great Military and Border Security. Should be able to get there. See you at the negotiating table!

— Donald J. Trump (@realDonaldTrump) January 23, 2018
Democrats agreed to back the spending bill after Republican Senate majority leader Mitch McConnell promised a debate in the next few weeks on the future of "Dreamers", young, undocumented immigrants who were brought illegally to America by their parents.
"It's evident that this government shutdown is doing nothing, absolutely nothing to generate bipartisan progress on the issues the American public care about," said Mr McConnell.
Democrat leaders said the immigration debate would give an opportunity to reverse Mr Trump's decision to end the Obama-eraDeferred Action for Childhood Arrivals (DACA) programme allowing the "Dreamers" to remain in the US.
The party's Senate leader Charles Schumer mocked Mr Trump for not engaging in the talks, saying "the great deal-making president sat on the sidelines".
He added: "The Republican majority now has 17 days to prevent the Dreamers from being deported."
The spending bill passed the Senate by 81 to 18. But possible Democratic 2020 presidential candidatese — Elizabeth Warren, Kirsten Gillibrand, Cory Booker, Bernie Sanders and Kamala Harris — all voted against.
Senator Harris said it would be "foolhardy" to trust Mr McConnell.
The president's tweet hinted there might be grounds for the Dreamers to hope they can avoid deportation.
"Now I want a big win for everyone, including Republicans, Democrats and DACA, but especially for our Great Military and Border Security," he wrote.
But in a statement he said: "We will make a long-term deal on immigration if, and only if, it is good for our country."
This sparked fears among Dreamer activists that they will be betrayed.
Critics of the deal accused Democrats of squandering a chance to secure assurances that Dreamers would be allowed to stay.
"Last week, I was moved to tears of joy when Democrats stood up and fought for progressive values and for Dreamers,' said Frank Sharry, executive director of immigrants' rights group America's Voice.
"Today, I am moved to tears of disappointment and anger that Democrats blinked."
Chancellor Philip Hammond today slapped down Boris Johnson for demanding a £5 billion cash injection for the National Health Service.
In a curt put-down, the Treasury chief made clear he thought the Foreign Secretary was guilty of straying beyond his turf.
Arriving at a meeting of EU finance ministers in Brussels, he said: "Mr Johnson is the Foreign Secretary. I gave the Health Secretary an extra £6 billion at the recent Budget and we will look at departmental allocations again at the spending review when that takes place."
The dispute burst into the open after allies of Mr Johnson revealed he intended to use today's Cabinet meeting to call for an extra £100 million a week for the NHS.
His intervention was trailed in newspaper reports quoting allies boasting he had a "track record of winning" and would "not relent".
Friends of Mr Johnson denied he was intervening simply to try to honour the promise of more NHS cash made by Brexiters in the 2016 referendum.
One said: "It's not about the referendum. It's about making sure that Jeremy Corbyn does not get the keys to No 10."
It was not clear how Theresa May would respond when her Foreign Secretary tries to raise the matter.
Sources close to her were silent ahead of the meeting. Mr Johnson was expected to put his hand up after either an update by Jeremy Hunt on the winter beds crisis, or near the end of Cabinet when the Premier asks if there is anything else ministers wish to raise.
Asked if he had put the Foreign Secretary in his place, sources close to the Chancellor said the remarks were merely "two statements of fact".
Mrs May's ex-chief of staff Nick Timothy said: "Breaching collective responsibility and leaking Cabinet discussions are bad enough but part of political life. But pre-briefing your disagreement with Government policy ahead of Cabinet?" However, senior Tory MP Robert Halfon tweeted: "Good one Bojo — good to campaign for: An umbilical chord between GB public and #NHS. Just right thing to do."
Mr Johnson called for the NHS to be "at the very top of the list" for funds when the UK "takes back control" of money it would have sent to Brussels.
But the Brexit campaign's claim that £350 million a week could be freed for the NHS by leaving the EU has been widely debunked.
Official statistician Sir David Norgrove said Mr Johnson was "confusing gross and net contributions". In the Budget, Mr Hammond committed £2.8 billion extra to the NHS in England along with £3.5 billion of capital funding.
Four former ministers — Nick Boles, Grant Shapps, Ed Vaizey and Sir Nicholas Soames — have called for more vision from Mrs May's government in the past few days.
Plans for a larger-than-life statue of Margaret Thatcher to be erected in Parliament Square have been rejected.
Westminster Council's planning committee members unanimously decided to block the proposal on Tuesday evening.
The "life size-and-a-half" statue would have been placed on a plinth looking towards the Palace of Westminster.
Ir was to feature Baroness Thatcher dressed in her peers' robes. But councillors agreed this did not reflect her importance in history as a Prime Minister.
The meeting also agreed that the statue should first receive approval from the Thatcher family before getting the go-ahead.
It comes after plans went back to members of Westminster city council's planning applications sub-committee six months after it was axed over vandalism fears.
The original idea for the memorial to Baroness Thatcher, who died in 2013, was blocked in July over fears it would be attacked and the new plans include building a four metre-high granite plinth for it to stand on and minimising "any ledges or other protuberance that could be used as climbing aids".
Westminster City Council chairman of planning, Cllr Richard Beddoe, said: "The lack of family support and the committee's concerns around the design of the proposed statue were the key determining factors in turning down this application.
"As our country's first female Prime Minister Baroness Thatcher is a hugely significant figure in British history andin principle the council is infavour of a statuecommemorating her in Parliament Square, but it must be the right statue, with an appropriate design and the support of her family. The so called `ten year rule' was not a reason for refusal in this case.
"We would welcome future proposals for a more appropriate statue of Baroness Thatcher, depicting her as Prime Minister, rather than the current design that shows her in the House of Lords and one that has clear and public support of her family."
Labour's ruling body has voted to advise a north London council to halt a controversial public-private housing scheme, sources said.
The move comes after Haringey Council's plans for a 50-50 partnership with developer Lendlease proved highly controversial.
Local activists deselected several sitting Labour councillors who backed the so-called Haringey Development Vehicle (HDV).
The councillors were replaced by candidates backed by pro-Corbyn grassroots group Momentum.
In an unusual move, Labour's national executive committee (NEC) voted unanimously to ask the local authority to halt the plan unless there can be successful mediation after 22 councillors wrote to the ruling body asking them to intervene.
The HDV is also opposed by some local residents and campaign groups, local MPs David Lammy and Catherine West, and their constituency Labour parties in Tottenham and Hornsey and Wood Green respectively.
A Labour source said: "HDV is deeply unpopular in Haringey.
"Following a request from local councillors for the NEC to intervene, the NEC has agreed to advise Haringey Council to pause the plans if mediation processes do not bring about a resolution."
The HDV was approved by the council in July following cuts of £160 million, to secure investment to build 6,400 new homes in the borough.
The authority has promised to replace existing council houses and rehouse current tenants.
But the HDV's target to make 40% of its new homes "affordable" and the involvement of Lendlease have proven controversial.