A memorial is being held for a New Zealander who spent most of his life as a loving partner, caring father and an icon of the LGBT community.
Thomas the goose died 6 February at almost 40 years old and is being buried beside his partner on Saturday.
"Thomas has been such an iconic and well-loved bird," said Craig Shepherd, who runs the Wellington Bird Rehabilitation Trust where Thomas spent his last years. "It's lovely that he is going to be buried where he spent most of his life."
But how exactly did a goose end up an icon?
A love triangle
It all started around 1990 when a black swan named Henrietta flew in to the Waimanu lagoon, located in a small town on New Zealand's Kapiti Coast.
Due to a damaged wing, she was unable to fly with the other swans and was often alone until a few years later when a white goose named Thomas arrived. The duo quickly formed a bond and Thomas was very protective of Henrietta, even scaring off any humans or dogs that came near her.
But after 18 blissful years together, a new young female swan entered the equation and was often spotted with Henrietta. No one thought much of it, assuming that they were both females.
The shocker came when the new swan laid an egg. It turned out that Henrietta was in fact a male swan who had mated with the new female swan.
"It's very hard to establish the gender of mature black swans," said Michael Peryer, the tour guide at the Waikanae Estuary where the lagoon is located. "So it turned out in fact that Thomas and Henrietta – who was really a Henry – had 18 happy gay years together."
Henrietta was re-named Henry, and the new young swan was given the name Henrietta.
Naturally, Thomas the goose was not too pleased that someone had stolen his mate.
"He got really aggressive and started beating the swans up. But once their eggs hatched he changed completely and took to those babies like they were his own," said Mr Peryer.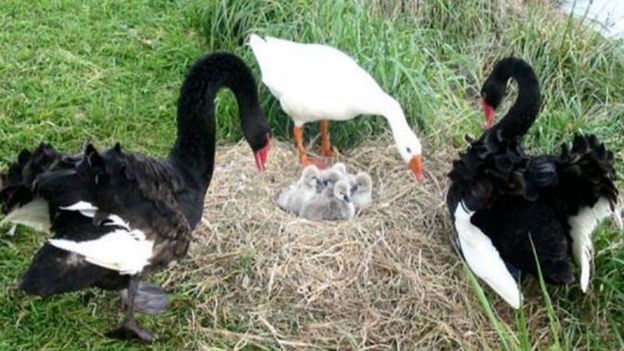 Henry and Henrietta went on to have 68 cygnets over the next six years.
Thomas decided to stick around with the duo where he played the role of a doting uncle, helping raise the swans, teaching them how to fly and taking care of them when their parents did not.
"It's so unusual to have two different species combining so intimately to raise a species," added Mr Peryer.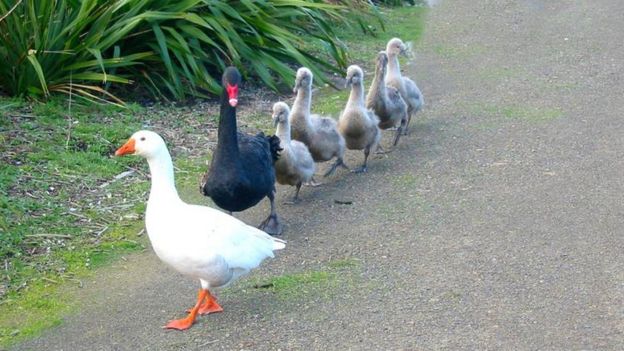 In 2009, Henry the black swan died due to old age. It wasn't long before Henrietta flew off with another bird and Thomas was left alone.
After a while, Thomas went on to meet a female goose in the estuary, and for the first time – he had 10 babies of his own.
However, his stint as a father was short-lived, as he had his babies stolen by another goose who raised the babies himself.
Thomas' eyesight soon began to fail him, becoming blind first in one eye and eventually both. He was in 2013 finally relocated to the Wellington Bird Rehabilitation Trust, where he spent the final years of his life.
"He died when he was almost 40 years old, that's pretty ancient. In human years he would be around 80 years old," said Mr Peryer.
According to Mr Peryer, it is not uncommon for geese to be bisexual, though he adds that the duo were the only pair in the Waikanae Estuary to mate with the same sex.
It is also not unheard of for geese to mate with swans, with the offspring of a swan and a goose known as a swoose.
Homosexual behaviour is extremely common across the animal kingdom, from insects to mammals. But only some animals seem to be lifelong homosexuals mating for life.
Tributes and tears
Thomas, a well-known figure at the estuary, was often visited by tourists who marvelled at how he would follow Henry and Henrietta around.
When news of his death spread, tributes from visitors from as far as Canada and the Netherlands poured in.
"I loved him so much. Many fond memories feeding him his sweet corn every evening," said one user on Facebook.
"Thomas, I remember meeting you and how amazing you were. Big hugs," another commented.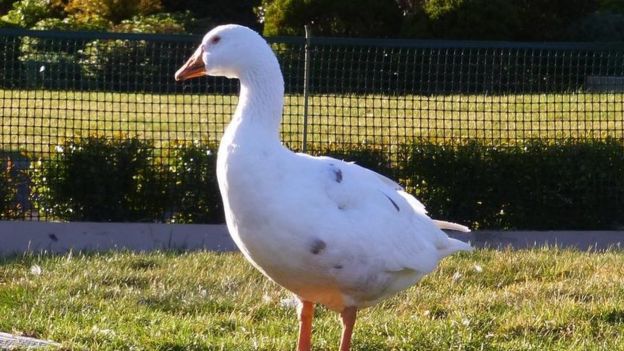 Thomas' memorial on Saturday will see him buried next to Henry the swan.
The event will be marked with a plaque in tribute to Thomas life, with an epitaph by New Zealand performer Pinky Agnew to be inscribed on his tombstone:
Here lies Thomas, the great-hearted goose,
Nestled near Henry, in their final roost,
Here where they raised young, and found sanctuary,
Somewhere above us, these great souls fly free.
NEW DELHI—When the Indian government rolled out its national budget for 2018–19 here yesterday, many researchers could breathe a sigh of relief: Most science agencies got modest but inflation-beating increases. Not the 4600 scientists at the Council of Scientific and Industrial Research (CSIR) here. The national network of 38 premier scientific laboratories is slated to receive $711.7 million, a 3.3% increase—only about half this year's forecasted inflation rate.
In 2015, the government sought to wean CSIR off the federal coffer, directing it to raise up to half its budget by commercializing its technologies. The council has made headway toward that target, and now funds about a quarter of its budget from outside sources. The cash-strapped labs took another hit last year, when new rules on salaries, pensions, and perks for government employees forced the council to raid its research budget for the increased personnel costs.
"Sometimes a little tightening of the belt is good for the system," CSIR's Director General Girish Sahni told Science. As a result, he says, CSIR labs "have become focused."
But the budget news has left rank-and-file CSIR scientists crestfallen. "The miniscule increase would ensure that a resource crunch remains a perennial headache," says one CSIR scientist who requested anonymity. Most of the council's budget is now funnelled to salaries and pension payments, and on keeping the lights on at the institutes. "We can't give money for our research programs," the scientist says.
CSIR fared worse than other science agencies. Overall, India's civilian R&D spending is set to rise 10.8%, to $8.1 billion. Big winners include India's space program, which will get a 17.8% boost, and renewable energy with a hefty 26.1% increase. The Department of Science & Technology and the Department of Biotechnology, which together fund the lion's share of India's basic research, will increase 8.8% and 6.7%, respectively—relatively flat budgets taking inflation into account.
The government could have rewarded CSIR for the efforts it made over the past couple years to generate revenue, says Dinesh Abrol, a science policy expert at the Institute for Studies in Industrial Development here and a former chief scientist at CSIR. However, he says, "The budget does not provide any incentive or cushion" for the council, which now must scramble to fund any research at its labs.
Sahni insists CSIR's plight is not grave. "There has been no real impact on research due to resource crunch," he contends. New research projects in the pipeline will be funded, he says. "We are confident that we will generate additional funds from licensing our technologies and other value added technical services."
Weather changes, but thanks to a new high-tech textile, someday you may not have to switch out your outfit.
Materials scientists and engineers at Stanford University have developed a multilayered textile that traps body heat on one side and passively radiates heat away from the body when flipped inside out. The material kept artificial skin within a comfortable range of 32° to 36° Celsius as the ambient temperature fluctuated by up to 9 degrees, the researchers reported November 10 in Science Advances.
Under a microscope, the textile looks like a gnarly sandwich. Layers of nanoporous polyethylene, or nanoPE, hug two layers: a rough, porous carbon and a smoother, tighter copper. When the carbon faces away from the body and a thin nanoPE layer is near the skin, the textile is in cooling mode. Body heat can easily escape through the carbon structure. In experiments, the textile lowered the temperature of artificial skin by about 3 degrees.
To warm the body, the fabric is reversed so that the copper layer — which doesn't let body heat easily escape — faces out, and a thick nanoPE layer is near the skin. In warming mode, the artificial skin heated up by about 4 degrees. This sandwich design adds heating and refined cooling capabilities to nanoPE, a cooling fabric that the Stanford team developed in 2016 (SN: 10/1/16, p. 9). Though the new plastic-based material is not ready to wear, the team is developing a fiber-based version "that has a much similar touch and feeling to traditional textiles," says mechanical engineer and study coauthor Po-Chun Hsu.
Movies and other media are full of mixed messages about the risks and rewards of building machines with minds of their own. For every manipulative automaton like Ex Machina's Ava (SN: 5/16/15, p. 26), there's a helpful Star Wars droid. And while some tech titans such as Elon Musk warn of the threats artificial intelligence presents, others, including Mark Zuckerberg, dismiss the doomsayers.
AI researcher Toby Walsh's Machines That Think is for anyone who has heard the hype and is seeking a critical assessment of what the technology can do — and what it might do in the future. Walsh's conversational style is welcoming to nonexperts while his endnotes point readers to opportunities for deeper dives into specific aspects of AI.
Walsh begins with a history of AI, from Aristotle's foundation of formal logic to modern facial-recognition systems. Excerpts from computer-composed poetry and tales of computers trouncing humans at strategy games (SN: 11/11/17, p. 13) are a testament to how far AI has come. But Walsh also highlights weaknesses, such as machine-learning algorithms' reliance on so much data to master a single task.
This 30,000-foot view of AI research packs a lot of history, as well as philosophical and technical explanation. Walsh personalizes the account with stories of his own programming experiences, anecdotes about AI in daily life — like his daughter's use of Siri — and his absolute, unapologetic love of puns.
Later in the book, Walsh speculates about technical hurdles that may curb further AI development and legal limits that society may want to impose. He also explores the societal impact that increasingly intelligent computers may have.
For instance, Walsh evaluates how likely various jobs are to be outsourced to AI. Some occupations, like journalist, will almost certainly be automated, he argues. Others, like oral surgeon, are probably safe. For future job security, Walsh recommends pursuing careers that require programming acumen, emotional intelligence or creativity.
AI also has the potential to revolutionize warfare. "Like Moore's law, we are likely to see exponential growth in the capabilities of autonomous weapons," Walsh writes. "I have named this 'Schwarzenegger's law' to remind us of where it will end." Walsh isn't resigned to a Terminator-like future, though. If governments ban killer robots and arms developers use automation to enhance defensive equipment, he believes military AI could actually save many lives.
In fact, Walsh argues, all aspects of AI's future impacts are in our hands. "Artificial intelligence can lead us down many different paths, some good and some bad," he writes. "Society must choose which path to take."