Canadian Prime Minister Justin Trudeau's first official visit to India has not been the headline-grabbing love fest he must be accustomed to on his overseas trips.
Despite plenty of photo opportunities, including at the Taj Mahal, Mr Trudeau and his family's tour has been largely ignored by senior members of the Indian government so far.
When he arrived in the capital, Delhi, he was met at the airport by a junior minister in what many interpreted to be a "snub".
Prime Minister Narendra Modi has, on many occasions, personally received visiting government leaders. He also famously hugs his foreign counterparts.
Most recently Mr Modi extended the courtesy – both the personal reception and the hug – to Israeli Prime Minister Benjamin Netanyahu who visited in January.
But Mr Modi has not yet met the Canadian prime minister, despite him being in India for two days.
He was also absent when Mr Trudeau visited his home state of Gujarat on Monday.
And it's not just the prime minister.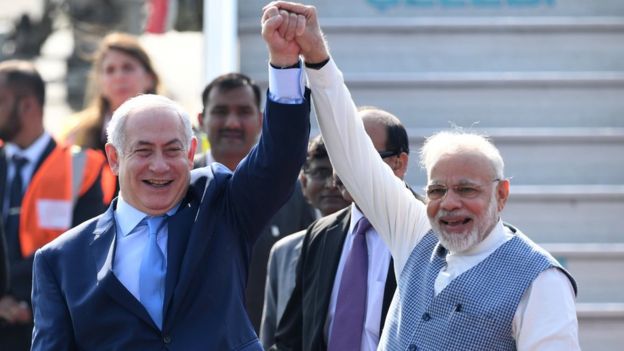 When Mr Trudeau visited the Taj Mahal on Sunday, some media reports pointed to the fact that the chief minister of Uttar Pradesh, where the monument is located, did not go to greet the visiting premier.
The pictures, headlines and social media frenzy that usually accompany Mr Trudeau's overseas travels have also been largely missing.
So is India really cold shouldering Justin Trudeau? And if so, why?
"Yes, this is a major snub. The fact that a junior minister was sent to receive Mr Trudeau and his family is most definitely a snub," columnist and economist Vivek Dehejia told the BBC.
Mr Dehejia said the reason for Mr Trudeau's lukewarm reception could well be that several members of his government were closely allied with a Sikh independence movement – the Khalistan movement – which seeks to create a separate independent Sikh homeland in the Sikh-dominated northern state of Punjab.
Canadian authorities have also linked Sikh separatist militants to Canada's 1985 Air India bombing, which killed 329 people.
"His Liberal party relies heavily on the Sikh-Canadian vote bank and some of the Sikh members of his government are fellow travellers with the Khalistanis," said Mr Dehejia.
Mr Trudeau counts four Sikh-Canadians in his cabinet.
If this were the case, it would not be the first time that Khalistan has soured relations between officials from the two countries.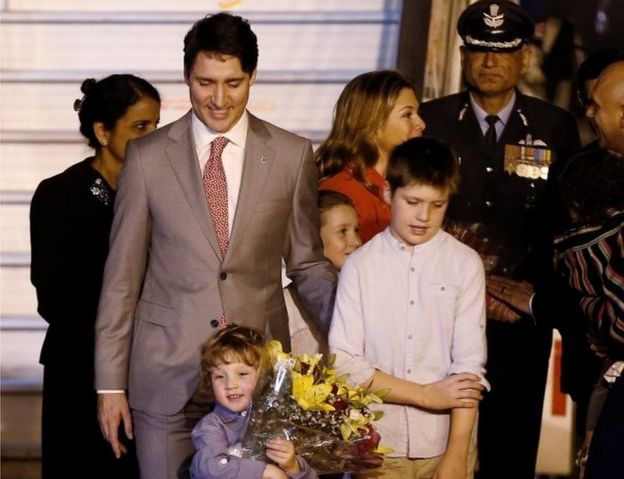 Punjab's top elected official refused to meet Canadian defence minister Harjit Sajjan in April last year, alleging that he was "a Khalistani sympathiser".
But India's former high commissioner to Canada, Vishnu Prakash, denied that Mr Trudeau was being "snubbed", saying that India had closely followed diplomatic protocol when receiving him.
"According to protocol, it is a cabinet minister who receives a visiting foreign leader, and this courtesy was extended to Mr Trudeau," Mr Prakash told the BBC.
He said that although Mr Modi had "breached protocol" to personally greet foreign leaders in the past, he could not be expected to greet every visitor that came to India.
"It's not like the prime minister is not going to meet him at all. There is a ceremonial welcome that will be held for him on 23 February and he will meet him there," he added.
Former diplomat Kanwal Sibal told the BBC that it would be both politically and professionally "wrong" for India to begin a state visit by Mr Trudeau with the "prejudice" of Khalistan when it could be used instead as a platform to raise India's concerns with Khalistan at the highest level.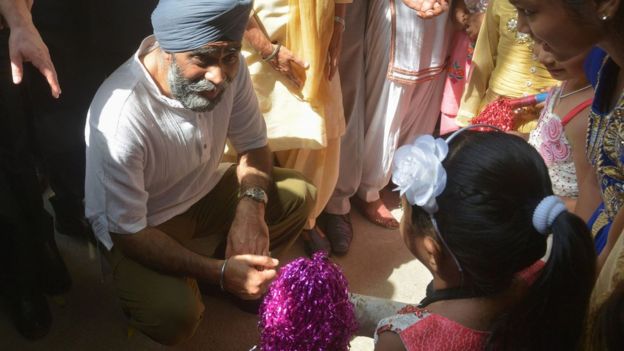 "It is true that domestic political reasons have meant that India has not got the kind of support on the issue, but we can use the visit to get a commitment of action from the Canadian government," he said.
Mr Sibal also said he believed it was "not true" that India was snubbing Mr Trudeau, saying that relations between the two countries improved "dramatically" in the recent past, with the signing of a nuclear deal showing that they had "common interests" now.
Canada announced it would supply uranium to India in 2015, in what was believed to be a significant step forward in relations between the nations.
Mr Sibal said he felt too much was being read into the fact that a junior minister was sent to greet Mr Trudeau at the airport when he arrived in India.
"This is normal protocol. Neither India nor Canada would want to jeopardise a state visit they knew was happening. It is in the interests of both countries to make sure it is a success," he said.
Investors in a luxury property development in India are being offered the chance to have "conversation and dinner" with Donald Trump Jr.
The eldest son of the US president is visiting India this week and will promote the Trump Towers development near Delhi.
Critics say the Trump family is cashing in on the president's name.
But Mr Trump Jr has said he has been building relationships in India for years.
India importance
The full-page advertisement, which ran as the front cover of several Indian newspapers over the weekend, featured a picture of Mr Trump Jr together with text: "Trump is here. Are you invited?" and "Trump has arrived. Have you?"
Historian and biographer Patrick French was one of those criticising the advert:
For the last however many days every newspaper in India has been wrapped in this abominable invitation to dinner with Trump Jr. pic.twitter.com/HXub9Hrpte

— Patrick French (@PatrickFrench) February 18, 2018
The 47-storey towers in Gurgaon, close to the Indian capital, are being developed by the Trump Organisation and local partners – with some apartments selling for more than $1m.
The Trump Organisation, formerly headed up by President Donald Trump, is an umbrella company for hundreds of investments in businesses including real estate. Donald Jr is now its executive director.
India is the group's biggest property market outside the US, and in 2016 the Trump family earned up to $3m (£2.14m) in royalties from ventures in India, according to a financial disclosure report.
---
Trump brand defies comatose property market – Analysis by Devina Gupta, BBC News, Delhi
Selling two towers with 254 ultra-luxury flats might seem like a tall order. But if the brand name was not enough, offering buyers a chance to meet the US president's son seems to be working.
The company claims to have already done $77m worth of deals, with an average selling price of about $1.1m. This makes it the fastest-selling project in a comatose Indian property market.
Changes in tax rules and attempts to clamp down on corruption cooled India's real estate industry.
But in the case of the Trump Towers and its Indian partners that's not been the case, as they use the Trump name to target wealthy Indians living both inside and outside the country.
---
'Bizarre'
Daniel S Markey, who worked on South Asia policy for the State Department during the George W Bush administration, said he was surprised by the involvement of Mr Trump Jr in an Indian business deal.
"The idea that the president's son would be going and shilling the president's brand at the same time Donald Trump is president and is managing strategic and foreign relations with India – that is just bizarre," he told the New York Times.
The Citizens for Responsibility and Ethics in Washington (Crew) – a watchdog group – added the Indian promotion to a list of instances it believes show the Trump name being used for commercial gain.
In an interview last week, cited by The Guardian, Donald Trump Jr said he had spent nearly a decade "cultivating relationships in India" and that the firm was "now seeing the response of that effort".
He said his itinerary was designed to steer clear of politics.
However, he is listed as a keynote speaker at a global business conference, which will be attended by Indian politicians, including Prime Minister Narendra Modi and some of India's business elite.
President Trump handed over control of his business empire to Donald Trump Junior and Eric Trump before his inauguration last year.
But the director of the US Office of Government Ethics said at the time that this did not go far enough to ensure there would be no conflict of interest between his politics and personal business.
Since taking office, critics have claimed the US president is continuing to profit from his family's business interests.
They have also accused the Trump family of playing up its connections with the White House in order to influence business deals.
In May last year, the company owned by the family of Jared Kushner, Donald Trump's son-in-law, pulled out of a real estate presentation in China.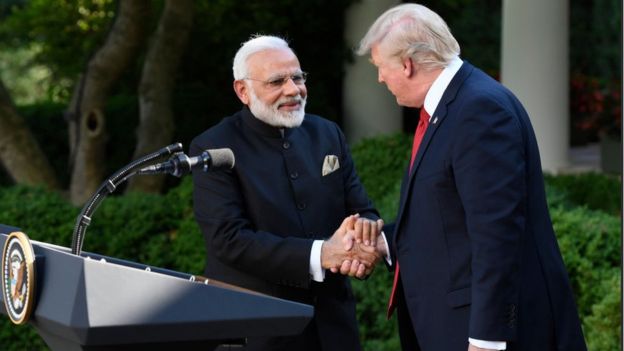 Kushner Companies had been scheduled to pitch opportunities to real estate investors in China, but Mr Kushner's sister was widely criticised for using his name in a pitch.
And in November last year, President Trump's daughter, Ivanka, was criticised for speaking at a global entrepreneurs summit in Hyderabad, with some saying the summit had become more about Ms Trump and her namesake brand than the wider issue.
The invitation, proposed on the terror group's social media accounts under the moniker of the so-called "Islamic Emirate of Afghanistan," was extended in response to Mr. Paul's recent comments on the status of the war.
(i14 News) – The Taliban is extending an invitation to Sen. Rand Paul, Kentucky Republican, to their political office in Doha, to discuss possible peace plans to end the 17-year Afghan war.
The invitation, proposed on the terror group's social media accounts under the moniker of the so-called "Islamic Emirate of Afghanistan," was extended in response to Mr. Paul's recent comments on the status of the war.
"We invite the respectable U.S. Senator Rand Paul, in his official capacity to visit our political office in Doha for mutual talks," the Twitter post by the Information Committee of the so-called Islamic Emirate of Afghanistan read.
"We'll prove to Mr. Rand Paul, the immediate US withdrawal from [Afghanistan] will bring peace to our country & will enhance international security," the group added in the social media post.
During an interview with Fox News on Thursday, Sen. Paul lambasted Washington's continued investment in the Afghan conflict, with no clear endgame in sight. "The war in Afghanistan is costing us $50 billion a year… It's time to come home. There is no military victory there," Mr. Paul said.
Mr. Paul is one of several lawmakers who have voiced opposition to the war in Afghanistan, as the White House looks to implement a more aggressive military strategy in the country.
Nearly 14,000 American forces are on the ground in Afghanistan as part of the White House surge of an additional 3,900 troops into the country — a key element of the administration's new war plan.
In an interview with Israel Hayom newspaper, Trump also said he did not believe the Israelis, as well as the Palestinians, were ready to make peace.
(i14 News ) – US President Donald Trump has said Israel's illegal settlements in occupied Palestinian territories have "complicated" the so-called peace process and urged "care" over the issue.
In an interview with Israel Hayom newspaper, Trump also said he did not believe the Israelis, as well as the Palestinians, were ready to make peace.
Israel Hayom is owned by American Zionist billionaire Sheldon Adelson, a Trump supporter and a backer of Israeli Prime Minister Benjamin Netanyahu.
Asked by the daily when the US would present its peace plan, Trump said: "We will see what happens. Right now the Palestinians are not into making peace, they are just not into it. Regarding Israel, I am not certain it, too, is interested in making peace so we will just need to wait and see what happens."
Asked whether Israeli settlements would form part of the peace plan, he said: "We will be talking about settlements. The settlements are something that very much complicates and always have complicated making peace, so I think Israel has to be very careful with the settlements."
Trump's comments about Israel mark rare criticism from a president who has adopted a hostile policy toward the Palestinians while forging close relations with Israel.
About 600,000 Israelis live in over 230 illegal settlements built since the 1967 occupation of the Palestinian territories of the West Bank and East Jerusalem al-Quds.
Palestinians want the West Bank as part of a future independent Palestinian state, with East Jerusalem al-Quds as its capital.
In December, Trump infuriated Palestinians with his decision to recognize Jerusalem al-Quds as Israel's capital and relocate the US embassy in Israel from Tel Aviv to the holy city.
The dramatic shift in Washington's policy vis-à-vis the city triggered demonstrations in the occupied Palestinian territories, Iran, Turkey, Egypt, Jordan, Tunisia, Algeria, Iraq, Morocco, and other Muslim countries.
There's a place for arms control in the Trump administration's new nuclear strategy. It's a very small place.
"Progress in arms control is not an end in and of itself," page 73 of the 74-page strategy says, adding that new advances in arms control are "difficult to envision". Such agreements can foster cooperation and confidence among nuclear weapons states and reduce the risk of miscalculation that could lead to war, it notes — while accusing Russia of undermining those aims by violating numerous treaties.
The new US posture focuses heavily on what the administration sees as an overdue modernization of the nuclear arsenal, the laboratories and plants that support the arsenal, and the far-flung communications and early warning systems that enable the Pentagon to command and control the weapons. It asserts that Russian strategy and doctrine emphasize the potential coercive and military uses of nuclear weapons, and calls for two new US capabilities in response — a sea-launched nuclear cruise missile and a "low-yield" warhead for submarine-launched ballistic missiles.
But the diminution of arms control as a central part of the nuclear strategy may be just as striking.
When the Obama administration did its own reset of the strategy in 2010, it argued the world could be made safer if the US reduced the role of nuclear weapons in defense strategy. It was hardly a novel idea: Republican and Democratic administrations embraced nuclear arms reduction efforts for decades, even during tense points of the Cold War. The Trump administration, for its part, says it's "willing to engage in a prudent arms control agenda" while dismissing the idea of marginalizing nuclear weapons as a defense tool.
Criticism of the new strategy, including its lukewarm approach to arms control, is likely to arise at a House hearing on Tuesday where Defense Secretary Jim Mattis will make his first public statements since the report's release last week.
Russia was quick to assail what it deemed an "anti-Russian" nuclear strategy. In a statement on Monday, its Foreign Ministry called the review's assertions frightening, "utterly hypocritical" and dangerous. It asserted that Russia would consider using nuclear weapons in only two scenarios: in response to an attack involving nuclear or other weapons of mass destruction, and in response to a non-nuclear assault that endangered the survival of the Russian nation.
It took aim at the Pentagon's proposal to develop a nuclear cruise missile that could be launched from a ship or submarine. Such a weapon existed for years but was withdrawn from active service by the administration of President George H.W. Bush in the early 1990s and retired by the Obama administration.
Bringing a version of the missile back would be a response to Russia's alleged violation of the 1987 Intermediate-range Nuclear Forces treaty, the Pentagon said, adding that it might reconsider if Moscow returned to compliance and "corrects its other destabilizing behaviors."
James Acton, a nuclear weapons specialist at the Carnegie Endowment for International Peace, said that offer seems disingenuous.
"That is a proposal that is very clearly designed to look like an arms control proposal, but to guarantee that it won't be accepted," Acton said. He broadly described the US strategy's approach to arm control as worrying, including its silence on whether the US wants to exercise an option in the New START treaty to extend its terms for five years. The deal is scheduled to expire in 2021.
Russia is questioning US compliance with the treaty, whose limitations on long-range nuclear weapons took effect Monday. The Foreign Ministry said Russia is well within the treaty's limitations of 1,550 strategy nuclear warheads and 700 deployed launchers.
The ministry took note of a State Department statement saying the US reached the treaty limits last August, but it suggested the US may have cheated by "reconfiguring" some B-52 bomber aircraft and missile launchers aboard Ohio-class submarines to non-nuclear status. It didn't provide details but said the changes were done in such a way that Russia is unable to confirm that the reconfigured B-52s and sub-based launchers are truly non-nuclear.
The State Department insisted the US is fully adhering to its commitments.
"In order to meet the central limits of the treaty, the United States developed and utilized conversion procedures in full compliance with its treaty obligations," it said.
The FBI investigation into a pervert gymnastics doctor moved at a "plodding pace" over the course of a year in which dozens more women claim to have been molested by him.
The New York Times reports the agency's inquiry into disgraced doctor Larry Nassar "moved with little evident urgency" when first opened in July 2015.
The NYT claims to have identified 40 girls and women who say he molested them between September 2016 and the previous summer, when he was finally exposed by the Indianapolis Star.
Gina Nichols, the mother of victim Maggie Nichols (initially known as 'Athlete A'), said: "I never got a phone call from the police or FBI [during that time]…not one."
Reports say some of the delay stemmed from difficulties in the federal vs. state legal jurisdictions the agency was forced to manoeuvre.
W. Jay Abbot, a former special agent at the Indianapolis branch of the FBI, told the NYT: "There is a duty to warn those who might be harmed in the future.
"But everyone is still trying to ascertain whether a crime has been committed. And everybody has rights here."
Nassar was sentenced to between 40 and 175 years in jail in January after a judge heard testimony from nearly 160 victims.
In 2015, USA Gymnastics cut ties with Nassar after a series of allegations about him.
However, he continued to see patients until he was publicly accused of abuse in 2016. He was later arrested and sentenced for child abuse images which were discovered on his computer.
The NYT said the FBI declined to comment on specific allegations but reasserted that the sexual exploitation of children "is an especially heinous crime" and that the "safety and well-being of our youth is a top priority".
United States (US) immigration officials said on Friday that they raided 77 California businesses this week as operations intensify in the state, whose own authorities are defying President Donald Trump's hard line on immigration by not cooperating with federal enforcement agents.
The raids took place in cities including San Francisco, Sacramento and San Jose in the north of California, a "sanctuary state" where, since January 1, law enforcement has been mostly prohibited from working with federal officials seeking to arrest undocumented immigrants.
"The actions taken this week reflect … stepped-up efforts to enforce the laws that prohibit businesses from hiring illegal workers," with a focus on "protecting jobs for US citizens and others who are lawfully employed," US Immigration and Customs Enforcement (ICE) said in a statement.
In 2017, the government carried out 1,360 similar raids and arrested more than 300 people, with businesses paying out over $100 million in restitution and fines, ICE said.
"It's put people in a lot of panic," Mariela Garcia, with San Jose-based charity Sacred Heart Community Service, told the local Mercury News. "We have people who are quitting their jobs."
US immigration authorities also recently adopted a policy that allows officials to enter courtrooms to arrest undocumented immigrants. Previously, courtrooms were considered "sanctuaries" so as to not discourage witnesses from testifying during trials.
Meanwhile last month, ICE agents carried out visible raids on around 100 7-Eleven convenience stores across the country to discourage managers from hiring undocumented workers.
The top Democrat on the US House Intelligence Committee has accused Republicans of tampering with a memo about FBI spying at the 2016 election.
Adam Schiff said Republicans had changed the text after it was voted on.
The secret document was passed by the Republican-dominated committee but needs approval from President Donald Trump to be made public.
It is believed to accuse the FBI of abusing its surveillance powers to target the Trump campaign.
Concerns about its contents were raised by the FBI itself which complained of "material omissions of fact that fundamentally impact the memo's accuracy".
Democrats fear the document may be an attempt to discredit the inquiry into Trump campaign links to Russia, which is being led by Special Counsel Robert Mueller.
If Mr Trump gives his approval, the memo may be released later on Thursday.
---
What do we know about the memo's contents?
The four-page document was compiled by staffers for House Intelligence Committee head Devin Nunes, a member of Mr Trump's Republican party.
It apparently accuses the Department of Justice (DoJ) and the FBI (Federal Bureau of Investigation) of abusing a programme known as the Foreign Intelligence Surveillance Act (Fisa) during the presidential election campaign.
The allegation is that the FBI spied on a member of Mr Trump's campaign on the basis of unproven accusations against Mr Trump known as the "Russian dossier".
That dossier was compiled by former UK intelligence agent Christopher Steele with money financed in part from Hillary Clinton's campaign.
Following his State of the Union speech on Tuesday night, Mr Trump was heard telling a Republican lawmaker he was "100%" for releasing the document.
---
Were the changes to the memo significant?
According to Mr Schiff, the text approved by the committee on Monday is not the same as that given to the White House.
BREAKING: Discovered late tonight that Chairman Nunes made material changes to the memo he sent to White House – changes not approved by the Committee. White House therefore reviewing a document the Committee has not approved for release. pic.twitter.com/llhQK9L7l6

— Adam Schiff (@RepAdamSchiff) February 1, 2018
Mr Nunes sent a version of the memo that was "materially altered", the Democrat said. He gave no details.
Quoted by Reuters news agency, a spokesman for Mr Nunes described the changes to the memo as minor, including two edits requested by the FBI and Democrats themselves.
Mr Schiff's allegation was, the spokesman added, an "increasingly strange attempt to thwart publication".
What does the FBI say?
In a rare statement, the agency said it had had "limited opportunity" to review the document before the committee voted to release it on Monday.
"We are committed to working with the appropriate oversight entities to ensure the continuing integrity of the Fisa process," it added.
The DoJ has said it would be "extraordinarily reckless" to release the memo.
How are relations between Mr Trump and the FBI?
Trump officials say the memo proves his allegation that he has been treated unfairly by the FBI.
Devin Nunes, who served on the Trump team during his White House transition, said it was "no surprise" the FBI had objected to the memo's release.
"It's no surprise to see the FBI and DoJ issue spurious objections to allowing the American people to see information related to surveillance abuses at these agencies," he said.
After firing FBI director James Comey last year, Mr Trump reportedly asked his temporary replacement, Andrew McCabe, how he had voted in the 2016 presidential election.
Mr McCabe resigned last month as Mr Trump accused him of pro-Democratic bias. He had been planning to retire in March.
In December, Mr Trump reportedly challenged Deputy Attorney General Rod Rosenstein, who appointed Mr Mueller, over his loyalties. He wanted to know whether Mr Rosenstein was "on my team", CNN reports.
Mr Schiff suggested the White House would use the memo, if released, to fire Mr Mueller or Mr Rosenstein.
Dianne Feinstein, a Democrat on the Senate Intelligence committee, said the Republicans were clearly trying to "undermine the special counsel's investigation".
The past year has been a daunting one for men in positions of power. You had the ousting of Roger Ailes, the former head of Fox News, who had been accused of sexual harassment, then the ousting of Bill O'Reilly, an incendiary anchor on Fox News, known for his vitriolic hatred against anyone who basically wasn't white. This was followed by the explosive revelations made against Harvey Weinstein, the CEO of the Weinstein Company, one of the most influential movie producers in Hollywood.
Add to this another name: Larry Nassar, a doctor by day and a paedophile by night. His position as a respected physician at Michigan State University (MSU) coupled with being the doctor for the USA Gymnastics team, gave him unlimited access to young women who he would mercilessly abuse under the guise of medical treatment.
In this environment of #MeToo and talks on sexual abuse becoming the norm, even in Pakistan following the horrendous death of six-year-old Zainab in Kasur, the harrowing testimonies of 156 women, who lined up to give evidence proved too much for Nassar, who hung his head in shame and embarrassment. One of the victims, Kyle Stephens, who had been abused since the age of six by Nassar, was brave enough to remove her anonymity to tell her story. She recalled how all her baby teeth hadn't even fallen when Nassar exposed his genitalia to her and would subsequently masturbate in front of her while making her watch. In a shocking revelation, when Stephens told her parents about his actions, they were horrified and they actually made her apologise to Nassar. This truly traumatising testimony goes to show how a combination of power, prestige and reputable profession makes believing a victim of sexual abuse so much harder.
What became imminently clear, as more women willingly queued up to tell their story, was that a cover up of a gargantuan scale had taken place at MSU and at the USA Gymnastics team. A number of women had gone to Nassar to discuss pain caused through gymnastics, and Nassar would carry out check-ups which had nothing to do with the area in which the pain was focused. In one particularly distasteful event, Nassar used his finger to penetrate a victim's privates whilst her mother was in the same room! When allegations of abuse did reach the institutions involved, they didn't report it to the relevant authorities, thus allowing Nassar to remain working at his post and subsequently abuse further women.
Thankfully, Nassar is now spending the rest of his life behind bars after Judge Rosemarie Aquilina sentenced him to 175 years in prison, but the bitter aftertaste left behind from this trial still remains. Why were so many people reluctant to believe these young, talented and bright women? How were 156 women abused over a period of 20 or so years and absolutely nothing was done about it? Are we geared to distrusting women where allegations of sexual abuse are involved and physical evidence is lacking? Even in Pakistan, so many women are told to cover up the misdeeds of other men as a warped way of protecting their family's honour.
Even in a country like America, where there is so much emphasis on women's rights and their own free will, it seems incredibly absurd that it took the collective testimonies of 156 women to bring some semblance of justice to the victims. Was it the young age of these women that prevented their allegations being taken seriously? Or was it Nassar's supposed 'celebrity' status or his ability to use medical terminology to explain away his debauched acts that kept his actions covered up for so long? Maybe we are psychologically designed to respect the opinions of highly qualified doctors in white coats instead of defenceless, young women. Hopefully, the fall of these unshakeable titans will bring about a much-needed change in how we address the victims of sexual abuse and make us sensitive to their needs instead of the perpetrators'.
There is so much more work to be done when it comes to believing sexual abuse allegations being made by women across all fields, from Hollywood to the changing room. Unfortunately, women are seen as dishonest and untruthful when it comes to weighing up testimony over physical evidence but hopefully, cases like this one will definitely turn the tide and make people sit up and listen to young women.
As this year wears on, we may also see a revolutionary change in how men in positions of power are scrutinised. Cases like this definitely confirm the need to have more women in positions of power that have been predominately occupied by men and appropriate measures need to be put in place to ensure paedophiles like Nassar never destroy more innocent lives.
A gold-medal winning Olympian has confronted disgraced USA Gymnastics doctor Larry Nassar at his sentencing to reveal he abused her, too.
Jordyn Wieber is the fourth member of the Fierce Five, the winning 2012 Summer Olympics squad, to accuse him.
She joins teammates Aly Raisman, Gabby Douglas and McKayla Maroney, who all said Nassar, 54, molested them.
More than 100 victims have come forward. Nassar admitted 10 criminal counts and could face life in prison.
In emotional testimony, 22-year-old Ms Wieber delivered her statement in court near Lansing, Michigan, on Friday.
"I thought that training for the Olympics would be the hardest thing that I would ever have to do," she said.
But, in fact, the hardest thing I ever had to do is process that I am a victim of Larry Nassar."
USA gymnastics' abuse scandal – the story so far
The judge has allowed scores of Nassar's victims to address him in court.
---
Accusers keep coming
Rajini Vaidyanathan, BBC News, Lansing, Michigan
For four days this week courtroom number five at Ingham County Court has been the scene of powerful testimony. Young women have taken the stand to do what few survivors of sexual abuse ever get the chance to do – confront their attacker.
The public seating area has been packed, as gymnasts and their families support each other. Tissue boxes are scattered across seats – the testimony has been emotional.
All the while, Larry Nassar, the doctor they say violated them, has been sitting feet away. At one stage he was told to look up.
Survivors here don't just want him sentenced to life, they want him – the man they trusted – to face up to what he did.
The impact of this case can't be underestimated. By Friday lunchtime around 80 women had shared testimony.
But more than 100 say they plan to, as the hearings extend into next week.
---
Ms Wieber, standing next to her teammate Ms Raisman, told a Michigan court she was first molested by Nassar at age 14.
She told the court Nassar had often been one of the only men allowed at training camp in Texas and he would sometimes be in their hotel rooms alone and unsupervised.
"USA Gymnastics is accountable. The US Olympic Committee is accountable," said Ms Wieber.
USA gymnastics cuts ties with training centre
Nassar had also worked as a team physician for Michigan State University.
Her teammate and fellow gold medallist, Ms Raisman, delivered a stirring speech on Friday, calling the women who have come forward an "army of survivors".
— Jordyn Wieber (@jordyn_wieber) January 19, 2018
"And now, Larry, it's your turn to listen to me," she said.
"The tables have turned, Larry," Ms Raisman continued. "We are here. We have our voices, and we are not going anywhere."
Ms Raisman added: "I am here to face you, Larry, so you can see I have regained my strength, that I'm no longer a victim. I'm a survivor.
"Larry, you do realise now that we, this group of women you so heartlessly abused over such a long period of time, are now a force and you are nothing."
Nassar's sentencing could continue into Monday as victims continue to come forward.
He already faces 60 years behind bars after pleading guilty to child pornography charges.