Syrian government forces have killed more than 500 civilians during a week of intense bombardment of a rebel enclave near Damascus, activists say.
The victims in the Eastern Ghouta include 121 children, says the Syrian Observatory for Human Rights, a UK-based group monitoring the conflict.
Syrian government forces backed by Russia have been pounding the area since last Sunday.
The UN Security Council is struggling to agree on a ceasefire resolution.
A vote has been delayed several times since Thursday, and was due to meet on Saturday.
How bad is the situation in the Eastern Ghouta?
On Saturday, the Syrian Observatory said at least 29 civilians were killed, including 17 in the main town, Douma – bringing the total to over 500 for the week.
The group said the strikes were being carried out by both Syrian and Russian planes – although Russia denies direct involvement.
Barrel bombs and shell fire have been dropped on the area, where some 393,000 people remain trapped.
Aid groups report several hospitals being put out of action since Sunday.
The Syrian government has denied targeting civilians and said it is trying to liberate the Eastern Ghouta from "terrorists" – a term it has used to describe both the jihadist militants and the mainstream rebel groups that hold the enclave.
The plight of civilians in the area has alarmed world leaders. Conditions there have been described as "hell on earth" by UN Secretary General Antonio Guterres.
Why has a ceasefire proved elusive so far?
The Security Council has been debating a resolution calling for a 30-day calm to allow for aid deliveries.
But Russia wants changes. Under current draft, any ceasefire would not apply to the Islamic State group, or the Nusra Front – formerly al-Qaeda's official affiliate in Syria.
Moscow says it must go further and exclude other groups "co-operating with them" and which have shelled Damascus.
Western diplomats have accused Russia of stalling for time.
They suspect that Moscow wants to give Syria time to deal a final blow to forces defending the enclave on the edge of Damascus.
On Friday evening US President Donald Trump pointed the finger of blame firmly at Syria and its allies, Russia and Iran, for the humanitarian crisis.
Who are the rebels?
The rebels in Eastern Ghouta are not one cohesive group. They encompass multiple factions, including jihadists, and in-fighting between them has led to past loses of ground to the Syrian government.
The two biggest groups in the area are Jaish al-Islam and its rival Faylaq al-Rahman.
The latter has in the past fought alongside the jihadist group Hayat Tahrir al-Sham – an alliance of factions led by the Nusra Front, which sprung from al-Qaeda.
The Syrian government is desperate to regain the territory, because it says the rebels are directly endangering the capital.
Eastern Ghouta is so close that it is possible for rebels to fire mortars into the heart of Damascus, which has also led to civilian deaths.
Syrian state media said rebels have killed at least 16 civilians in eastern districts of the city since Sunday.
Brigitte Bardot has become the latest French celebrity to weigh in on a family dispute over the estate of the late singer Johnny Hallyday.
In a radio interview, the movie legend urged Hallyday's widow Laeticia – named as his main heir – to give some of the money back to his older children.
Singer David Hallyday and actress Laura Smet, who were left with nothing, are contesting their father's will.
Johnny Hallyday died in December from lung cancer at the age of 74.
Bardot told French radio station Europe 1 on Saturday: "I am disgusted. If I were Laeticia, I would put things right. I would give David and Laura what they deserve."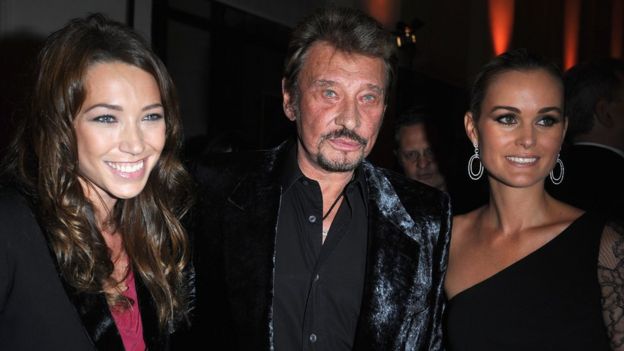 Under the country's inheritance laws, which go back to the French Revolution, all children should be given roughly equal shares of an estate.
But Hallyday, who had a home in California and was domiciled there for tax purposes, left everything in his will to Laeticia, his fourth wife, and their two adopted daughters.
Laura Smet, 34, and David Hallyday, 51, announced their legal challenge last week.
Since then a number of big names in the world of French entertainment have spoken out on the matter.
Eddy Mitchell, another French rock legend and friend of the late singer, said: "I don't understand how someone can disinherit his children."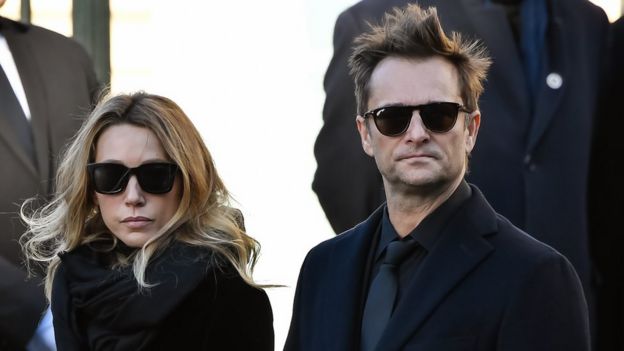 Actor Jean Reno, a friend of both Johnny and Laeticia, urged the family not to yield to "hatred".
Singer Sylvie Vartan, Hallyday's first wife and David's mother, said that during their divorce in 1980 she had urged Johnny to give her share of their home to their son.
Rival demonstrations by far-right and anti-fascist groups a week before Italy's general election have led to scuffles with police.
Police in Milan used batons as left-wing demonstrators tried to break through a cordon.
Elsewhere, the leader of the anti-immigration League party, Matteo Salvini, told supporters that defence of the country was a "sacred duty".
Protests also took place in Rome and the Sicilian city of Palermo.
As the election campaign enters its final week, opinion polls suggest that the right-wing Forza Italia party led by former Prime Minister Silvio Berlusconi is in the lead.
The anti-establishment Five Star Movement will be vying with Mr Berlusconi's party for the top spot in the 4 March election. However, it has repeatedly ruled out governing with other parties.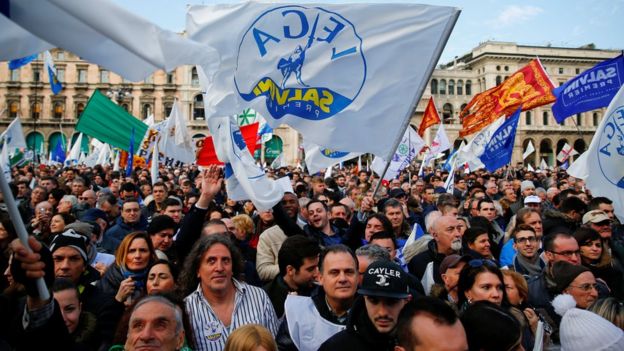 The far-right League and the Brothers of Italy parties could attempt to form a right-wing coalition government with Mr Berlusconi but this is unlikely to achieve a parliamentary majority.
Clashes between anti-fascist and far-right activists have increased in recent weeks ahead of a general election on 4 March.
On Thursday, several police officers were injured in clashes between far-left and far-right protesters in Turin.
Riot police clashed with protesters at a campaign rally in Pisa on Friday by the League party.
On Saturday, anti-fascist demonstrators in Milan protested against the anti-migrant stances of far-right parties. When they tried to break through police lines, officers beat them back with batons.
In Rome, some 3,000 officers were deployed for marches and sit-ins on Saturday. Riot police used metal detectors in a series of measures aimed at preventing violence.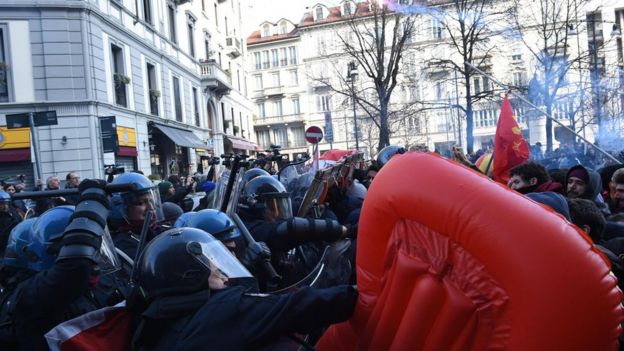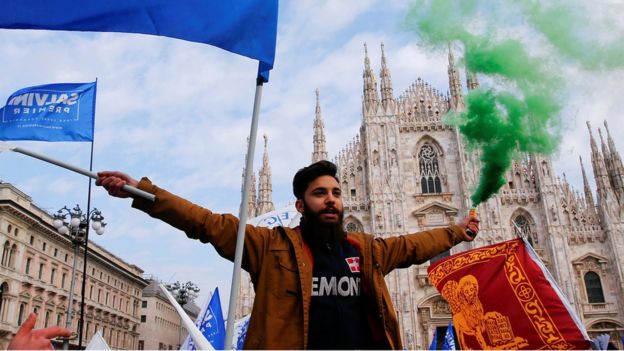 Several thousand people took to the streets of the capital to protest for democratic values and against what they described as resurgent fascism.
Former Italian Prime Minister Matteo Renzi took part in a rally which was arranged by the National Partisans' Organisation (ANPI) under the slogan "Fascism Never Again".
At the same time in the city, a protest led by the left-wing union group Cobas marched against the labour reforms known as the Jobs Act. The reforms were a signature policy of Mr Renzi's government.
Meanwhile, consecutive marches in Palermo in northern Sicily are expected to be attended by Roberto Fiore, the head of the far-right group Forza Nuova, and members of a far-left movement.
A newly married man and his grandmother were killed in India when a wedding gift they were opening exploded.
The man's wife was critically injured in the blast on Friday in the eastern state of Odisha, police said.
Soumya Sekhar and Reema Sahu got married on the 18 February and they received the "gift" at their wedding reception a few days later.
It was actually a parcel bomb and did not have the sender's address of it, police said.
The parcel exploded as soon as it was unwrapped, relatives told local media.
Mr Sehu and his 85-year-old grandmother, Jemamani Sahu, died from their injuries in a hospital.
The motive for the attack is not clear, police said, however they suspect it was carried out by someone in the area.
The employers of a Filipina maid found dead in a freezer in Kuwait have been arrested in the Syrian capital Damascus after a manhunt lasting several weeks.
Joanna Demafelis, 29, was found frozen in her employers' apartment more than a year after she was reported missing.
Both Nader Essam Assaf and his Syrian wife Mona are being held on suspicion of murder, officials said on Saturday.
Mr Assaf, who is a Lebanese national, was transferred to Beirut but his wife remains in custody in Damascus.
On Saturday, a Lebanese judicial official said the couple had left Kuwait and made a "very brief stopover" in Lebanon before travelling on the neighbouring Syria.
"Lebanon has asked Kuwait to pass on [Mr Assaf's] police record," the official added.
Ms Demafelis's death prompted outrage in the Philippines and a ban on Filipinos travelling to work in Kuwait.
Both suspects became the subject of an international manhunt aided by Interpol.
Philippines foreign secretary Alan Peter Cayetano welcomed the news of the arrests, calling it a "critical first step in our quest for justice for Joanna".
The maid's body was found this month with apparent signs of torture, Philippine officials said, in an apartment that had apparently been abandoned for at least a year.
In the aftermath of the discovery, Philippine authorities say they facilitated the return of more than 1,000 "distressed overseas Filipino workers" in Kuwait, most of whom had worked as household servants.
The country's department of foreign affairs estimate that some 252,000 of its citizens are living and working there.
Kuwaiti authorities, meanwhile, have vowed to do everything possible to see justice is done.
Mr Cayetano said he expected Kuwaiti authorities to request the extradition of Mr Assaf from Lebanon, to stand trial in Kuwait.
A wave of attacks across Afghanistan has left more than 25 people dead, most of them soldiers, officials say.
In the worst incident, Taliban militants stormed an army post in the western province of Farah, killing 22 soldiers.
A suicide attack in the capital Kabul left at least three security officers dead.
There has been a surge in militant attacks in recent months and the army is often targeted.
Some analysts see it as a response to a new, more aggressive strategy announced by US President Donald Trump last year, which committed the US army to an open-ended conflict, with the focus on "killing terrorists".
Early on Saturday, Taliban forces mounted an overnight attack on a base in Farah.
Weapons were seized and the Afghan military said the Taliban had incurred a "lot of casualties".
In Kabul, a suicide bomber detonated his explosives in an area dotted with key diplomatic buildings.
"I was driving nearby when I heard a big explosion, the windows of my car were smashed. I saw several wounded people on the street near me," a witness told Afghan channel Tolonews TV.
Jihadist group Islamic State said it carried out the attack, Reuters reported.
There were further suicide attacks in Helmand province in the south, leaving two army members dead, and others, including women and children, injured.
The Taliban control large swathes of Afghanistan – but IS militants hold sway in a much smaller number of districts.
However, both groups have demonstrated their ability to hit targets across the country.
They have often come into conflict with each other, too.
wo car-bomb attacks have killed at least 38 people in the Somali capital Mogadishu, officials say.
The first took place outside the presidential palace late on Friday. The second hit a nearby hotel. Dozens of people were wounded.
The Islamist militant group al-Shabab, which has been trying to oust Somalia's government, says it was behind both.
A gun battle followed the attack near the presidential palace in which five militants were killed, officials say.
Friday's bombings are the latest in a series of attacks attributed to al-Shabab, which once controlled Mogadishu before being forced out by African Union troops in 2011.
Last October, more than 500 people were killed by a truck bomb in the city. Officials blamed al-Shabab but the group never said it was behind that attack.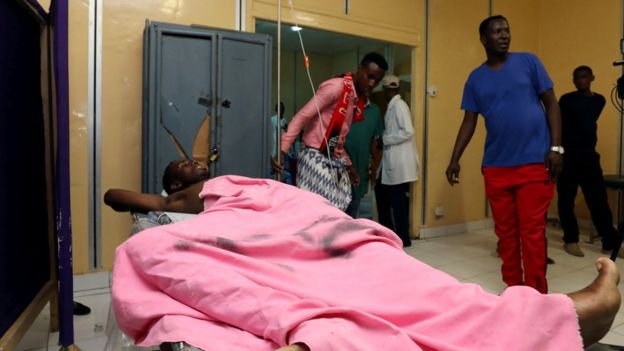 The latest incident began when a vehicle failed to stop at a checkpoint outside the presidential palace before being blown up, state media say. This was followed by an exchange of fire between militants and security forces.
Then a parked car exploded near the hotel. However, al-Shabab said it had targeted security forces.
The group said five of its fighters, including the two drivers, had been "martyred" and 35 soldiers were killed in the attacks.
A police spokesman told Reuters news agency: "There were many military soldiers who guarded the street adjacent to the palace."
Canadian Prime Minister Justin Trudeau's first official visit to India has not been the headline-grabbing love fest he must be accustomed to on his overseas trips.
Despite plenty of photo opportunities, including at the Taj Mahal, Mr Trudeau and his family's tour has been largely ignored by senior members of the Indian government so far.
When he arrived in the capital, Delhi, he was met at the airport by a junior minister in what many interpreted to be a "snub".
Prime Minister Narendra Modi has, on many occasions, personally received visiting government leaders. He also famously hugs his foreign counterparts.
Most recently Mr Modi extended the courtesy – both the personal reception and the hug – to Israeli Prime Minister Benjamin Netanyahu who visited in January.
But Mr Modi has not yet met the Canadian prime minister, despite him being in India for two days.
He was also absent when Mr Trudeau visited his home state of Gujarat on Monday.
And it's not just the prime minister.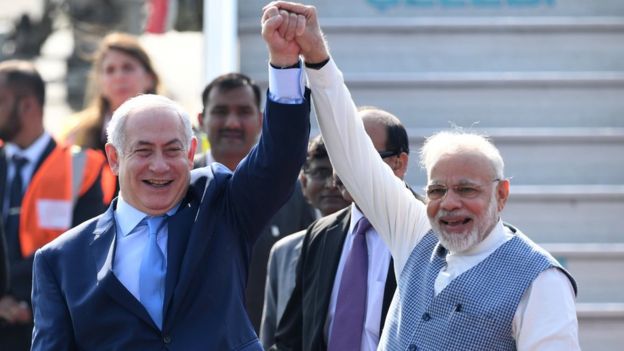 When Mr Trudeau visited the Taj Mahal on Sunday, some media reports pointed to the fact that the chief minister of Uttar Pradesh, where the monument is located, did not go to greet the visiting premier.
The pictures, headlines and social media frenzy that usually accompany Mr Trudeau's overseas travels have also been largely missing.
So is India really cold shouldering Justin Trudeau? And if so, why?
"Yes, this is a major snub. The fact that a junior minister was sent to receive Mr Trudeau and his family is most definitely a snub," columnist and economist Vivek Dehejia told the BBC.
Mr Dehejia said the reason for Mr Trudeau's lukewarm reception could well be that several members of his government were closely allied with a Sikh independence movement – the Khalistan movement – which seeks to create a separate independent Sikh homeland in the Sikh-dominated northern state of Punjab.
Canadian authorities have also linked Sikh separatist militants to Canada's 1985 Air India bombing, which killed 329 people.
"His Liberal party relies heavily on the Sikh-Canadian vote bank and some of the Sikh members of his government are fellow travellers with the Khalistanis," said Mr Dehejia.
Mr Trudeau counts four Sikh-Canadians in his cabinet.
If this were the case, it would not be the first time that Khalistan has soured relations between officials from the two countries.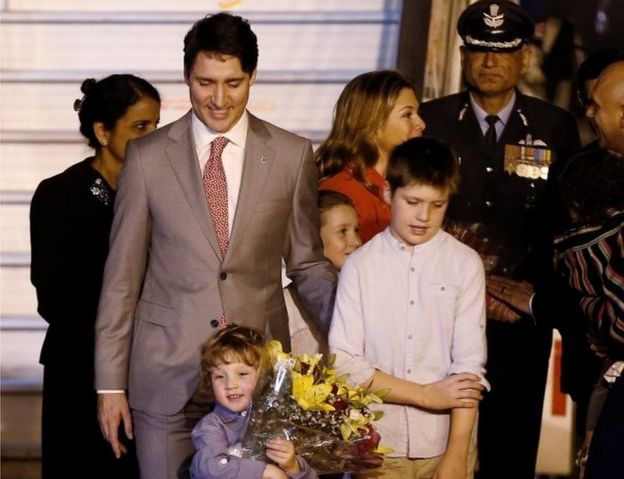 Punjab's top elected official refused to meet Canadian defence minister Harjit Sajjan in April last year, alleging that he was "a Khalistani sympathiser".
But India's former high commissioner to Canada, Vishnu Prakash, denied that Mr Trudeau was being "snubbed", saying that India had closely followed diplomatic protocol when receiving him.
"According to protocol, it is a cabinet minister who receives a visiting foreign leader, and this courtesy was extended to Mr Trudeau," Mr Prakash told the BBC.
He said that although Mr Modi had "breached protocol" to personally greet foreign leaders in the past, he could not be expected to greet every visitor that came to India.
"It's not like the prime minister is not going to meet him at all. There is a ceremonial welcome that will be held for him on 23 February and he will meet him there," he added.
Former diplomat Kanwal Sibal told the BBC that it would be both politically and professionally "wrong" for India to begin a state visit by Mr Trudeau with the "prejudice" of Khalistan when it could be used instead as a platform to raise India's concerns with Khalistan at the highest level.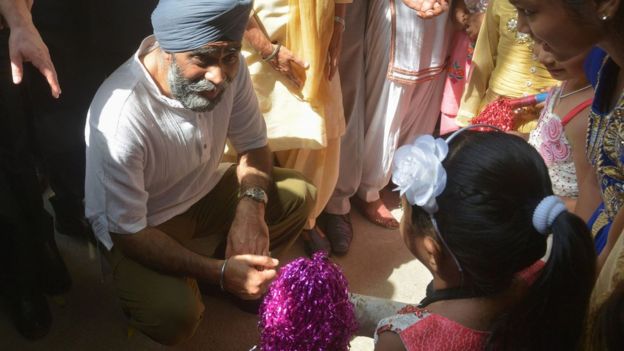 "It is true that domestic political reasons have meant that India has not got the kind of support on the issue, but we can use the visit to get a commitment of action from the Canadian government," he said.
Mr Sibal also said he believed it was "not true" that India was snubbing Mr Trudeau, saying that relations between the two countries improved "dramatically" in the recent past, with the signing of a nuclear deal showing that they had "common interests" now.
Canada announced it would supply uranium to India in 2015, in what was believed to be a significant step forward in relations between the nations.
Mr Sibal said he felt too much was being read into the fact that a junior minister was sent to greet Mr Trudeau at the airport when he arrived in India.
"This is normal protocol. Neither India nor Canada would want to jeopardise a state visit they knew was happening. It is in the interests of both countries to make sure it is a success," he said.
Investors in a luxury property development in India are being offered the chance to have "conversation and dinner" with Donald Trump Jr.
The eldest son of the US president is visiting India this week and will promote the Trump Towers development near Delhi.
Critics say the Trump family is cashing in on the president's name.
But Mr Trump Jr has said he has been building relationships in India for years.
India importance
The full-page advertisement, which ran as the front cover of several Indian newspapers over the weekend, featured a picture of Mr Trump Jr together with text: "Trump is here. Are you invited?" and "Trump has arrived. Have you?"
Historian and biographer Patrick French was one of those criticising the advert:
For the last however many days every newspaper in India has been wrapped in this abominable invitation to dinner with Trump Jr. pic.twitter.com/HXub9Hrpte

— Patrick French (@PatrickFrench) February 18, 2018
The 47-storey towers in Gurgaon, close to the Indian capital, are being developed by the Trump Organisation and local partners – with some apartments selling for more than $1m.
The Trump Organisation, formerly headed up by President Donald Trump, is an umbrella company for hundreds of investments in businesses including real estate. Donald Jr is now its executive director.
India is the group's biggest property market outside the US, and in 2016 the Trump family earned up to $3m (£2.14m) in royalties from ventures in India, according to a financial disclosure report.
---
Trump brand defies comatose property market – Analysis by Devina Gupta, BBC News, Delhi
Selling two towers with 254 ultra-luxury flats might seem like a tall order. But if the brand name was not enough, offering buyers a chance to meet the US president's son seems to be working.
The company claims to have already done $77m worth of deals, with an average selling price of about $1.1m. This makes it the fastest-selling project in a comatose Indian property market.
Changes in tax rules and attempts to clamp down on corruption cooled India's real estate industry.
But in the case of the Trump Towers and its Indian partners that's not been the case, as they use the Trump name to target wealthy Indians living both inside and outside the country.
---
'Bizarre'
Daniel S Markey, who worked on South Asia policy for the State Department during the George W Bush administration, said he was surprised by the involvement of Mr Trump Jr in an Indian business deal.
"The idea that the president's son would be going and shilling the president's brand at the same time Donald Trump is president and is managing strategic and foreign relations with India – that is just bizarre," he told the New York Times.
The Citizens for Responsibility and Ethics in Washington (Crew) – a watchdog group – added the Indian promotion to a list of instances it believes show the Trump name being used for commercial gain.
In an interview last week, cited by The Guardian, Donald Trump Jr said he had spent nearly a decade "cultivating relationships in India" and that the firm was "now seeing the response of that effort".
He said his itinerary was designed to steer clear of politics.
However, he is listed as a keynote speaker at a global business conference, which will be attended by Indian politicians, including Prime Minister Narendra Modi and some of India's business elite.
President Trump handed over control of his business empire to Donald Trump Junior and Eric Trump before his inauguration last year.
But the director of the US Office of Government Ethics said at the time that this did not go far enough to ensure there would be no conflict of interest between his politics and personal business.
Since taking office, critics have claimed the US president is continuing to profit from his family's business interests.
They have also accused the Trump family of playing up its connections with the White House in order to influence business deals.
In May last year, the company owned by the family of Jared Kushner, Donald Trump's son-in-law, pulled out of a real estate presentation in China.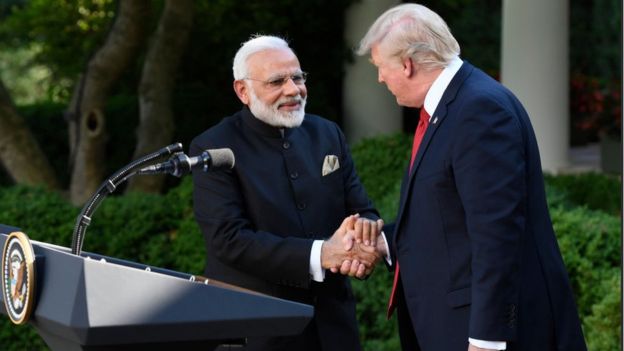 Kushner Companies had been scheduled to pitch opportunities to real estate investors in China, but Mr Kushner's sister was widely criticised for using his name in a pitch.
And in November last year, President Trump's daughter, Ivanka, was criticised for speaking at a global entrepreneurs summit in Hyderabad, with some saying the summit had become more about Ms Trump and her namesake brand than the wider issue.
Chinese authorities have demanded "severe punishment" for a man who allegedly stole the thumb of a terracotta warrior statue on display in the US, Chinese state media report.
The 2,000-year-old statue, worth $4.5m (£3.2m), is one of 10 on loan to the Franklin Institute in Philadelphia.
Last week, Michael Rohana was charged with theft and concealment of a major artwork, and later released on bail.
The Terracotta Army is one of China's most important archaeological finds.
A selfie and a theft
According to court documents, Mr Rohana, 24, was attending an Ugly Sweater Party at the Franklin Institute on 21 December when he made his way into the Terracotta Warriors exhibit, which was then closed.
Mr Rohana used a mobile phone as a flashlight and took a selfie with one of the warriors, according to Chinese state media Xinhua quoting the FBI.
He then put his hand on the left hand of the statue and appeared to break something off from it. He pocketed the item and left.
Museum staff noticed the missing thumb on 8 January and the FBI later traced it to Mr Rohana. He later admitted that he had kept the thumb in a desk drawer.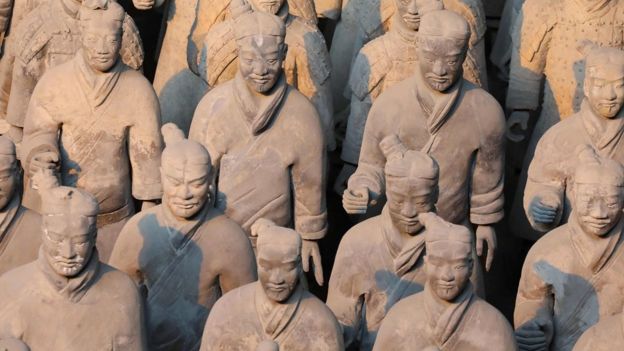 On Monday, the director of the Shaanxi Cultural Heritage Promotion Centre, the government-run organisation which loaned the statues out, "strongly condemned" the Franklin Institute for being "careless" with the statues, CCTV reported.
"We ask that the US severely punish the perpetrator. We have lodged a serious protest with them," said Wu Haiyun.
Mr Wu said the centre would be sending two experts to the US to assess the damage and repair the statue with the recovered thumb. There would be a claim for compensation, he added.
The 10 statues currently on display at the Franklin Institute are part of an army of 8,000 life-size clay warriors which make up the Terracotta Army.
The statues were built by the Chinese emperor Qin Shi Huang, who died in 210 BCE, and who believed they would protect him in the afterlife.
They were discovered in China's Xi'an city in 1974 by a group of Chinese farmers.