Just a few days ago, Bollywood superstar Akshay Kumar's latest venture PadMan – a film propagating awareness of menstrual hygiene – was reported to have been banned here in Pakistan.
According to members of the censor board, films on "taboo" topics such as menstruation should not be allowed to be viewed in the country. In fact, the Federal Censor Board also denied issuing an NOC to PadMan and has announced it to be banned from cinemas everywhere .
Sanam Saeed, Armeena Khan come together to support 'PadMan'
Sanam Saeed and Armeena Khan recently voiced their opinions on the rumoured ban on the movie. Joining the bandwagon, Hamza Ali Abbasi also lent his support the Akshay starrer.
Taking to Twitter, the Mann Mayal star wrote, "So our Censor Board allowed Padmaavat which portrays Sultan Allaudin Khilji as a nymphomaniac barbarian and banned #Padman which gives much needed awareness about menstrual hygiene! I am known as a wannabe Mullah and even I find it pathetic."
So our Censor Board allowed Padmavat which portrays Sultan Allaudin Khilji as a nymphomaniac barbarian & banned #Padman which gives much needed awareness abt menstrual hygiene! I am known as a wannabe Mullah & even i find it pathetic… Grow up Censor Board!

— Hamza Ali Abbasi (@iamhamzaabbasi) February 13, 2018
"Grow up Censor Board!" he added.
As expected, his two cents on the matter stirred a social media debate.
Do you think the section of women in need of awareness are cinema goers and can afford tickets to the movie? Women who need an awareness are usually from that class where their only worry is to manage food! First please make sure they have basic amenities of life! By the way quite lame tweet by you!" wrote one user.
Another twitter user discussed the supposed aesthetics of religion. "This awareness can be spread by some other means too. Jab Islam main kuch cheezon ko hidden rakhne ka hukm hai tou wo hidden hi rehni chahiyen, (If a topic is frowned upon on Islam, then it should stay hidden)."
'PadMan' Review: The movie we know we need
"The thing is not about portraying Sultan Alauddin. The thing is that our Censor Board bans every movie which spreads awareness that is much needed in our society! Even #Verna was banned and now #PadMan," said another one.
Calling it a 'woman's private matter', a Twitter user called PadMan cheap. "That's a woman's personal and private matter. Flaunting these things in public looks extremely cheap and attention seeking. If you want to raise awareness then lady health workers should be appointed to go door to door and provide help and awareness" he wrote.
Will PadMan see the light of the day in Pakistan? Only time will tell.
Have something to add to the story? Share it in the comments below.
ISLAMABAD: Chief Justice of Pakistan Mian Saqib Nisar has expressed concern over the Sindh High Court (SHC) judges granting stay orders on matters related to the fixation of drugs prices.
The three-judge bench headed by CJP questioned over how many stay orders have been given by SHC in this matter related to medicine prices.
The CJP observed that senior lawyers walk in SHC judges chambers and get stay orders in their favour, adding that they (SC) are well aware of the happenings in SHC.
The CJP also questioned the procedure of the SHC granting stay orders.
Binding on lower courts: SC command 'cannot be disregarded'
He made it clear that matters related to health will be decided expeditiously.
Later the bench has sought all files of drug cases from SHC.
"The judges who cannot work should get retirement," the CJP noted.
However, Makhdoom Ali Khan, counsel for pharmaceutical companies objected to the SC's decision to summon all files of cases from SHC. The hearing of the case is adjourned until the first week of March.
In a different case earlier, issuing a detailed judgment in the re-arrest of Shahzeb Khan murderers, the Supreme Court has held that its command could not be disregarded by a trial court, and "high court also cannot be allowed to dig holes in the same through half-baked or artificial reasons".
The court has also observed that if the omissions in the Sindh High Court's November 28, 2017 order were inadvertent, then the same were unfortunate. However, if the omissions were deliberate, then they were nothing but outrageous.
While Mahira Khan and Hamza Ali Abbasi are busy filming for their upcoming venture, Maula Jatt 2, the duo has come together to support the PSL team Peshawar Zalmi in it's third season.
I would also like to appreciate the enthusiasm of our ambassadors @iamhamzaabbasi & @TheMahiraKhan. The #YellowStorm did strike Lahore with full force tonight. #HumZalmi #HBLPSL3 pic.twitter.com/n0IA87Ut0w

— Javed Afridi (@JAfridi10) February 13, 2018

The famed actors made an appearance at the kit launch held in Lahore on Tuesday night. They were ecstatic about being part of Peshawar Zalmi.
The Zalmi Anthem song shoot is looking real good, but that's got nothing to do with @TheMahiraKhan of course ? #yellowstorm #humzalmi pic.twitter.com/SUO839YyEr

— Wahab Riaz (@WahabViki) February 13, 2018
i welcome @TheMahiraKhan to @PeshawarZalmi family one of my fav actor..pleased to meet her.such a nice,sweet& humbled lady she is#supportZalmi #YellowStorm pic.twitter.com/iVNTHVXbLD

— Kamran Akmal (@KamiAkmal23) February 13, 2018
With our brand ambassador @TheMahiraKhan at @PeshawarZalmi kit launch ceremony in Lahore pic.twitter.com/dQdQ57lU8y

— Mohammad Hafeez (@MHafeez22) February 13, 2018
Zalmi squad ready for kit launch #YellowStorm pic.twitter.com/QdmijX7BGQ

— Hassan Ali (@RealHa55an) February 13, 2018
The stars of Peshawar Zalmi, including cricketers Wahab Riaz, Kamran Akmal, Hammad Azam and Mohammad Hafeez, were also present at the ceremony.
While Abbasi has been supportive of the team since it's initiation, this is the first time Khan has taken up the role. Earlier, along with Abbasi, Humaima Malick was the brand ambassador of the Khpal team.

Surprisingly enough, Malick is also part of Maula Jatt 2 which is currently being filmed under Bilal Lashari's direction. The film is the first time the trio will be seen working together.
ISLAMABAD: The National Accountability Bureau (NAB) on Wednesday, requested the Ministry of Interior to place names of former Prime Minister Nawaz Sharif, his daughter Maryam Nawaz and son-in-law Capt (Retd) Safdar on the Exit Control List (ECL).
The development came a day after the Sharif family filed an application with the accountability court seeking a fortnight's exemption from personal attendance from February 19 onwards on grounds that the former first lady's treatment, Kulsoom Nawaz, is in final stages and the family needed to be with her in London.
Top court reserves judgement in lifetime disqualification case
According to a NAB official, two separate letters have been written to the Interior Ministry informing it that Nawaz Sharif is facing three NAB references – Avenfield properties, Azizia & Hill Metal Establishment, and Flagship Investments – while Maryam and Safdar are accused in Avenfield properties reference.
All three are key accused in different cases and proceedings against them were pending before an accountability court, the NAB mentioned in the letter.
In November 2017, NAB through a similar letter had asked the Interior Ministry to place name of former Finance Minister Ishaq Dar on the country's no-fly list, a request which is yet to be entertained by the Interior Ministry.
Request was made after an accountability court issued non-bailable arrest warrants of Dar following his continuing absence from court proceedings in a pending reference – accumulation of assets beyond known sources of income – against him.
NAB requests interior ministry to place names of Nawaz, Maryam, Capt Safdar on ECL
However, Interior Minister at first asked the NAB to give justified reasons for its request of placing the name on ECL, when provided by the NAB, the Interior Ministry took a stance that Dar was already abroad and it would be of no use to put his name on the ECL.
The Lux Style Awards (LSA) recently released their nominations for 18 entertainment categories, 12 of which are open for voting. The remaining 10 fashion categories were announced later.
All nominations have been shortlisted and the voting is now closed. Ahead of the prestigious awards, which are scheduled to be held sometime during next month, here's a list of who we think should win and why.
– FILM –
Best Film:


Who we think should win: Punjab Nahi Jaungi
Who we think will win: Punjab Nahi Jaungi
No surprises here. This Humayun Saeed, Mehwish Hayat-starrer emerged as the biggest movie of 2017 with its strong plot and rock solid, super entertaining story line.
Best Actor

Who we think should win:
Humayun Saeed for Punjab Nahi Jaungi
Who we think will win: Humayun Saeed for Punjab Nahi Jaungi
Humayun sure made for a very convincing Fawad Khagga, perfecting the look and accent down to a tee. And let's not to forget that power-packed moustache!
Best Actress
Who we think should win: Uzma Hassan for Arth – The Destination
Who we think will win: Mahira Khan for Verna
While Uzma was practically the only saving grace in the poorly structured Shaan Shahid directorial, we strongly believe Mahira will be taking the trophy for Best Actress this year.
Best Film Director
Who we think should win: Nadeem Beyg for Punjab Nahi Jaungi
Who we think will win: Nadeem Beyg for Punjab Nahi Jaungi
Nadeem ticked all the right boxes with Punjab Nahi Jaungi and we believe he rightfully deserve this award. With perfect amount of entertainment, emotions and visuals, he surely gave us a treat with this family film.
Best Supporting Actor (Film)
Who we think should win: Ali Rizvi for Chupan Chupai
Who we think will win: Javed Sheikh for Na Maloom Afraad 2
Chupan Chupai was definitely an unexpected surprise. With its fresh cast, brilliant at what they do, we hope to see Ali take this award at LSA. But we do have a strong feeling that veteran Javed might usurp it from him. Guess only time will tell…
Best Supporting Actress (Film)
Who we think should win: Sadaf Kanwal for Balu Mahi
Who we think will win: Urwa Hocane for Punjab Nahi Jaungi
Sadaf proved she was more than just eye candy in the Osman Khalid Butt and Ainy Jaffri-starrer, Balu Mahi. Surely, the supermodel sure deserves an accolade for holding her own in the movie. However, this just might go in favour of Urwa's character Durdana from Punjab Nahi Jaungi.
Best Singer Male (Film)
Who we think should win: Sahir Ali Bagga for Murshid Jee in Arth – The Destination
Who we think will win: Rahat Fateh Ali Khan for Sawaar De in Arth – The Destination
While all the nominees some very good vocals, we feel Sahir Ali Bagga's Murshid Jee deserves to win the most. However, Rahat Fateh Ali Khan's classical might just take the trophy with Sawaar De. In any case,  the win will be for Arth – The Destination. The film needs this as redemption, considering it fared so poorly at the box office.
Best Singer Female (Film)
Who we think should win: Aima Baig for Kaif O Suroor in Na Maloom Afraad 2
Who we think will win: Aima Baig for Kaif O Suroor of Na Maloom Afraad 2
Kaif O Suroor was not only a visual hit (all thanks to Sadaf Kanwal's moves) but it also managed to introduce people to Aima's powerhouse vocals. We think this number will definitely do well at the Lux Style Awards and it rightly deserves to.
– MUSIC –
Album of the Year
Who we think should win: Elhaam by Sounds of Kolachi
Who we think will win: Wajd by Hadiqa Kiyani
We have no doubts that Kiyani's latest offering is culturally diverse but we think that Sounds of Kolachi deserves this one.
Singer of the Year
Who we think should win: Abid Brohi for The Sibbi Song
Who we think will win: Ali Hamza, Ali Sethi and Waqar Ehsan for Tinak Dhin
The Sibbi Song and Tinak Dhin were the biggest hits of 2017. Hailing from a small town, Abid truly deserves this award since his song went viral. However, Tinak Dhin, being from Coke Studio, could easily take the trophy since everyone is still humming it.
Best Music Video Director
Who we think should win: Qamar Anwer for Kasani
Who we think will win: Taimoor Salahuddin for Chan Kithan
We believe Qamar should bag this title for the very creative street-style video that he directed for Kasani. However, considering Taimoor's talent and Mira Sethi's dream sequence in the video, Chan Kithan might just be it.
Best Emerging Talent
Who we think should win: Badnam for Khwaja ke Diwani
Who we think will win: Kashmir for Kaghaz ka Jahaz
Pepsi Battle of the Bands finalists, Badnaam and Kashmir are our picks for the category of Best Emerging Talent. While Badnaam may have a more local flavour, Kashmir just might be the more modern sound, and that's what might make them take the accolade home!
– TV –
Best TV Play
Who we think should win: Sang E Mar Mar
Who we think will win: Baaghi
Sang E Mar Mar broke social taboos in the best way possible, hence we think it should be named as the best TV play. However, Saba Qamar's Baaghi just might take the edge with its massive TRPs and the Qandeel Baloch controversy backing it up.
Best TV Actor
Who we think should win: Adnan Siddiqui in Sammi
Who we think will win: Ahad Raza Mir in Yakeen ka Safar
We love anything and everything Adnan Siddiqui and are rooting for him. But Ahad Raza Mir might emerge as the clear choice. May the best man win…
Best TV Actress
Who we think should win: Saba Qamar in Baaghi
Who we think will win: Saba Qamar in Baaghi
Come on… there are simply no questions here.
Best TV Director
Who we think should win: Ahsan Talish for Alif Allah Aur Insan
Who we think will win: Farooq Rind for Baaghi
In a very subtle manner, Alif Allah Aur Insaan has managed to touch many important subjects and we have Ahsan to credit for that. However, Baaghi, again, might just pull a clean sweep.
Best Writer
Who we think should win: Mustafa Afridi for Sang E Mar Mar
Who we think will win: Qaisara Hayat for Alif Allah aur Insan
Sang E Mar Mar had a flawless write up which revolved around revenge, grudges and hatred. But we think Qaisara from Alif Allah Aur Insan can end up winning for its brilliant plot.
Best OST
Who we think should win: Sahir Ali Bagga for O Rangreza
Who we think will win: Shuja Haider for Baaghi
Sahir Ali Bagga's soulful voice for Saba Qamar's recent venture Baaghi is powerful, emotional and ticks all the right boxes. However, Shuja Haider can emerge as the winner for the night with his OST for Bilal Abbas and Sajal Aly starrer, O Rangreza. 
– FASHION –
Model of the Year (Female)
Who we think should win: Sadaf Kanwal
Who we think will win: Sadaf Kanwal
The timeless model continues to ravage runways and magazine covers alike, with her extremely original style and signature brows.
Model of the Year (Male)
Who we think should win: Shahzad Noor
Who we think will win: Hasnain Lehri
The hunk just happens to have the avant-garde wow factor that is scarce in Pakistani male models. He happens to effortlessly ace desi as well as angraizi looks with finesse. A two-time LSA winner has what it takes!
Achievement in Fashion Design – Pret
Who we think should win: Chapter 2 by Khaadi
Who we think will win: Generation
Brimming with innovation, this brand by Khaadi speaks to the youth of Pakistan. From bright tones to lax fitting, Chapter 2 is trendy while being ultra comfy.
Achievement in Fashion Design – Luxury Pret
Who we think should win: Misha Lakhani
Who we think will win: Elan
Fusing minimal aesthetic to classy silhouettes, Misha's offerings are all about understated elegance.
Achievement in Fashion Design – Bridal
Who we think should win: Faraz Manan
Who we think will win: Faraz Manan
Fearless with his cuts and designs, this experimental designer has managed to bag a Bollywood fan base too.
Achievement in Fashion Design – Lawn
Who we think should win: Sana Safinaz
Who we think will win: Elan
The designer duo whose been there, done that for years now seems to have grasped exactly what the consumer requires to look polished, yet feminine.
Best Menswear Designer
Who we think should win: HSY
Who we think will win: Amir Adnan
HSY is the flag bearer of contemporary fashion and his androgynous styles are exactly what the doctor ordered.
Best Emerging Talent
Who we think should win: Saheefa Jabbar Khatak
Who we think will win: Saheefa Jabbar Khatak
A source of inspiration to countless, this up-and-coming model is not just fit for fashion campaigns but is a success story every commoner could learn from.
This piece is complied by:
FILMS: Rahul Aijaz
TV: Rida Lodhi
Music: Shaheera Anwar
Fashion: Manaal Khurram
Valentine's Day was banned in some Indonesian cities Wednesday as police rounded up amorous couples, giving the official kiss-off to a tradition which critics say doesn't deserve any love in the Muslim-majority nation.
The prohibitions come amid concerns that traditionally tolerant Indonesia is taking a sharp fundamentalist turn, by pushing to make pre-marital sex — including gay sex — illegal and punishable with jail time.
On Wednesday authorities in the country's second-biggest city Surabaya briefly detained about two dozen couples during a raid to sniff out any sign of Valentine's Day celebrations. They were expected to be released with a reprimand.
Mataram city on the tourist island of Lombok issued its own Valentine's Day ban and ordered police to raid schools in the hunt for passionate students unable to keep their hands off each other. Romantic parties at hotels and cafes were left alone, according to authorities.
Syamsu Rizal, the deputy mayor of Makassar on the island of Sulawesi, said his city prohibited Valentine's celebrations, while Depok on the outskirts of Jakarta followed suit.
"It has never been declared by the government to be a celebration in the country" and the ban would prevent hanky-panky among students, Rizal said.
Makassar has imposed bans on Valentine's Day for the past several years.
In 2017 city authorities raided convenience stores to seize condoms in a bid to stop teenagers from having sex on February 14.
At least 10 cities across the world's biggest Muslim-majority nation issued full or partial bans on Valentine's Day celebrations.
Aceh province, the only place in Indonesia that imposes Islamic law, issued a fresh Valentine's prohibition Wednesday, citing religious norms. It has ordered bans in previous years.
"Valentine's Day reflects a culture which is not in line with Aceh's and Islamic law," provincial governor Irwandi Yusuf said in a statement.
Police in India's capital, Delhi, have arrested a man for allegedly killing a seven-year-old boy whose body he hid in a suitcase for 37 days.
Police found the body on Tuesday in Avidesh Sakya's home after neighbours complained of foul smell.
Officials said Mr Sakya kidnapped the boy for ransom but killed him to cover up the crime.
Mr Sakya, 27, had been renting the house from the boy's parents for the past eight years.
The boy, Ashish Saini, had been missing since 7 January.
Police told the Times of India newspaper that Mr Sakya had allegedly admitted to kidnapping the boy on the pretext of buying him a bicycle.
But he panicked and killed him when the police launched a manhunt.
When neighbours enquired about the smell, he reportedly told them it was because of dead rats and even showed them one.
But the police became suspicious when Mr Sakya stopped answering their phone calls, prompting them to search his house.
The boy's father, Karan Saini, said he was shocked because Mr Sakya had helped him in the search for his son.
"[He] was very enthusiastic about searching for my child. He helped me register a missing persons case with the police the same day," he told the Hindustan Timesnewspaper.
In India, child sexual assault must be reported within three years or a case cannot be brought against an abuser. But for adult survivors who struggle to come to terms with their ordeal this means their abuser, frequently someone close to the family, will never be brought to justice. The BBC's Geeta Pandey met one survivor campaigning for a change in the law.
A 53-year-old Canadian woman of Indian origin recently met with India's Minister for Women and Child Development Maneka Gandhi. Her mission was to lobby for a change in the law so that adult survivors can report childhood sexual abuse.
Purnima Govindarajulu, who grew up in the southern Indian city of Chennai (formerly Madras) before moving to Canada in 1986, says she was abused by her cousin's husband regularly between the ages of six and 13.
After meeting Ms Govindarajuluin in Delhi, Mrs Gandhi said her ministry was "considering measures that will help child abuse survivors report their abusers, many years after the crimes had been committed". The law at present says a case must be brought within three years of abuse.
"I would wake up at night to find him sitting next to me in the dark. He would put his hands and mouth on my private parts," Ms Govindarajulu, who works as a conservation biologist for the Canadian province of British Columbia, said.
Although the "more intrusive penetrative acts took place at night or while travelling during the holidays", the abuse continued during the day too.
"Whenever he would find me alone, he would stick his fingers into my panties. There would be fondling, groping."
Growing up in conservative Chennai, she says she had no clue that what was happening to her was wrong and was not her fault.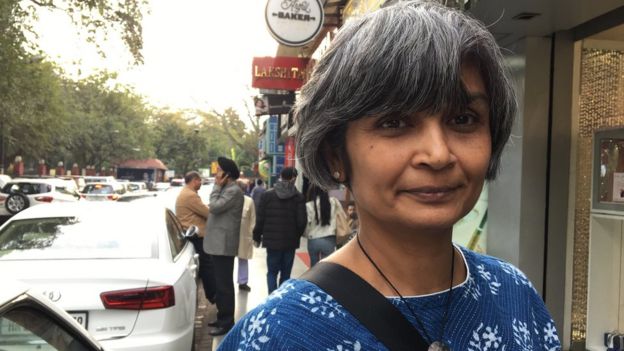 "I never thought of protesting because I believed I was evil, I was dirty, I was bad. I had no idea about sex. I had three older brothers and when at the age of 13, I began menstruating I thought I had cancer.
"I thought I was about to die but that came as a relief to me because I was so miserable in my life."
But then an aunt showed up and saw her "blood-soaked panties and assured me that I was not going to die".
"She said you are a woman now. She told me it was normal. She said this means you can have a baby. She also told me don't let anyone touch you."
It was advice that had come too late for Ms Govindarajulu, but it was still good advice.
"For the first time it made me feel I had some sort of power. So the next time he tried to touch me, I told him to stop."
And he did. "He said, 'Okay if you don't want it, I'll stop.' I realised I could have done it earlier. And that made me feel terrible that why didn't I do it?"
So all through her teen years, she says, she struggled with self-hate, and was "depressed and suicidal".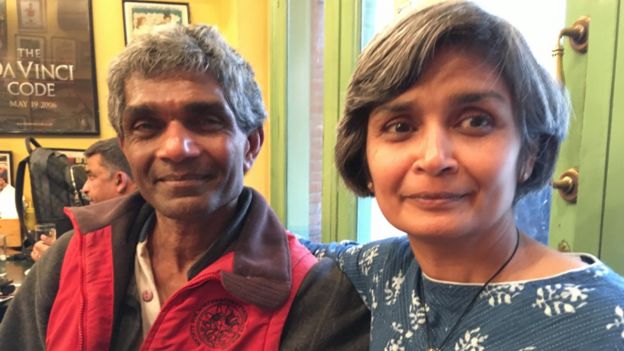 Incest and child sexual abuse are huge problems in India. According to a 2007 government study, 53% of children surveyed said they had been subjected to some form of sexual abuse. The study also revealed that a substantial number of abusers were "persons in trust and care-givers" which included parents, relatives and school teachers.
But there's a general reluctance to talk about the topic and abuse by family members is rarely reported.
It's not surprising then that Ms Govindarajulu had no idea that what had happened to her was not unique.
---
---
It was only in the late 1980s when she had moved to Canada and saw a television programme on child sexual abuse that the penny dropped.
"I was sitting on the couch in my brother's home with his wife, we were flicking channels and we came across this show. I realised I wasn't alone. I wasn't evil or bad or dirty."
Marrying a cousin is not uncommon in some Hindu communities in southern India and her sister-in-law is none other than her childhood friend, her abuser's daughter.
"She said, 'This would never happen in India.' I contradicted her, 'It does, it happened to me'. She asked me, 'It was my father, wasn't it?'," Ms Govindarajulu says.
It made sense to other family members too because, as they all said, "he doted on you while you hated him".
It still took her – and her family – years to do something about it.
In 1999, when her brother visited Chennai, he confronted the abuser about it.
"Initially he denied it. Then he said, 'Yes I touched her, but always with love.' My brother asked him if he'd also touched his daughter that way. 'Of course not,' he said.
"My brother asked him if he'd touched others too? 'None of your business,' he told him. "And then he added, 'At least I never used my penis.' Maybe he was trying to tell him that he had done nothing illegal," Ms Govindarajulu says.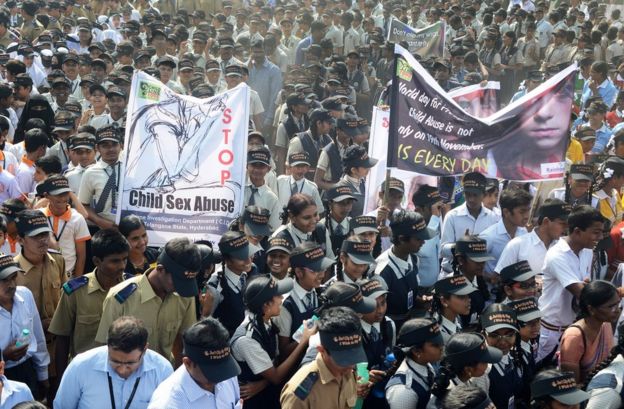 "When my brother spoke to my abuser's wife, my cousin, she said, 'That makes sense. I'd see him around her bed at night but he always said that he was comforting her because she'd had nightmares."
Ms Govindarajulu says her cousin called her to say it was best to let bygones be bygones.
"She said, 'I've forgiven him, you forgive him too. He's god to me. I'm married to him.' I have not spoken to her since. It's been a huge loss for me. She was a big sister to me."
On his return from India, her brother sent out an email to the wider family. And a cousin, who didn't want to go public, confided in him that she too had been abused by the same man.
Her brothers and the rest of the family rallied around Ms Govindarajulu, offering her support, and everyone vowed that they would make sure the man had no access to children again.
But in 2013, when Ms Govindarajulu visited his house to meet her aunt who was bedridden and couldn't leave home, she felt that little had changed.
So in 2015, she took the tough decision to go public. "I went to the police in Canada, I told them I wanted to file a case but they said they had no jurisdiction" since the abuse had happened in India and that all the people were based there.
"But they were extremely supportive, they counselled me and wrote out a report for the Chennai police."
Ms Govindarajulu says the Chennai police were also "very sympathetic", but they said they couldn't register a complaint because the statute of limitations had run out.
So last August, she filed a petition on change.org demanding that the law must be amended to allow adult survivors to report childhood abuse to stop repeat offences by molesters.
Her petition has received more than 120,000 signatures and her cause has also won support from the women and child development minister.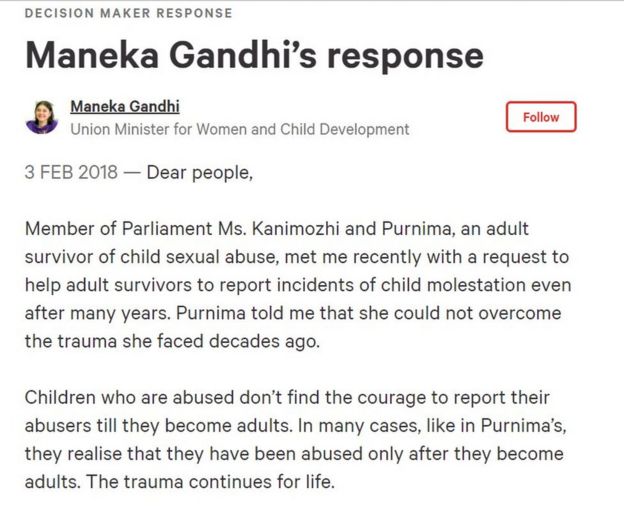 In recent days, some of the Indian press has reached out to the man, but he has refused to respond to Ms Govindarajulu's allegations. "I have already spoken to the police about this last year. There is nothing more that I would like to say," he told one website.
Ms Govindarajulu, however, says she's not seeking just personal justice. Moreover, she says she has little hope that she will ever see her abuser prosecuted.
"He's 75 and even if a court case is brought against him, it will take a long time and he may not even live that long. But such people are almost always repeat offenders and I feel guilty about not being able to protect other children. At least we can stop him from abusing other children in future."
The abuse, she says, has affected her entire life. "I struggled with relationships, I couldn't have children."
But she draws some satisfaction from the fact that after she went public, his social status has suffered and her other cousins no longer socialise with him.
But her decision to go public has not found favour with her eldest brother who says it could embarrass the abuser's son and daughter.
"But I say there's only one criminal in this story and that's not me," says Ms Govindarajulu.
Authorities in Indian capital Delhi say they have asked actor Pierce Brosnan to explain why he was in an ad for a local mouth freshener associated with an addictive form of chewing tobacco.
He could be fined 5,000 rupees ($78; £56) or go to jail for two years if he doesn't respond within 10 days, officials said.
It is not clear how this can be enforced if Brosnan fails to reply.
Indian law prohibits all advertisements of tobacco products.
The former Bond actor had condemned the "unauthorised" use of his image in the ad for Pan Bahar in in 2016, when it first appeared.
"We have issued the notice to Pierce Brosnan through the company, and also reached out to him via social media platforms," officials from Delhi's health department told the Indian Express newspaper.
Pan Bahar is commonly associated with pan masala and gutka, a potent mixture of tobacco, crushed betel nut, lime, and clove among other ingredients. It is chewed (and subsequently spat out in bright red streams) by millions of people, who get addicted to its mildly psychotropic effects.
Ashok & Co, the company that produces Pan Bahar, told the BBC in 2016 that there was no tobacco or nicotine in the product.
Brosnan told People magazine that the contract was to advertise a single product – a "breath freshener/tooth whitener" that contained no " tobacco" or any "harmful ingredient."
Both pan masala and gutka have been linked to cancer, with many Indian states banning their sale and running campaigns to discourage people from buying them.
Prince Henrik of Denmark, the husband of Queen Margrethe who was famous for his public unhappiness at never being named king, has died at the age of 83.
The French-born prince had returned to Fredensborg Castle, north of Copenhagen, after being in hospital with an infection.
The prince was a controversial figure and his flamboyant style was both loved and criticised by Danes.
In 2017, he announced that he did not want to be buried next to his wife.
He was frustrated that she had never acknowledged him as her equal.
The queen, 77, is said to have accepted her husband's decision, which broke a 459-year-old tradition.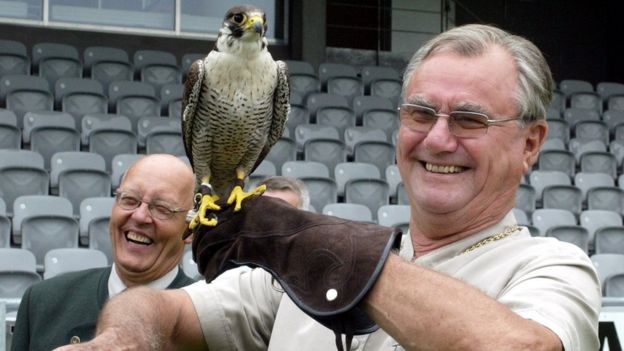 The prince died "peacefully in his sleep" at the castle with Queen Margrethe and their two sons at his side, the Royal House announced.
He had been diagnosed with dementia last year and had recently had a lung infection.
Prince Henrik was born Henri Marie Jean André de Laborde de Monpezat in 1934, and married the then-crown princess Margrethe in 1967.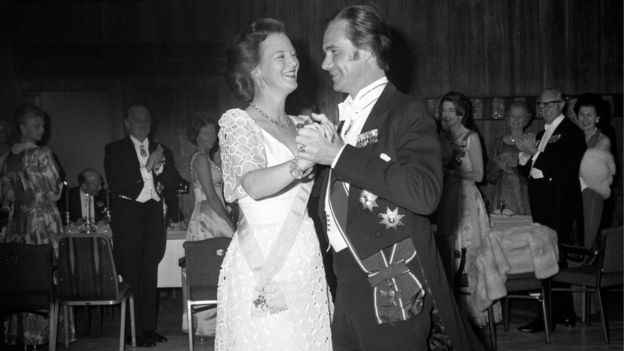 She became queen in 1972 and over the years Prince Henrik made no secret that he was unhappy at never having his royal role changed.
Many Danes disliked him for that, seeing it as a sign of an arrogant man hungry for recognition.
But in recent years, many youngsters thought his manner represented a break from the norms of cultural uniformity in Danish society.
In 2016, he retired from official duties, renouncing the title of Prince Consort. In the time since, he was often in France at his private vineyard.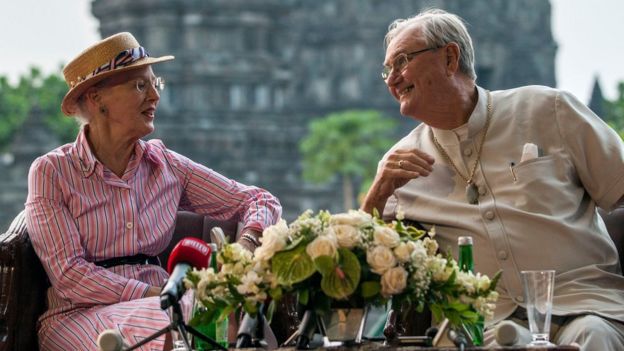 He spoke with a thick French accent and was known for his love of food, wine and poetry.
Prince Henrik and Queen Margrethe have two sons – Crown Prince Frederick and Prince Joachim.
Crown Prince Frederick returned from the Winter Olympics in Pyeongchang, South Korea last week to be with his ailing father.